5 Ways to Make Sure Your Home Is Secure When You're About to Go on Vacation
We independently select these products—if you buy from one of our links, we may earn a commission. All prices were accurate at the time of publishing.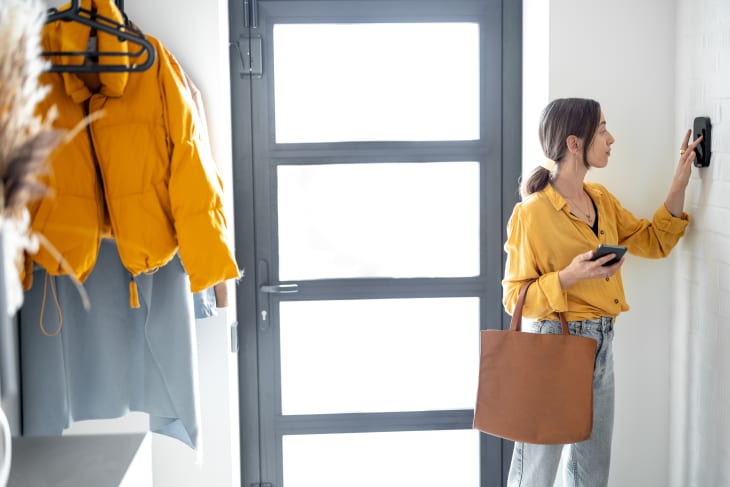 All your bags are packed, you're (more than) ready to go — and then these questions hit you: Will my home be secure and protected while I'm away on vacation? How should I choose from all of the latest technology options for my budget and peace of mind? And what things might be easy to forget as we think about traveling mindfully during the ongoing COVID pandemic? 
Follow Topics for more like this
Follow for more stories like this
I spoke with some top security experts to find out the best ways to ensure your home will be safe while you venture out on your travels so you can worry more about your #TBR book list and less about your lock box back home. 
Determine whether you'll DIY or hire a professional. 
As the smart home security space has evolved, we now see self-installed security systems as an often more affordable option to the more traditional, professionally-installed systems. Whether you choose from Ring, Simplisafe, or Google, there are lots of great options to buy and install yourself or have a professional come do it for you. You'll want to consider monthly subscription fees, contracts, and equipment on top of how much time, effort, and energy you have to invest when choosing the best option for you. 
Nowadays, smart home security systems integrate with many different lifestyle devices from major manufacturers such as Nest, Philips Hue, Kwikset, Flo by Moen, and MyQ and offer both self-install and professional install options. Home alarm systems company ADT, for example, offers Blue by ADT, an award-winning self-install option that has been well received by DIYers throughout the U.S. "ADT has gone from helping secure the customer's home to helping secure their entire life," says Muggs Young, director of product management at ADT. 
Young says the latest evolution in personal security is a mobile app called SoSecure by ADT. SoSecure will put you in touch with ADT agents anytime you don't feel safe or may need assistance. That means whether you're at home on a stay-cation or on the go in a new city, you'll have access to support when and where you need it. 
Get smart about deliveries.
While you're away, you might consider having Alexa answer your door for all your Amazon and Etsy packages that might show up unexpectedly. Alexa Greetings turns the Ring Video Doorbell Pro and Video Doorbell Pro 2 into a smart concierge that greets visitors when you can't be there yourself. Alexa can offer to take a message or provide instructions for package delivery. And, for those with garages, the MyQ Garage Door Opener controls your garage door, and even connects to Key by Amazon for secure in-garage delivery. How smart is that?
Be prepared to respond in real time. 
All of the latest technologies won't mean much if you're not able to respond to notifications or emergencies when needed, says Mitchell Klein, a smart home technology expert. In order to stop a potential burglary as it's happening, "response in real-time is ideal," he says. 
If you are a professionally-monitored customer and you have an alarm, one of the company's agents will notify you of the alarm and then quickly alert emergency services if needed. If you are self-monitored, you'll monitor your system through your internet-enabled device, and if there is an alarm, you are the one that must contact the emergency services to be dispatched. 
Keep in mind that if you self-monitor and miss the alarm, no one will be dispatched until you see the alarm notification. That means that if you don't call for several hours, the potential damage may have already been done. 
Let there be (scheduled) light.
Klein also recommends making sure your home looks occupied while you're gone by utilizing a timer with vacation mode for your lights. With Ring's Smart Lighting, for example, you can link Ring cameras to have lights turn on anytime a camera senses motion or set cameras to start recording when a light senses motion. "That's a great way to deter someone potentially casing the home," he says. 
It's a nice way to feel more secure and to potentially save energy (depending on the size of the home, occupancy, and other environmental factors) while you're away for shorter amounts of time, too. "I can set my lights to turn on at sunset each night so that I don't come home to a dark house," Young says. "It also gives the impression that someone is home, which helps deter burglars. In addition, a smart home security system can also help save money on my electric bill. I have my Nest Thermostat set to lower the temperature when the smart home security system is armed 'away' or detects that no one is home."
Don't forget about fire and smoke safety.
Sometimes we might think that just securing the outside of our home is enough when planning for a getaway, but we should also be sure we haven't overlooked issues that can impact the safety of the interior as well, such as carbon monoxide (CO). CO is known as a "silent killer," and if there is the potential for a CO emergency in the home, everyone should have this protection, Young says. If CO causes you to be incapacitated, ADT will detect the CO and quickly alert the fire department.

Fire safety is also very important when installing a security system. If your ADT system detects fire or smoke, they can notify emergency services. "Another thing we can do is turn on all of the lights so that if the house is filled with smoke, the customer will be aided by knowing where they are and might more easily exit the home," Young says. Likewise, Ring's First Alert Z-Wave Plus Smoke/CO Alarm detects smoke or carbon monoxide and will send notifications in the Ring app. If subscribed to Ring Protect Plus and opted into professional monitoring, the device will even notify Ring's professional monitoring team to request an emergency response to your home.