Hey, Don't You Dare Think About Renovating This Perfect '70s Basement in Nebraska
We independently select these products—if you buy from one of our links, we may earn a commission. All prices were accurate at the time of publishing.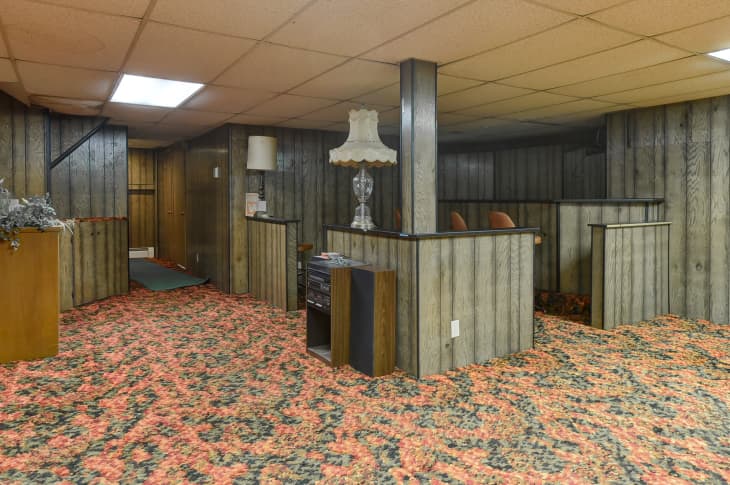 You've just purchased something really special: A single-family home to call your own. Its four bedrooms, three bathrooms, and numerous living spaces are all yours to live a full life in. I'm truly happy for you.
But when I stumbled across your house while surfing Redfin today, there was one room that made me gasp softly at my desk in New York City. It stopped my arrow key in its tracks, freezing the photo gallery. I took a virtual double-take, if you will.
That room is the basement. The perfect, perfect basement. And I have something I need to say to you about it.
If you so much as lift a finger to change anything about this unequivocally flawless rumpus room, dear stranger, I will be inconsolable. Red-hot tears will sting my eyes and I'll be overcome with despair. I will immediately start mourning the devastating 1970s-era loss of something that is not mine. So please just hear me out.
You cannot rip up that carpet, a swirling wall-to-wall art piece that looks like what happens when you go overboard with the airbrush tool in MS Paint. You think you can waltz into a showroom tomorrow and order a floor covering with that kind of whimsical composition? Certainly not.
You can't tear out that period wood paneling, either. They just don't make it like they used to. And it's custom! Those little wood-paneled doors in the walls open for storage. Who doesn't love storage? Plus, it just wouldn't be the same if that spectacular wet bar didn't blend in with its all-wood surroundings.
Did you think drop ceilings with fluorescent lights were design choices relegated to school nurse's offices? Think again, homeowner. Your basement is better because of them. And I'm sure we can agree there is no more suitable place in your new home to put some oversized lamps, a faux ivy plant, and a vintage stereo.
I get the impulse to want to change things and make the place your own. I really do. I know there's a good chance you have plenty of room in your budget for renovations, considering your house was listed for $149,000. But you can't use it, OK?
Look, don't just do this for me. Do it for the American people. Your basement is a relic of another era. It's the kind of room that's being phased out across the country in favor of shiplap and subway tiles. By not renovating this little number, you're preserving a valuable piece of  U.S. history. You're keeping the American pastime of drinking Miller Lites in the basement alive for future generations.
I beg you to listen to me, a person who has no business telling you what to do with the house you just bought. Please. Don't. Touch. That. Basement.