This 80 Square-Foot NYC Apartment Costs $1,750 Per Month — Here's What It Looks Like
We
independently
select these products—if you buy from one of our links, we may earn a commission. All prices were accurate at the time of publishing.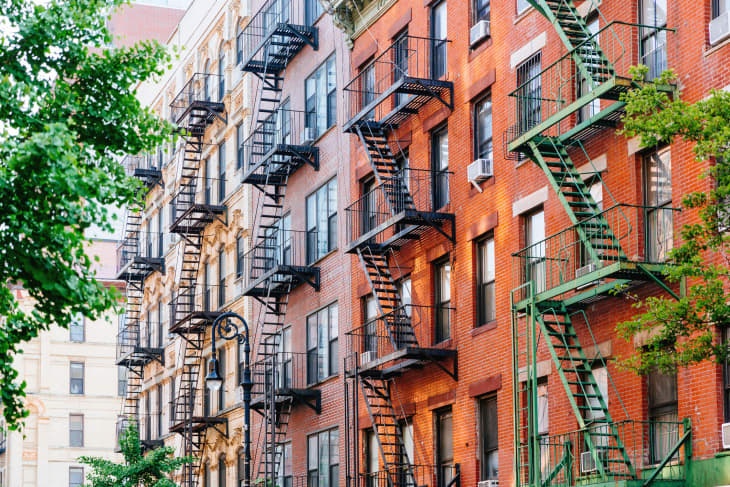 On Instagram, content creator Caleb Simpson recently featured an 80-square-foot apartment that costs $1,750 a month to rent, leaving his viewers to wonder whether or not the space and location justify the price.
In his video, Simpson walks up to a woman named Nikki, then asks if she could give him a tour of her place. In the next scene, we see a unit that isn't much bigger than a walk-in closet. Nikki can touch both walls, width-wise, and when Simpson lies down length-wise, he takes up most of the floor.
"Minimalist lifestyle unlocked!" he said.
The apartment's exact location wasn't disclosed, but it's said to be in the "heart of Manhattan." It features a living room consisting of what only seems to be an armchair, a kitchen stocked with a mini fridge and sink, and a toilet and shower.
"The shower's actually a decent size," said Simpson. Other residents of the building have to share a shower and toilet in the hallway.
As for the dining area, bedroom, and closet? They're all literally rolled into one. Nikki demonstrates this by flipping a narrow desk over, revealing a Murphy bed. When the bed is folded, she keeps her bedding in a basket. The shelves above, meanwhile, serve as her closet.
"I'm basically living in an RV or van without wheels," said Nikki about her compact space.
The comments section had mixed reviews. "This actually [isn't] bad for NY," said a commenter.
But others were not about to downsize. "Girl get out!!! You can get more square footage here in California," reads another comment. 
Despite the minimal space, Nikki said that she wouldn't have it any other way. She added: "I love micro living just because it's simple. I love simplicity."