See Your Favorite '80s Movies Recreated in Pixelated Floor Plans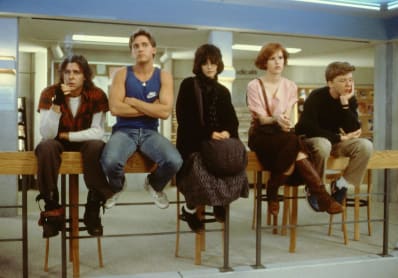 (Image credit: Universal Studios)
There's no denying that the 1980s hatched some of the most iconic movies of the 20th century—and most of the cult classics beloved by Gen X and older millennials. To celebrate their love of all things '80s, the folks at Angie's List teamed up with Neomam Studios to meticulously design a variety of unmistakable floor plans.
A mashup of the nostalgic arcade games we played in the 80s and our favorite films from that era, these pixelated floor plans recreate in DIY detail how to get the look—of Elliot's room in E.T. and Ghostbusters HQ, of the Breakfast Club library and the Millennium Falcon, and a few more classics.
According to the Angie's List team, they drew inspiration from the 1980s because with new series and movies mining from iconic 80s films, retro aesthetics, and pop-culture products—original programming such as Stranger Things and GLOW, the remakes of Dynasty and Ghostbusters, a new Blade Runner, and more—it was obvious that the decade has become the most beloved decade on TV (and Netflix).
Redesigning a garage? Perhaps you want to take a cue from Doc's home laboratory in Back to the Future, or the garage at Cameron's house in Ferris Bueller's Day Off. Whether you lean more mad scientist with a DeLorean or more minimalist modern with a vintage Ferrari Spider, both of these options really hold up.
Looking at a blank slate barn conversion or industrial loft design? Maybe Shermer High School Library, made iconic by John Hughes in The Breakfast Club, could serve as inspiration for brains, athletes, basket cases, princesses, and criminals alike.
Completely at a loss for what to do with an overgrown backyard? Maybe Mr. Miyagi's quintessential, tranquil Japanese garden oasis from The Karate Kid can help. Whether you're finding your zen through martial arts practice or just trying to master your meditation practice, you can never go wrong with ample wooden decking, tasteful and carefully placed lighting, and lots of plants. (Watch the reboot, Kobra Kai on YouTube, while you're at it.)
Have a missile silo or other round house you need to gut renovate? Recreate the layout of Star Wars' iconic cargo transport spaceship in authentic detail. Adopting your own Chewie is up to you—but the white and grey color palette is definitely right on trend.
Expecting a little one? For many of us, Elliot's bedroom in E.T. (and, let's be honest, the kid's bedroom in most Steven Spielberg movies) is everything great about American childhood—from the bunk beds to the closet fort for camping out inside with new friends. Here's your roadmap to starting parenthood off on the right track.
Want your new office space to feel more timelessly casual and cool and less startup try-hard? Get out the sage first to banish any lingering bad juju or unwanted previous tenants of a different plane, then take a cue from everyone's favorite firehouse turned Ghostbusters headquarters.
If you want to see more modern-day interpretations, check out these TV kitchens from shows like Mad Men and these floor plans from shows like Gilmore Girls and Strangers Things—also from Neomam Studios.