This Is What a 97-Square-Foot Apartment In Paris Looks Like
We independently select these products—if you buy from one of our links, we may earn a commission. All prices were accurate at the time of publishing.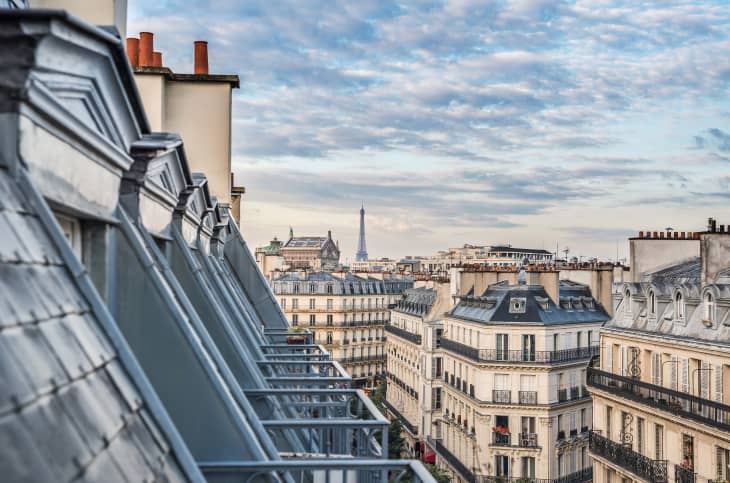 Everyone dreams of moving into a romantic Parisian apartment with a stunning view of the Eiffel Tower, but as one TikTok clip proves, expectations don't always match with reality.
TikTok user @shump_ has revealed what it's really like to live in the City of Lights. It's not all glitz and glamor, and definitely not all reside in a French chateau. Some live in a 100-square-foot apartment. 
Follow Topics for more like this
Follow for more stories like this
In her video, the American au pair tours the audience around her 9 square-meter (roughly 97 square-feet) place, starting with the sink stationed right across the front door. Then, only a couple steps away, there's a kitchenette — complete with an induction stove, a kettle, and a mini fridge. Next to it is the closet, which appears to have not much room for its door to open since the bed is directly in front of it.
The rest of the clip shows her study desk, which looks out over a park and provides a glimpse of the Eiffel Tower. 
"You can see it better in the winter," she said.
And finally, next to the study desk, there's a small cubicle for the toilet, and another cubicle for the shower (and apparently, her luggage).
The video, posted back in April, has over three million views, and a lot of mixed reactions. Many found the apartment a bit too compact for their taste. A commenter wrote, "This apartment should be $20 a month." Someone else chimed in: "I can't breathe omg." 
Others think that the space is quite lovely, seeing as how she has made the most of her situation by decorating it with family photos and collages of her trips throughout Europe. 
A commenter said it perfectly: "It is small but it looks so cute! Any place can be a home if you make it one."