A 5-Minute Apartment Search Lands the Perfect Spot For This Plant Enthusiast
We independently select these products—if you buy from one of our links, we may earn a commission. All prices were accurate at the time of publishing.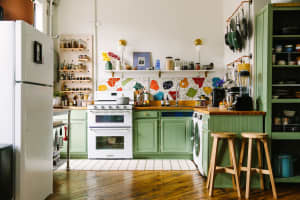 Can't-Miss House Tours Straight to Your Inbox
Keep up with our latest house tours each weekday with our House Tour of the Day newsletter
Name: Jamie
Location: Cincinnati, Ohio
The basics: 6 years, rented | 1,800 square feet
Jamie's enviable apartment search, which took about five minutes, led her to this charming Cincinnati apartment. Exposed brick and rich colors set off her collection of thrifted finds and her gaggle of plant children.
Tell us a little (or a lot) about your home and the people who live there: My apartment is my best Craigslist find to date. I found it after a five-minute apartment search about six years ago and moved in around my birthday. It's freezing in the winter and hot in the summer and I fall more in love with it all the time. I have the best landlord in the world who has allowed me to paint, build, and create a home that I love and in exchange, I send him homemade candy around Christmas time. It's tucked into Northside (it's kind of like the Brooklyn of New York) and sits on the corner of the street, where the ice cream truck stops in the summer and snow trucks block in our car in the winter (what's a garage?) It's glorious! I live here with my fiance Andrew, our cat Weezy, and my 20 plant children that are scattered throughout the place.
What is your favorite room and why? Without a doubt, the front room is the best room. We kind of get to cheat on this question because it doubles as our living room and dining room… but it's filled to the brim with thrifted goodies, interesting photos and trash night treasures. I refer to it lovingly as "thrift store chic" 🙂 Plus, the front room features my favorite home amenity, my hanging wire that houses all of my plants across our front wall window. This room is where we eat dinner, fall asleep during naps, and do most of our living.
If you could magically change something about your home, what would it be? A yard. 100% I wish we had a yard. We have a space between our apartment building and the building next door that is blocked off and only we can enter it. This "courtyard" is about 30 feet long and 7 feet wide and I've tried my hardest to make it functional (thanks in large part to Apartment Therapy posts on "small outdoor spaces") but still, nothing would beat a small yard, an outdoor patio, and a vegetable garden.
What's the last thing you bought (or found!) for your home? An antique Persian style rug. Oh man, I love a good rug. I move them all over the place and rotate them in and out of each room. There's basically a rug under anything sitting still. I like to find them at antique auctions and in my thrifty opinion, auctions are your best bet to get them for cheap.
Which fictional character would be most at home in your place? Probably that big plant from the musical Little Shop of Horrors. I have a green thumb and I think it would be comfortable in this apartment space! Any other theater nerds out there??
Jamie's words of wisdom: I'm in the middle stages of planning a wedding and with that, comes creating a registry. and I can tell you with confidence that looking at things from mainstream stores has made me even more convinced that you can make a home beautiful on a budget. You don't need $60 cheese trays or $300 throw blankets. Thrift stores are filled with goodies that have been used and have a history. Craigslist is page after page of $20 leather chairs. They're more personal and you'll be more likely to have a piece that others don't have. The last thing you or your best friend want is to have matching coffee tables!