See Rachel & Friends Make Some Very Cool Things For Her Backyard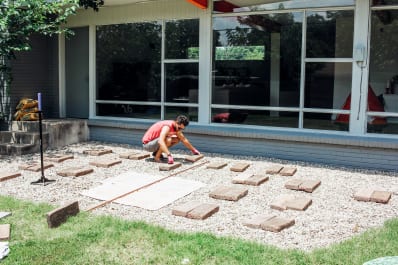 (Image credit: Rachel Anderson)
Name: Rachel Andersen
Type of Project: Backyard Patio Renovation
Location: Tulsa, OK
Type of building: Single-Family Ranch
The Renovation Diaries are a collaboration with our community in which we feature your step-by-step renovation progress and provide monetary support towards getting it done in style. See all of our Reno Diaries here.
Rachel has tons of friends and family who happily joined her on weekends to knock this project out! See how the backyard progresses, week by week:
I'm a graphic designer who works remotely and my schedule ebbs and flows constantly. So in order to make sure I stayed on target with my outdoor renovation project, but also allow space for any unexpected large work deadlines, I scheduled out the project by week. Here's how it all went down:
Week One: Concrete Pavers & Fire Pit
It was a huge first weekend for the patio renovation project! Thank goodness for friends who give up a good part of their weekend to help you with your renovation goals. I don't know what I would have done without them! And holy cow, it looked even better than I dreamed!!
Week Two: Purchase Plants & Patio Furniture
Time to go shopping!
Week Three: Build Side Tables
This week it was time to tackle making my two side tables. The cool thing about these was picking up these two slabs for FREE, already cut, at the city green brush dump, where people in Tulsa can drop off branches, tree trunks, etc. It's a great way to save money and add some character to your home, if you treat the wood and make a fun project out of it. I've made bedside tables for my bedroom out of identical stumps, and have a hanging live edge wood side table in my living room. See how it's done!
Week Four – Painting & Hammock Hanging
This weekend I put the finishing touches on the fire pit, and installed some metal posts for a hammock. It's an easy project that adds comfortable extra seating. Check out the new hammock: it is amazing!
Week Five: Finishing Touches!
This project was one I've been looking forward to – building a small bench for added outdoor seating! I unfortunately didn't do a good job of taking photos, but the tutorial I followed here is more helpful than I could've been with detailed photos.