A California Loft's Palette Feels Like a Surf Trip in Mexico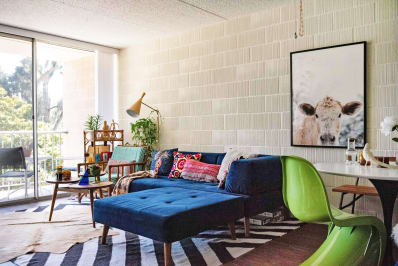 (Image credit: Laakea Laano)
Name: Laakea Laano and my Jack Russell Terrier
Location: Oakland, California
Size: 720 square feet
Years lived in: 1.5 years, owned
I'm so blessed to live in this neighborhood. My Jack Russell (a.k.a. The Boss) and I can walk to the movie theater, coffee shops, Fenton's, used bookstores (they still exist, yay!), and, of course, the pet store. My apartment gets a lot of natural light but stays cool because of all the redwood trees around the building. I'm inspired by the ocean, and since I no longer live near it, my home needs to remind me of the waters off Hawaii and California, with deep water blues and remnants of ocean life. I love color, and went with colors that feel like a surf trip in Mexico.
(Image credit: Laakea Laano)
What is your favorite room and why? Living area. Since I mostly work at home, workspace functionality is a priority. It's set up so that I can work at my spacious desk, at the dining table, or on the couch (a great West Elm modular piece where the bases can be separated and the back cushions can be moved around) with the cushions turned backwards to form a laptop surface. I can then mirror my laptop on my TV so I see it on a big screen. It's the ultimate flexible workspace!
(Image credit: Laakea Laano)
Describe your home's style in 5 words or less: Mid-century, Cali, bohemian, crafted and eclectic.
(Image credit: Laakea Laano)
If you could magically change something about your home, what would it be? Bathroom remodel! The tub/toilet area is so small you can barely close the door behind you.
(Image credit: Laakea Laano)
What's the last thing you bought (or found!) for your home? A vintage milk glass goblet (now used as a drop spot atop my entryway table) and vase that I found on the street. People leave all kinds of amazing freebies on the sidewalks around here!
(Image credit: Laakea Laano)
Any advice for creating a home you love? Bring in stuff that makes you happy and reflects you, not just because you saw it on Instagram or Pinterest. And move stuff around every once in a while—it keeps things fresh and shakes up the energy.
(Image credit: Laakea Laano)
Thanks, Laakea!
• Interested in sharing your home with Apartment Therapy? Contact the editors through our House Tour & House Call Submission Form.