Total Turnaround: A Dark and Damp Apartment Does a 180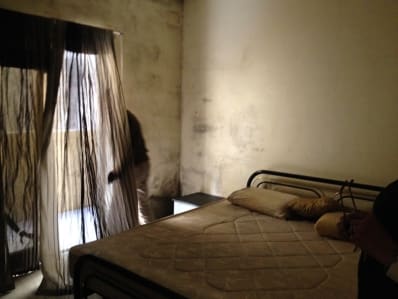 (Image credit: Submitted by Nadine)
Name: Nadine
Location: Sliema, Malta
The apartment is on the first floor, very compact and enjoys a limited amount of light. Our main aim was to maximize usage of space and brighten it up, ideally with natural light. The apartment was in a very run-down state, had moldy walls and plumbing problems.
(Image credit: Submitted by Nadine)
The style inspiration was Scandinavian with vintage elements. Sliema is a cosmopolitan seaside town, so we wanted the apartment to be warm and inviting (inspired by city living) but also including a few playful colors to reflect the seaside lifestyle and have a lighter feel to it.
Practicality was our number one priority, being a rental apartment. Gres porcelain tiles in the kitchen, living and dining were chosen over laminate flooring. Colors were kept very light. In the kitchen, the subway tiles reflect light beautifully while the mirror over the sofa also maximizes natural light. The vintage Avalon teak sideboard in the living area gives warmth, along with the vintage bentwood dining chairs. The sofa and armchair were salvaged and reupholstered. Also the dining chairs were salvaged. All chairs and armchair were full of woodworm! Furniture is a mix of IKEA, salvaged vintage furniture and also upcycled furniture found in the apartment itself.
(Image credit: Submitted by Nadine)
All lighting is LED and all appliances are energy saving, which makes the apartment low cost to run and sustainable.
(Image credit: Submitted by Nadine)
In the spare bedroom, the paint color was picked from the print which was bought from MONOQI. The custom wardrobe was purchased by previous owners and was painted white and fitted with mix and match porcelain knobs, it really maximizes storage space. The bedside tables were salvaged and hand painted.
(Image credit: Submitted by Nadine)
The bathroom was fitted with marble effect porcelain tiles which really brighten the room, together with an IKEA vanity and wash hand basin.
We kept the budget low by doing most of the work ourselves and sourcing second hand, vintage furniture which was given a bit of TLC. We're really happy with the feedback of our guests about the design. They say it looks clean and warm and I think that sums up the whole feel about it.
Thanks, Nadine!
• Are you interested in sharing a decorating or renovating project with the Apartment Therapy readers? Contact the editors through our Makeover Project Submission Form.