Before & After: What it Lacked in Drawers, it Made Up for in Rodents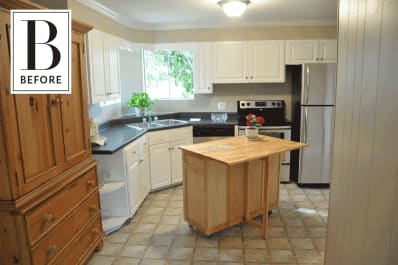 (Image credit: David Mackle)
Stacy and her husband found themselves with a very trying kitchen on their hands. After two years of living with not enough storage, poor ventilation and dreaded pests they decided to take the plunge and create a kitchen that was clean, functional and easy on the eyes.
From Stacy: Our kitchen had a hard life. We bought our home back in 2011, a recent flip after the previous owners had foreclosed. Shortly after the flip while the house was still on the market, our street was hit by tornadoes, causing several downed trees and a total landscape change. As a result, the wildlife in the neighborhood had to relocate. Sure enough, all the mice in the neighborhood decided to relocate directly into our kitchen walls! For nearly two years after we moved in, we had constant pest issues!!! I made my husband promise me that when we had finally saved up enough money to gut our kitchen that he would seal every nook, cranny, and crack in the kitchen!
Not only did we have pest issues, but our kitchen was totally NOT functional. We had no pantry, only two drawers, and no way to vent our kitchen exhaust...resulting in smoke detectors going off every time we made bacon! Not to mention the kitchen had vinyl floors, laminate countertops and our cabinets had been there since the home was built in 1955.
We had planned to finish the kitchen in one month and our budget was in the $7-$10k range. We planned to do everything ourselves, minus the tile work. We hired outside help for that (so thankful we did!). We ran into several roadblocks...the first being that my husband's job suddenly got very busy so he had to do all the work either late at night or on weekends. Towards the end of our project, when things were getting really intense and stressful, we made a wrong cut on our countertops and a few minutes later broke our brand new farmhouse sink (waaaaa!!!). We took a few days off after that to catch our breath. Our friend, a carpenter, helped us patch the counters - and we made one last trip to IKEA for a replacement sink. About eight weeks after our start date, we had finally completed the kitchen!
I love everything about this kitchen. I love how bright, white and functional it is! Everything fits neatly into our pantry and we have enough drawers to store everything we need. We had a hard time figuring out what to do above the cabinets, since they didn't reach all the way to the ceiling. My husband had the idea to make soffit out of shiplap to match the rest of our kitchen. Honestly, I wouldn't have done anything differently. Each time I step foot into the kitchen, I feel inspired and grateful. It was a lot of work, but it was worth it.
Stacy's words of wisdom: Be realistic about time and cost. Double the amount of time you expect it to take. Also, when making your budget don't forget to add in the 145 trips to Home Depot. Also if you are doing it yourself, add in a few hundred dollars for all the uh-ohs...because believe me, they'll happen.
Cabinets, Counter, Sink, Oven & Stovetop: IKEA
Brass pulls: eBay
Planter: West Elm
Pendant (above sink): West Elm
Pendants (bar): Cedar & Moss
Breakfast bar: Jarrod Allen
Faucet: Delta Faucet
Windows: The Home Depot
Tile: The Home Depot
Thank you, Stacy!