A Family of Expats Settle Into a Beautiful Mix of Old and New in Luxembourg
We
independently
select these products—if you buy from one of our links, we may earn a commission. All prices were accurate at the time of publishing.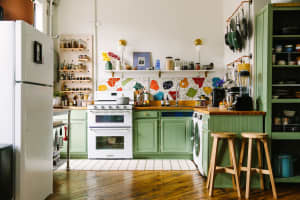 Can't-Miss House Tours Straight to Your Inbox
Keep up with our latest house tours each weekday with our House Tour of the Day newsletter
Name: Angela, her husband, daughter, and their dog, Ollie
Location: Luxembourg
The basics: 6 years, rented — 4,000 square feet
When Angela and her family moved to Luxembourg from the States, they weren't entirely sure what to expect. Prioritizing the things that soften the blow of an international move on a family, Angela wanted a home with a great location, access to schools and outdoor space. Along with checking off most of the boxes on her wish list, their home is a gorgeous, high-ceilinged blend of old world charm and modern conveniences. And while two of her three kids have left for college, the charm of the home remains.
Tell us a little (or a lot) about your home and the people who live there: I am an American designer, living abroad with my almost grown and gone family. My husband and I have already sent two boys away to college (one is studying environmental design and the other business) and our daughter remains at home to finish her last two years at the international high school. Oliver is our sweet dog and constant companion who loves the beautiful forests in Luxembourg. While my husband started his new job here for Amazon, I decided to finally embark on a dream of my own designing wallpapers and textiles. It has been interesting for all of us as we have adapted to the European way of life, school and work. We came here not expecting to stay quite so long and now we would like to stay in Europe forever. We love the pace of life here and how it allowed us to reclaim time with our teenage kids, learn new languages, explore new cultures via food, travel, fashion and some amazing design.
Because we moved six years ago with our two middle schoolers and a high schooler — a somewhat delicate moment in a child's life — we were looking for a few things in particular. We wanted the best access possible to school, town and green space to help aid in the transition. My personal dream was to find some old house with that perfect combination of old and modern, not really knowing what was available. This house we are in now was the first house we saw (at 8 am) on the first day of a three day house hunting trip. It wasn't even finished but the location, huge sliding windows, concrete floors, gorgeous stainless kitchen and beautifully restored original details made it an obvious choice. The agent was talking about all the attributes but I wasn't listening, I was already (mentally) moving in. The garden was a huge plus, for our kids and dog too. In addition, the house sits on a beautiful park with a pond, play structures, restaurant and birds that start their singing as early as 4:30am in the springtime. (It is beautiful but I confess to earplugs in the really busy bird season.)
What is your favorite room and why? It is a toss up between my high functioning kitchen and the light filled living room. They are on the same floor so I am able to enjoy both equally, thankfully. I love the kitchen's clean design, stainless crispness and the original details like the wood paneling by the bay window, original plaster work on the ceiling, light fixtures as well as hardwood floors. I love to cook and spend a fair amount of time there, so it is a joy to be in that space. The living room and its high ceilings and floor to ceiling sliding windows that look out onto the garden creates a kind of indoor/outdoor space that is hard to beat. It is an easy, comfortable room and the gathering place for our family.
If you could magically change something about your home, what would it be? I would change the landscaping and make our garden a bit more deliberate, with lots more Boston Ivy growing everywhere. Because we rent our house and because our time here has always been of a temporary status, I have held back. It is something I would definitely take on if I knew I'd be here for the long term.