A Minimal Brooklyn Rental Is Petite But Ultra Functional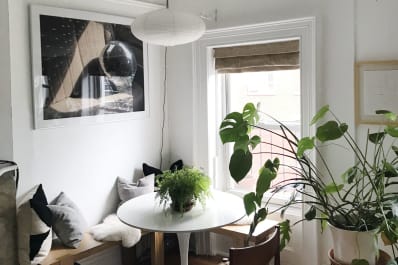 (Image credit: Margaret Tudor)
Name: Margaret Tudor and a roommate
Location: Clinton Hill — Brooklyn, NY
Size: 700 square feet
Years lived in: 2.5 years, renting
I knew as soon as I walked into the apartment that it was a special spot. Unlike so many apartments in New York that have had the original details ripped out in favor of uniformity, this place is dripping in charm. I describe it as "petite but functional."
It has room for everything I need, but just enough. The beautiful windows face north and south, so one half of the apartment gets beautiful morning light and the other half afternoon light. And, rarest of all—it has a lot of storage space.
Describe your home's style in 5 words or less: Neutral, cozy, a bit '70s
(Image credit: Margaret Tudor)
What is your favorite room and why? The living room. Every time I walk in I'm happy to be here. It's filled with so many great things I love, and it's such a communal space. The whole room is filled with places to sit exactly so that I can fill it with people.
(Image credit: Margaret Tudor)
Because it's so petite and I had to fit in a living room, dining room, and spillover storage from the even smaller kitchen, I spent months searching the corners of the internet looking for the pieces of furniture that would exactly fit the spaces I needed them to go. A fake Saarinen table that was exactly 28 inches. An ottoman exactly 16 inches tall and 20 inches wide. It was a tough search. But worth it! Everything fits now.
(Image credit: Margaret Tudor)
I should also mention my love for my bedroom. It might be the largest bedroom I'll ever live in—a weird trade for the small proportions of the rest of the apartment. It's incredibly luxurious. And the leather side tables are definitely the fanciest thing I own. Most of the furniture in the apartment is from Craigslist or Target, but those are nice. But my absolute favorite part—it's got a ton of ledges for me to put art I love and gifts from friends like pottery, plants, or photos.
(Image credit: Margaret Tudor)
If you could magically change something about your home, what would it be? I would make the kitchen bigger. It's kind of nice for cooking because EVERYTHING is within arm's reach. You can really only fit one person in there at a time and there is very limited counter space. But it has forced a really nice tradition with my roommate—if one person is cooking, you make enough for two people and we eat together. It started because it's really impossible for two people to be cooking at the same time, but it means that we are almost guaranteed to have a few nights a week to see each other and hang out.
(Image credit: Margaret Tudor)
What's the last thing you bought (or found!) for your home? Last thing I found was this light from IKEA. It's meant to be a flush pendant, but I was scouring the internet for a fake Noguchi plug-in pendant, and, of course, looking for some very specific dimensions, and this fit the bill and is under $20! So I rigged it a bit to be a pendant light and boom, it's perfect.
(Image credit: Margaret Tudor)
Any advice for creating a home you love? I'm probably not a great person to ask because I was so crazy about getting everything exactly right, which I do not recommend to people. I just say follow your gut and prioritize making it comfortable. A neutral color palette is a safe bet; colors can be hard to get right. If you walk in a room and are drawn to an area, put a chair there. Someone will want to sit there.
If you feel happy looking at it, then you did a great job decorating.
Thanks, Margaret!
• Interested in sharing your home with Apartment Therapy? Contact the editors through our House Tour & House Call Submission Form.