A Pretty in Pink Freshman Year Dorm Room
We independently select these products—if you buy from one of our links, we may earn a commission. All prices were accurate at the time of publishing.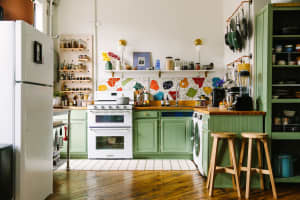 Can't-Miss House Tours Straight to Your Inbox
Keep up with our latest house tours each weekday with our House Tour of the Day newsletter
Name: Cara, her roommate, 2 suite-mates and 9 plants
Location: Baltimore, Maryland
The basics: 8 months, rented | 286 square feet
At first glance, you would have a hard time sussing out the fact that Cara's room is actually in a dorm. The bright colors and cute accents are a far cry from the white cinderblock and bunk beds most often associated with freshman year.
Tell us a little (or a lot) about your home and the people who live there: This is my freshman-year dorm room. My roommate and I were paired randomly but it worked very well, and we didn't fight at all during our time together despite the close quarters. We were both motivated to keep the room tidy because we spent a lot of time studying on our beds. Our guest room was the area rug between our beds, which fit an air mattress. One bathroom for four girls was also not an issue. The biggest surprise was the window, which made the room so bright during the day that I couldn't always see my laptop screen properly. The windowsill was also surprisingly wide, which enabled my plant collecting. Sometimes it seemed like every time I left campus I returned with a new plant.
What is your favorite room and why? The main room is my favorite because I can sleep, lounge, study, and eat in it without walking more than a few feet. Also, the only other room, the bathroom, doesn't have a window to fill with plants like the main room does, so it automatically loses.
If you could magically change something about your home, what would it be? I would love to have wood floors rather than industrial carpeting. My roommate and I chose a rug that coordinated with it and incorporated its teal color into the decor, so it wasn't a problem, but wood floors would be beautiful.
What's the last thing you bought (or found!) for your home? The day I moved in, I bought a coral teacup to commemorate the occasion. During the holiday season I bought a small tree and decorated it with old homemade ornaments from when I was a child. The last plant I brought home was a free basil seedling.
Cara's words of wisdom: Don't spend a lot of money on filler decor you have no emotional connection to. If your style changes, it's easy to get rid of a $3 roll of wrapping paper, and you'll be willing to work around a treasured souvenir, but you'll resent a clashing $300 area rug you feel obligated to keep.
You will fall in love with your home as you fill it with memories over time, but you can cheat a bit with material items. Use the IKEA effect to your advantage by including DIY projects you're proud of.