A Teeny-Tiny (50 Square Foot!) Bold, Blue Bedroom in Brooklyn
We independently select these products—if you buy from one of our links, we may earn a commission. All prices were accurate at the time of publishing.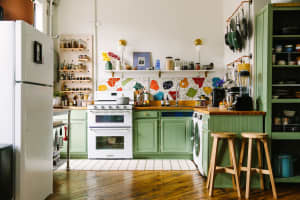 Can't-Miss House Tours Straight to Your Inbox
Keep up with our latest house tours each weekday with our House Tour of the Day newsletter
Name & Location: Steven in Brooklyn
My Favorite Room: Bedroom
Specs: 50 Square Feet
What would you do if faced with a tiny (like, 50-square-feet tiny) bedroom space that was nearly all-white and felt like the inside of an empty closet? If you're Steven, you pick a dramatic paint color, do a little hunting and gathering for interesting items and you create a room that—despite the size—would be a nice place to cozy up in, day or night.
I would describe my style as "eclectic hunter-gatherer." I tend to gravitate toward moody colors and nostalgic textures. I call this room my "Dark and Stormy" bedroom because its mood rises and falls with the movements of the sun (much like my Gemini persona.) When I first moved in, everything was stark white except for the chalkboard wall and I found it very difficult to fall asleep. I wanted something richer and more moody and in a space so tiny, I knew a darker color would make the room feel more vast. Lush, like velvet, the paint's cool, blue-green undertones shift throughout the day and the satin finish intensifies a liquid moodiness one might find in the reflection of a lake after a rain.
When I show people my room, I like to point out everything I got for free! I'm an artist living in a very expensive city, so I simply can't afford much. Luckily, my Brooklyn neighborhood is known for its residents leaving unwanted items on their stoops; books, clothing, children's toys and what not. It's very charming, very "green," and very handy for decorating on a budget! Here is a list of items I found on the street: the two-tier vintage brass and glass shelf, the chair I use for a bedside table, a vintage drawer I store under that chair to hide unwanted chords (not pictured), the wood used for the shelf next to my bed, and several of the books I have stacked around my room. My headboard is a piece of wooden screening I found tucked away in the closet in my building's common stairwell. (So far, no one has come looking for it.) The art is mostly gifted or thrifted.
The room is small, but stuffing it with personal items arranged in little vignettes provides places for my eye, mind, and heart to travel. Every item in my room is a "favorite thing." My favorite story, however, is that of the Portrait Of A Forlorn Girl. I had been tracking her price for months at a local thrift shop. One day, as I dug through a plastic bin in the darkest corner of the store's basement level, I saw her brooding in the dark! No wonder she was so forlorn! I was shocked to see that on this day, she was priced at ONE DOLLAR! The man at the register was just as surprised by her pricing as I was and all but accused me of switching her tag myself! Sir, if you are reading this, please know that your mistake was simply my destiny. We are very happy together and I think I even see her cracking a smile from time to time.
Another favorite item is the "Staunch" banner above my bed. My best friend crafted this for me as a Christmas gift! The needle-point of the turtle and the orange flower was done by my mother when she was a teenager in the '70s and the cross-stitch Vogue model was a cheap find at a local street fair.
Wall color: Yorktowne Green by Benjamin Moore
Brass/Glass Shelf: Street find!
Bedding: Ikea
Striped Throw: Nordstrom Rack. (It's actually a "blanket scarf!")
Bed-side lamp: Target
Portrait of a Man With Mustache: Stoop sale! (I call him "General Gabbler." And yes, the light is functioning!)
Would you like a room in your home (any room!) to be featured as an Apartment Therapy Favorite Rooms post? Submit your room here.