This "Minari" Merch Represents a Reimagined Depiction of Americana
We independently select these products—if you buy from one of our links, we may earn a commission. All prices were accurate at the time of publishing.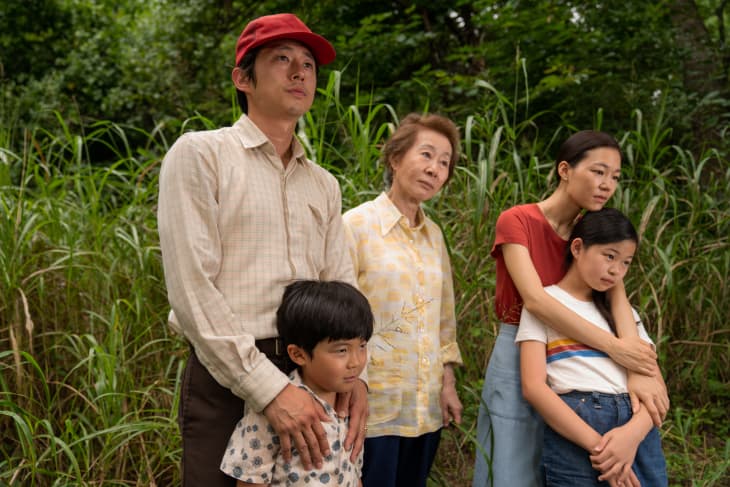 I'm not usually into movie merch. Honestly, I have the attention span of a tiny bird and know how quickly I can lose interest in themed trinkets I once pledged all my devotion to. But when I saw "Minari" merch out on A24's online shop, I felt the same heart flutters I got when I watched the movie.

For those who haven't gotten the chance to stream it yet, "Minari" is the story of a Korean-American immigrant family that moves to a small plot of land in Arkansas, with hopes of a better life. While the story itself is a tale as old as the American dream, it's refreshing in its reimagined depiction of Americana. It's fewer apple pies and Fourth of July, and more lush pastures, small-town interactions, and candid depictions of relationships formed in the throb of all-American ambition. 
And it's exactly this brand of contemporary Americana that's perfectly captured in A24's 4-piece selection of "Minari" merch, which includes a "Family Business Zine," edited by the movie's director Lee Isaac Chung and actor Steven Yeun, an illustrated postcard set, a t-shirt, and recipe cards. Each piece quietly portrays one aspect of the immigrant life, from broken dreams to tasty dishes. Perhaps one of the best parts of the collection is that each piece is crafted by, and shines a light on, a different Asian-American artist, including NYC-based illustrator Naomi Otsu and author-illustrator Sojung Kim-McCarthy.
Based on a movie that's already racked up several accolades — including a Golden Globe for Best Foreign Film, and is headed to the Oscars with six historical nominations — I'm not surprised all of these items feel like they could stand up on their own. If you're not convinced, take a look for yourself.