What the Award-Winning Film "Minari" Teaches Us About Korean Household Traditions
We
independently
select these products—if you buy from one of our links, we may earn a commission. All prices were accurate at the time of publishing.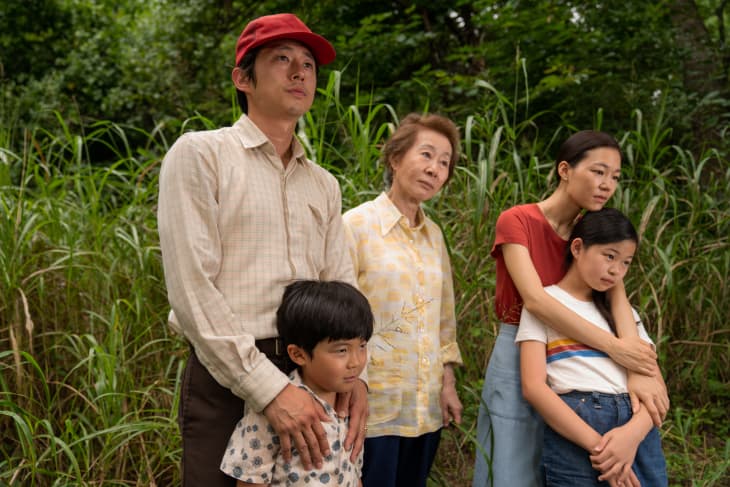 Some of the touching moments in "Minari," Lee Isaac Chung's new award-winning Korean-American immigrant film, happen when everyone's asleep.
These are the slow, slumbering scenes when the Yi family, worn out from the stresses of struggling to make a life in 1980s rural Arkansas, attempt to let go of their tension, in an effort, finally, to rest. We see grandson and grandmother lay side by side; mother, father, and children nestled together — a multigenerational family, united in the quietest show of resilience, sleeping in a shared room or on the cramped floorspace of their small mobile home.
Koreans, intimately familiar with such sleeping arrangements, will recognize these scenes as authentically Korean, even today as Korean homes have expanded and divided, and Korean families have shrunk. But while the foreign conventions of individual bedrooms and raised beds have long been popular in Korea, it's still common for generations to co-sleep on the floor, particularly when a newborn baby joins the family.
According to Dr. Seockhoon Chung, MD, PhD, and Dr. Hoyoung An, MD, who write in Sleep Medicine Research, Korea's tradition of co-sleeping stems from not only its parenting philosophies, which prioritize family care over individual privacy but also its home design and architecture. Chief among these design features is ondol, the ancient heating system South Korea so proudly designated an official intangible cultural heritage in 2018.
Because Western heating systems warm the home by warming the air, the floors remain cold. As a result, life is often elevated — playing out atop tall tables, sofas, chairs, and beds, often with shoes on and carpeting underfoot — all in an effort to avoid contact with the uncomfortable floor beneath. In Korea, though, its unique ondol, or "warm stone" system heats the home by heating the floor, making it so that there is little need for much else to sit or lie on besides the floor itself.
Today, modernized ondol, which has replaced the warm stones with hot water pipes, still heats the vast majority of Korean homes, and despite the widespread usage of raised furniture like beds, much of Korean life continues to center on the floor, which remains shoeless, clean, and cozy. It is a truly multifunctional space, needing only a couple slight adjustments — a squat table positioned here or a sleeping mat unfurled there — to be ready for daytime, nighttime, and all the moments in between.
Floor-based living is on display in "Minari," too, in a house that, though presumably absent of ondol, is as Korean, of course, as any other Korean home. The floor is where grandma likes to sit to watch TV, engrossed by the theatrics of the latest pro wrestling match. And it's where she plays Go-Stop with her grandson, tightening their bond with each card game won, each competitive curse flung his way.
As Dr. Keunhye Lee, PhD, writes in the quarterly journal Space and Culture, the Korean floor is not simply the surface upon which experience is overlaid; it is a "spatial experience" in itself. The floor is a "fundamental element in Korean everyday life," a "substantial element for Korean identity."
That element — as the place where families argue, laugh, and cry; make small sacrifices; hatch big plans; and hope for pleasant dreams after a hard day's work — creates, then, its own culture. Whether in the motherland or in a new land as foreign as Arkansas, the Korean floor is, with its own circulation and pulse, its own living thing.