Aaron's Astor Tower Apartment
We independently select these products—if you buy from one of our links, we may earn a commission. All prices were accurate at the time of publishing.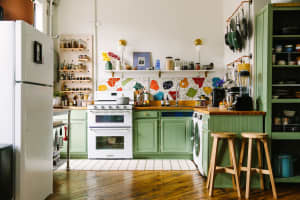 Can't-Miss House Tours Straight to Your Inbox
Keep up with our latest house tours each weekday with our House Tour of the Day newsletter
Name: Aaron and Rob + pets, Jan and Ira Katz & Simon Le Bone
Location: Gold Coast — Chicago, IL
Size: 700 square feet
Years lived in: 3 — owned
I met Aaron through a mutual friend a couple of months ago and when he mentioned that he lives in the Astor Tower condominiums, I'm afraid I overreacted. I LOVE Bertrand Goldberg's buildings and so of course I started pestering Aaron about a house tour. After a bit of cajoling, he agreed.
Aaron was a bit reticent about participating in a house tour because he doesn't feel like his condo is quite ready. Since buying the unit three years ago, he has slowly been undoing the 1980's era renovation and taking it back to the mod era of the building's origins. I absolutely love where Aaron is going with the redesign of the space.
Upon entering, I immediately fell in love with the kitchen. As other owners in the building have rehabbed their kitchens, Aaron salvaged the old, metal cabinets that were original to the building. When he had enough of the original cabinets – including an original wall hung refrigerator/freezer! – Aaron DIY-ed a kitchen makeover. With paint that had been color-matched to the appliances Aaron painted all of the mismatched cabinetry a consistent color. The result is a kitchen that feels both vintage and modern.
In order to restore some of the condo's original glory, Aaron also undertook the exhaustive (and messy) task of stripping paint off the concrete columns. It was totally worth the effort because the columns in their natural state are beautiful. The way they connect the wall of windows at the corners reminds you of how the building is practically standing on these columns. Yep, that's why I love Bertrand Goldberg!
Beyond the renovations, Aaron's apartment contains a mix of mismatched but complementary furniture that he has picked up along the way as an interior designer. Aaron's purchasing philosophy is to get the things you love and then enjoy them and he certainly holds true to it. A vast collection of books stacked along a wall will someday be a wall of shelves that will neatly put everything in place. That Aaron hasn't plopped an IKEA shelf in just to fill the space and will instead wait as long as he must until he finds the perfect solution is a lesson I know I can take away from this house tour.
Apartment Therapy Survey:
My Style: High-quality, slightly aggressive
Inspiration: The concrete columns. They're fantastic. Aside from that, my inspiration is a dark, masculine library filled to the rafters with books and art; I haven't achieved that yet.
Favorite Element: My wall-hung refrigerator.
Biggest Challenge: Trying to remember that this is home to 5 living beings, not just my personal style lab. I consistently fail this challenge.
What Friends Say: "Is there more wine?"
Biggest Embarrassment: It's a tie between the fact that I am a horrible house keeper and this place will never, EVER be finished.
Proudest DIY: The kitchen. I salvaged it from other condos in the building and painted and installed it myself, including the plumbing and electrical.
Biggest Indulgence: There are many.
Best Advice: Don't have mediocre crap you are ambivalent toward just to fill space. Take your time and surround yourself with things you love, even if you don't think they work together. Then use those things. Every day!
Dream Sources: I would LOVE to own "Le Petit Jardinier" by Pierre et Gilles. I would also love ANYTHING by Tony Duquette, but something he actually made with his hands and not a production piece.
• The paint on the entry wall is just Benjamin Moore Black, but of course that will change by next week. • The kitchen cabinet paint I had custom matched to the original GE enamel. • The giant strainer in the kitchen is by C. Jere c. 1982. • The metal disk wall sculpture by the kitchen passthrough behind my desk is also by C. Jere. It's called "Raindrops". It's an original production, not the reissue. • The oil painting of the little girl in my entry is by Madeleine Stanley Jossem (it's one of my favorite pieces because she was a dear friend; I think of her every day when I see that painting). • There are 2 Lee Godie pieces; they were both gifts.
• HOUSE TOUR ARCHIVE Check out past house tours here
• Interested in sharing your home with Apartment Therapy? Contact the editors through our House Tour Submission Form.
• Are you a designer/architect/decorator interested in sharing a residential project with Apartment Therapy readers? Contact the editors through our Professional Submission Form.