Here's a Super-Simple Way to Add More Character (and Practicality) to an Acrylic Coffee Table 
We independently select these products—if you buy from one of our links, we may earn a commission. All prices were accurate at the time of publishing.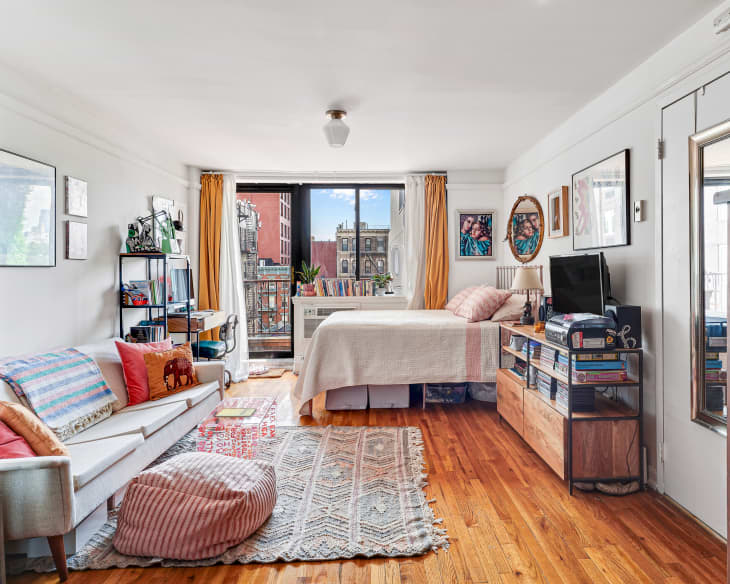 Acrylic items, also known by the brand name "Lucite," first emerged in the early 20th century, rising to popularity in the '60s and '70s. The see-through material comes in a range of hues and was a hit because it's sturdier than glass. That meant it could (and still can!) be reliably used in a variety of applications, from waterfall tables and floating shelves to makeup organizers, trays, and beyond. Over the past decade or so, acrylic has again gained traction as a go-to material for furnishings and decor, this time more for its versatility and design chameleon-like aspects versus its novelty. Since it's translucent, acrylic doesn't take up a lot of visual space, allowing it to blend into the background of a room that might already be home to visually-heavy items like upholstered chairs, bookshelves, and wooden tables. Decorating pros say the material works well with almost any style of home or design, too, by adding a bit of a futuristic, modern touch to even the most traditional rooms.
For all of these reasons, acrylic tops the list of pretty meets practical choices for a coffee table in particular (I mean, how many CB2 peekaboos have you seen in your lifetime?). The one thing no one ever really tells you about acrylic, though? It's sometimes hard to see if you're buzzing around your apartment or room, which means you might literally bump into (or stumble over) pieces from time to time. That's why I was so excited to see a stylish solution to this very problem pop up in a recent house tour.
Follow Topics for more like this
Follow for more stories like this
Lucy Goldberg, who is an art director, visual stylist, and set decorator, knows this almost non-issue issue all too well. Her own Manhattan home features an acrylic waterfall coffee table in the living room, which she says was actually left over from a shoot she worked on. "It's truly a micro size and perfect as a coffee table," she says. "but since it was clear I kept tripping over it." Instead of swapping out the bright and airy table for something else, she decided to DIY the table into something that worked better for her. "I had some paint markers laying around and one day just started writing some lyrics that were stuck in my head on the table," she shares, "I kept going until the table was covered, and now it's a fun (and visible) art piece."
The best part about this DIY, aside from the fact that Goldberg no longer trips over her coffee table, is that this design idea can be totally customized to whatever you choose. You can opt to scribble words or lyrics over a table like Goldberg did, repeat a motif like hearts, carefully draw out some stripes, or doodle a little bit here and there (and let your guests or company partake!) until the project is complete. You an also pick whatever colors work with your room, too. Now that's true a design win-win from my perspective.