Real Life Closet Makeover: Esteban & Todd's New Closet is Now the Stuff Of (Organized) Dreams
Closet size: 24 square feet
How many people use this closet? Two. My partner Todd and I share the closet.
How long have you lived in your home? Five years
Your closet in 5 words or less: Small, narrow, chaotic, cluttered, disorderly.
My partner Todd and I challenged ourselves to clean out our closet from head to toe, then reorganize it in a way that made more sense. We did a massive purge session, shopped for smart storage solutions, and are now ready to share our new space. Here's what we did...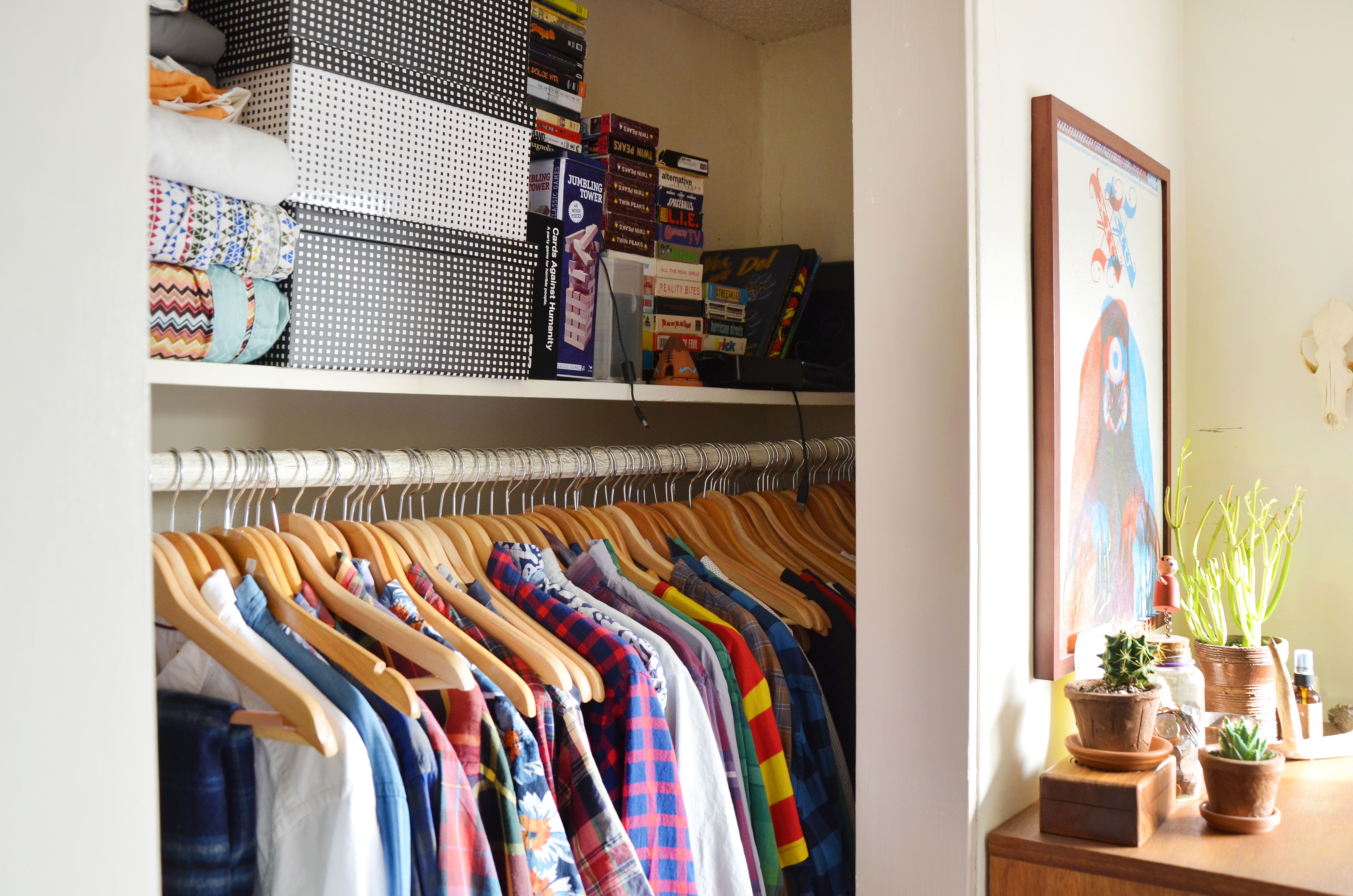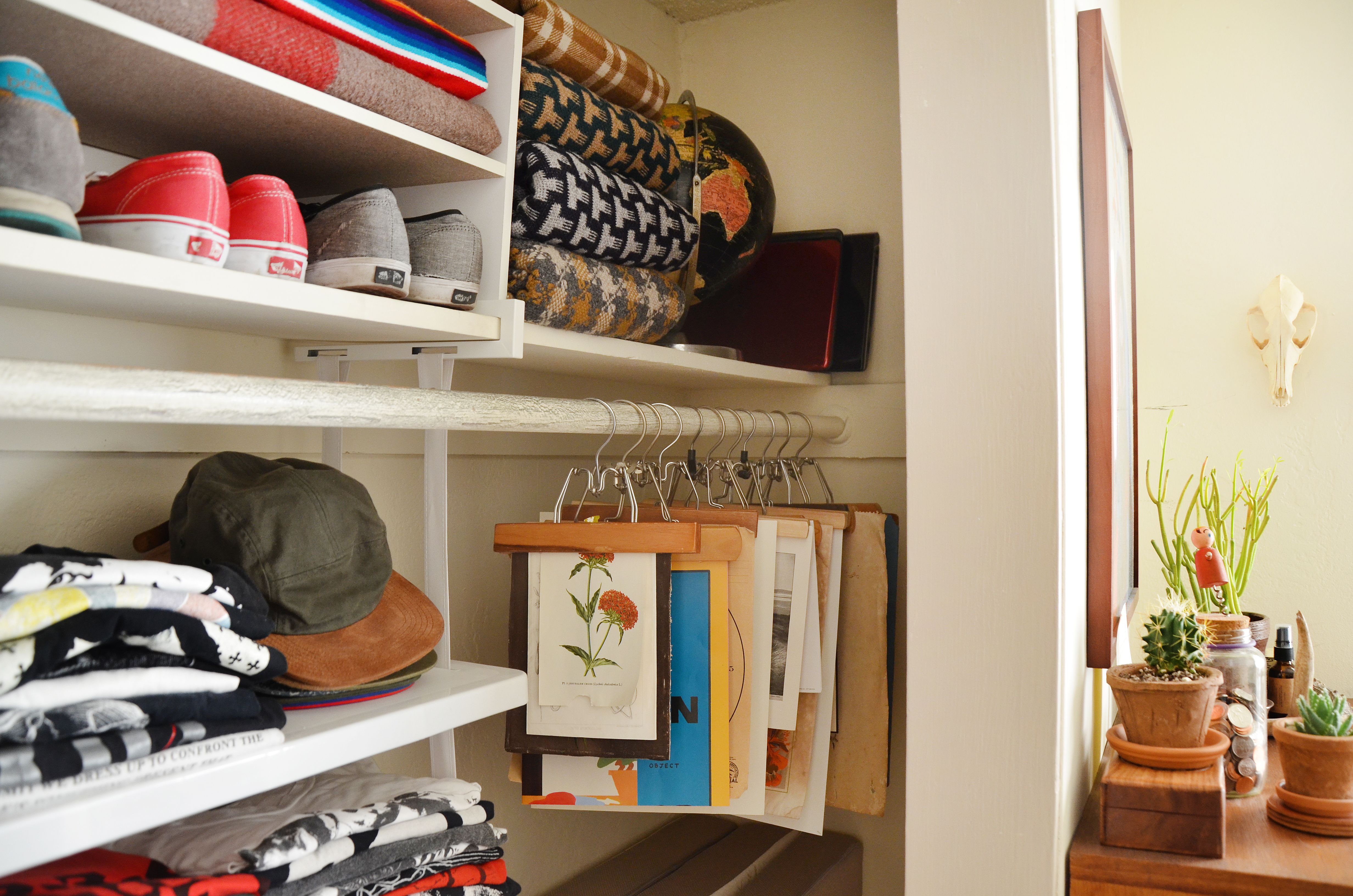 Trouble Spot #1:
The closet shelf was a problem area. It didn't necessarily look messy, but the VHS tapes took up too much space. We love having them and want to keep them, but they aren't accessed so often that they need to be in such a prime spot. So now the VHS tapes are stored more out of the way in a bin hidden in the right side closet nook. Plus, the new shoe rack allows us to neatly and vertically stack our shoes and throw blankets, which we rotate every few months.
Trouble Spot #2: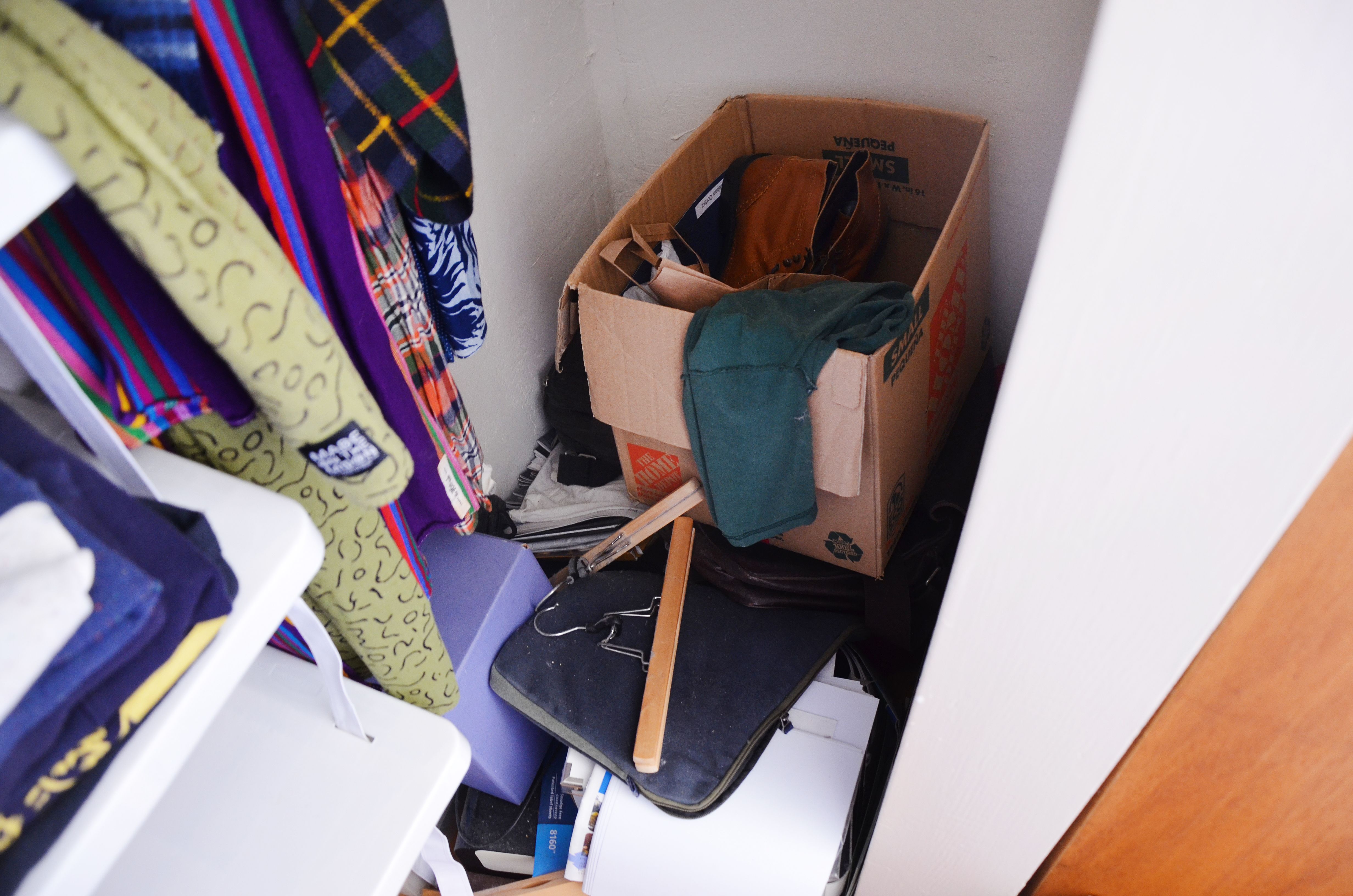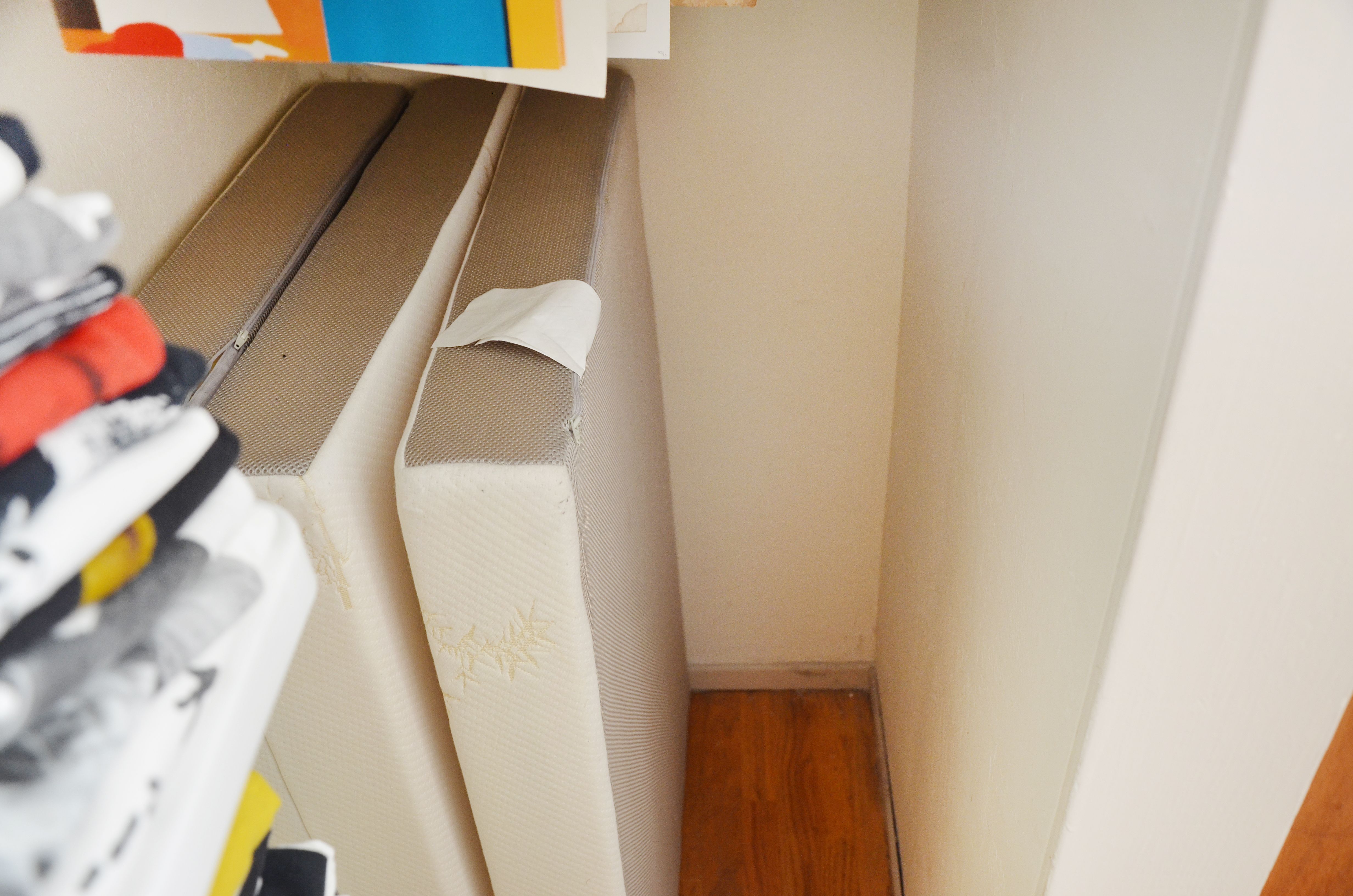 Our closet extends well past the door frame, creating an extra storage pocket. This is probably our biggest challenge. It's so easy to throw stuff back there and forget about it. I couldn't even tell you the stuff that was in there. We cleaned out both nooks and now store the bulky air mattress on the right side (above) and storage bins on the left.
Trouble Spot #3: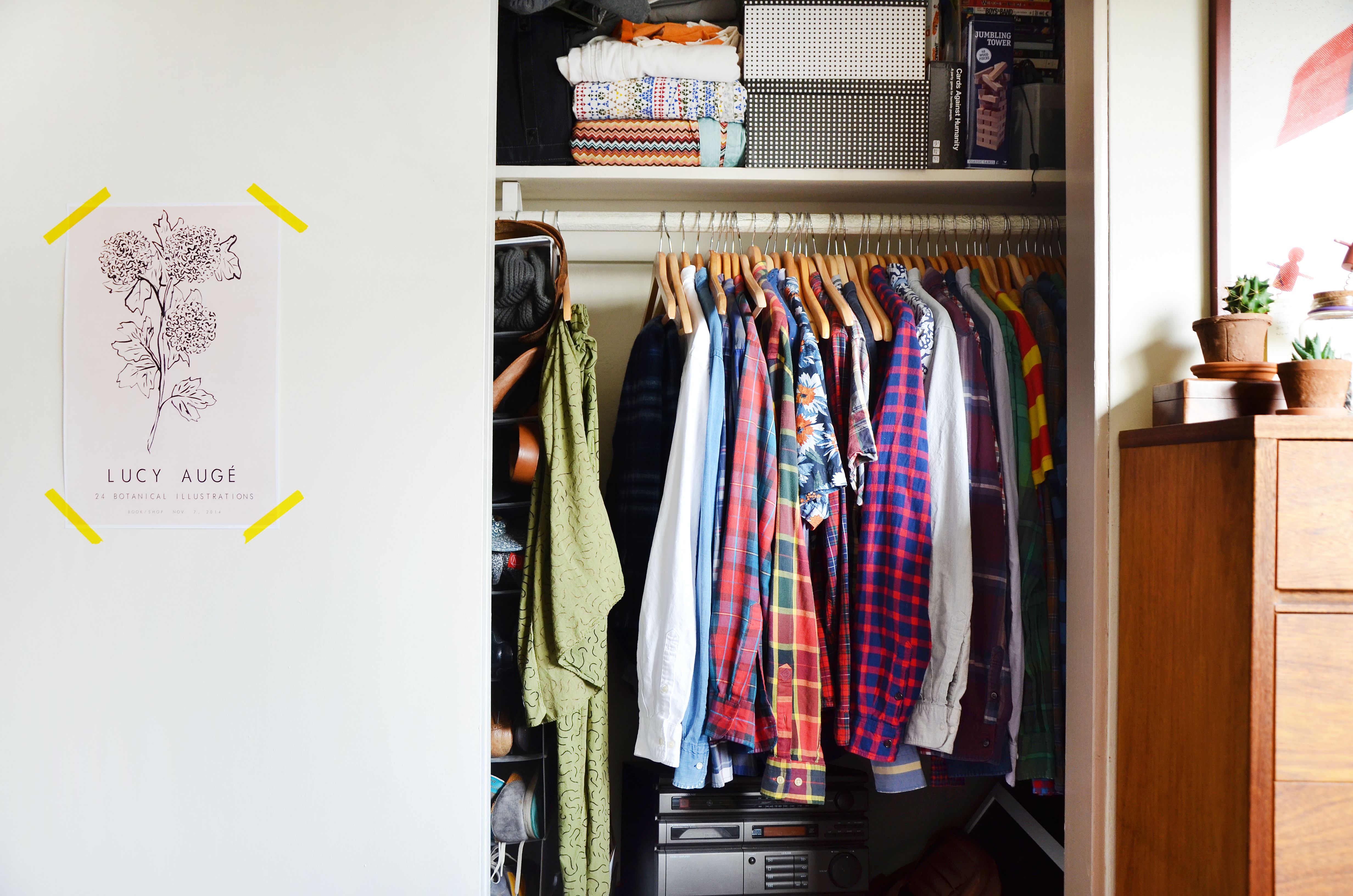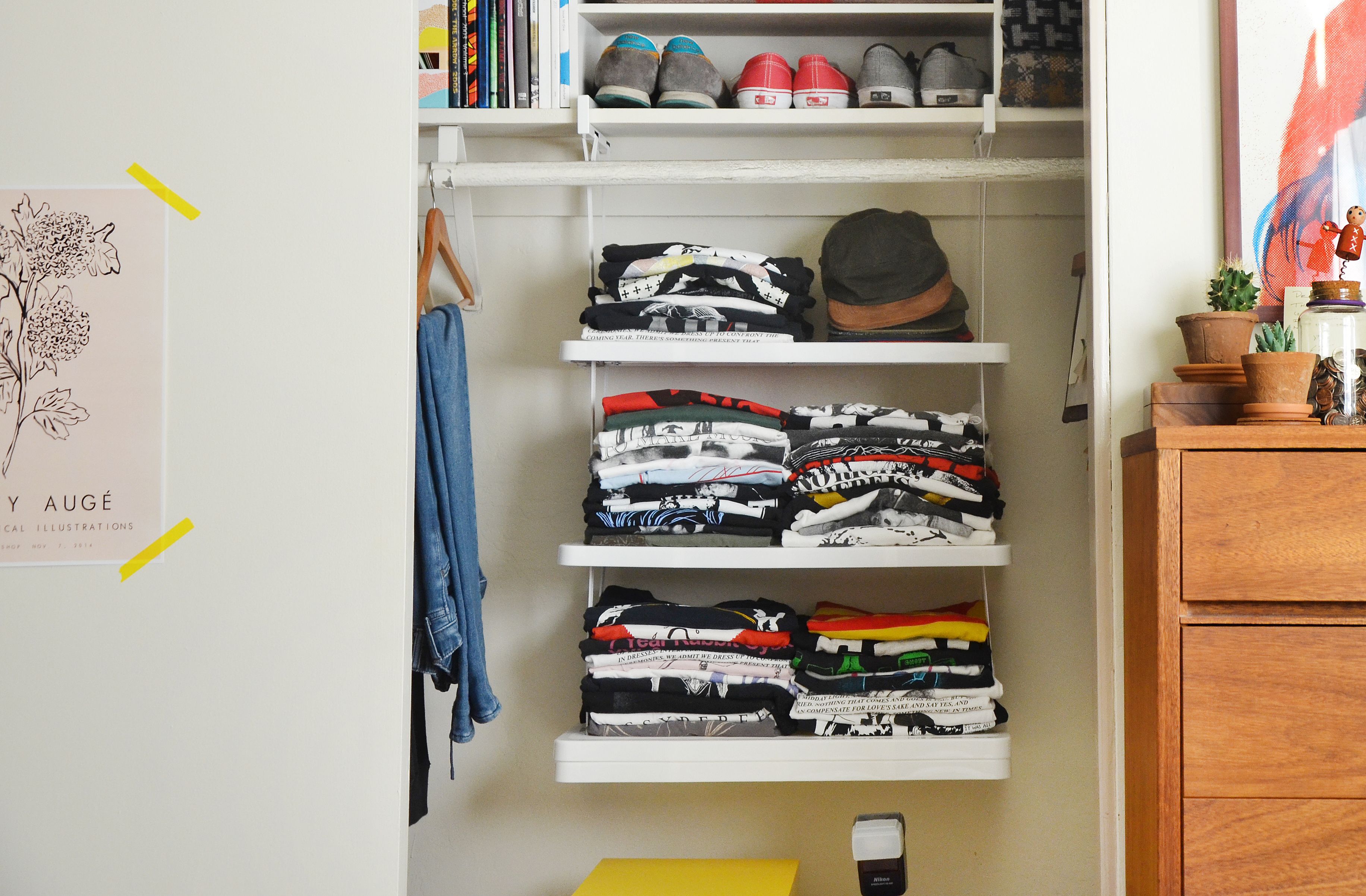 T-shirts previously took up a bunch of hanging space on the closet bar. By pulling those out and storing them folded on a hanging rack, we can now see and grab what we want. All the hanging clothes now live on the left side of the closet instead, and everything feels much more open and airy.
Trouble Spot #4: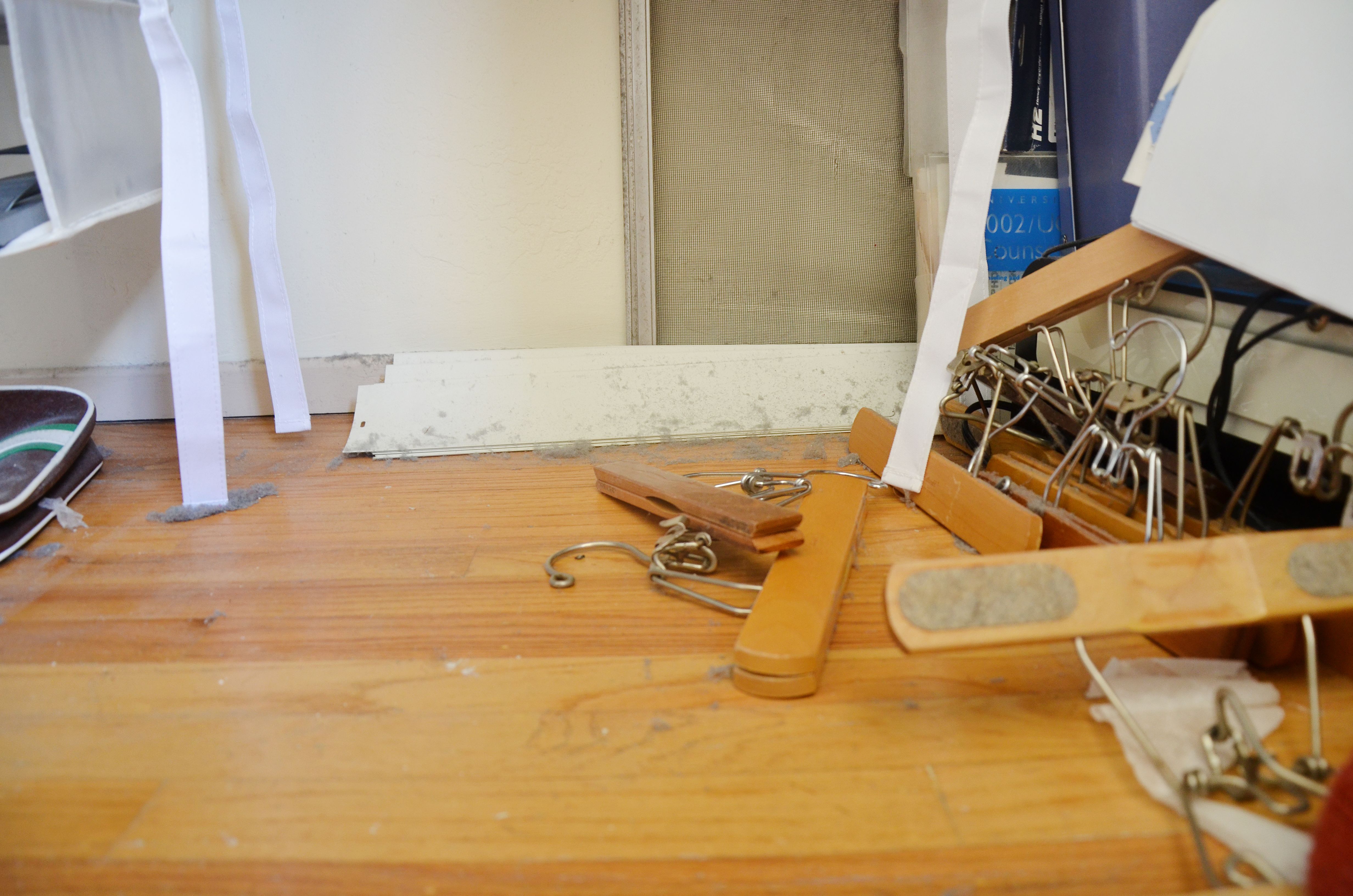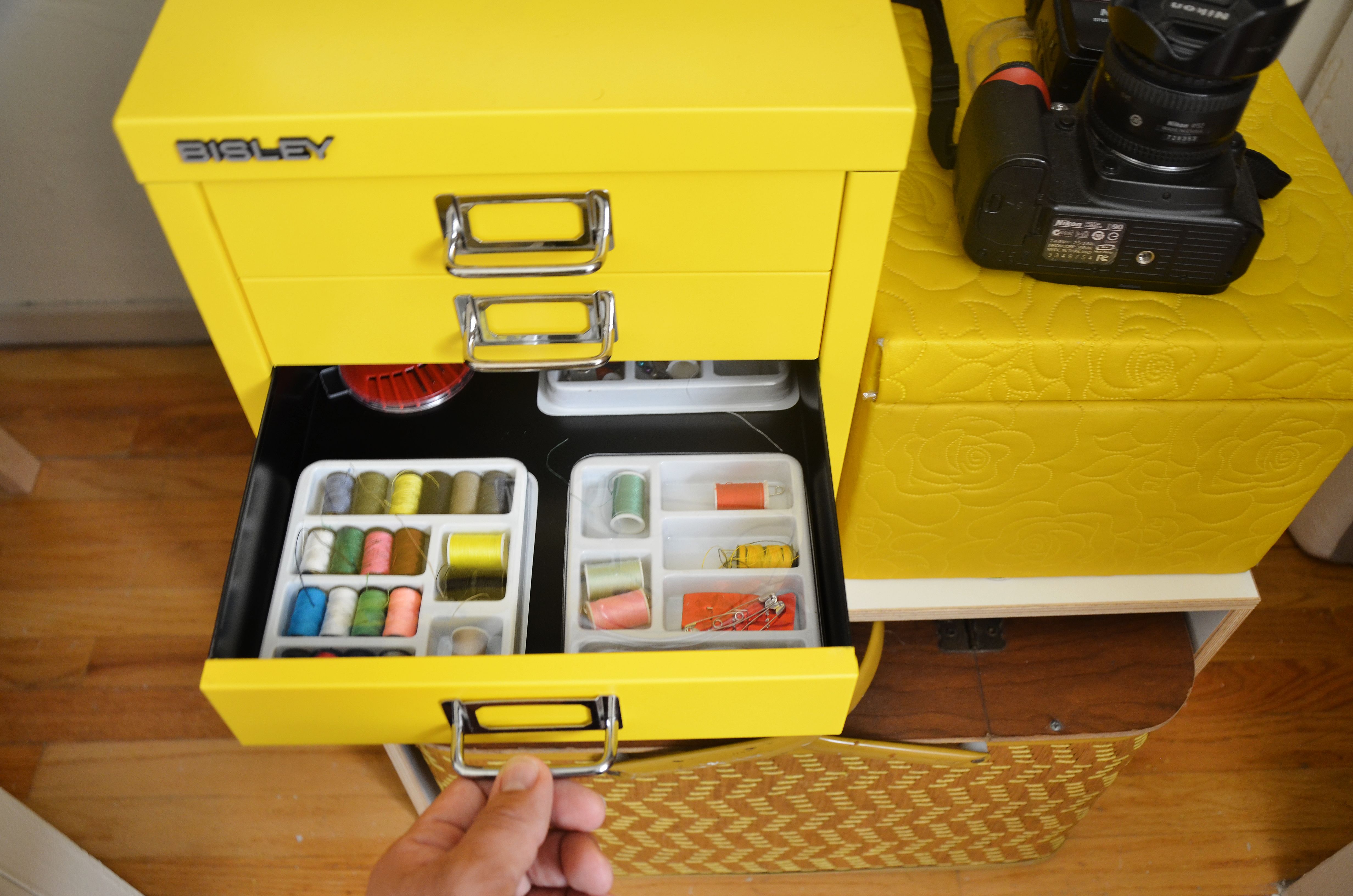 Keeping the closet floor clean was a big challenge with all that stuff was crammed in down below. On the left is the floor after we removed all of the boxes and you can see all the dust. In the background you can even see the old window screen left behind the previous tenant. We cleared everything out and now there's small stack of storage: the drawer unit holds small accessories, the yellow box at right houses some of my camera accessories, and the picnic basket has random textiles and decor objects that we rotate throughout the apartment.
How much stuff did you get rid of? One big garbage bag full of clothes, which we donated to Goodwill; a box of electronics, books and old magazines (either donated, recycled or tossed); about 50 LP record mailers (recycled or put in our storage unit downstairs); old messenger and duffel bags; one silverfish bug (gross); and a whole bunch of dust.
What was the hardest thing about this whole process? Honestly, we both get really anxious over organizational things like this, we were both relieved once it was done. I work on a schedule and make lists in my head, so to finally remove this closet makeover from my "To Do" list was huge. I'm sure Todd appreciates me no longer bugging him about it.
The most daunting thing about the makeover was looking at everything at once, after we pulled it from the closet. Stuff was all over the floor, and we didn't know where to start. We felt overwhelmed at this point and took a few much needed beer breaks, which really helped. We felt less intimidated when we came back into our bedroom. Another big challenge was actually getting started. We had such busy schedules the weeks leading up to the makeover, and the weekend we chose to tackle the project was also insanely busy. We had to reject a few hangouts with friends in order to stay on track, plus we were entertaining friends during the last day of the makeover.
Did you "discover" anything horrifying in your closet? Silverfish! We know they're harmless, but UGH they are so gross and creepy-looking. The owners of our building do a great job with pests, but we run into one of these a couple of times a year and they gross us out every single time. But not so creepy stuff? We found a bunch of old band-t shirts (many of which still fit!) that reminded us of concerts, music, or moments we enjoyed together. We even found one of Todd's old t-shirts from junior high, and it still fits somehow.
What's your new favorite thing about the closet? We can actually step into the closet if needed without worrying about tripping or something falling on top of us! We actually feel like adults by having a clean closet. My (Esteban's) favorite thing is how we utilized the empty rod space on the right to hang some of our art and prints. We are constantly rotating the art in our apartment, so having it easily accessible is great. Also, a ton of light actually gets into the closet, which is pretty cool. It's also visually nice to look at, and we like the yellow and the Smash Bros. figurines.
If your new closet was a living breathing person (celebrity or otherwise), who would it be and why? Matthew Lillard's character at the end of SLC Punk?
Take the full closet tour now!
What tips do you have for people who are about to organize their own closet? If you're doing it alone or with a roommate or partner, come up with solutions for potential issues beforehand (where to donate things, how to sort clothes, etc.). In our case, Todd and I both have strong opinions regarding decor and organization—I like to have lots of stuff and Todd is more selective and minimal. We thought we'd get into small arguments during the process, so we talked about ways to effectively make decisions before we started in order to avoid those little tiffs. This is something we've mastered over the past 11 years together, but it still helps to talk before any major project.
Anything else you'd like to share with readers? Make a sketch, plan it out, and do it! We've been making excuses for five years, telling ourselves it'd take weeks to finish. But really, overall, we spent about 10 hours over the course of four days. It really helped to split up tasks and not do it all on the same day.
Shopping List
Apartment Therapy supports our readers with carefully chosen product recommendations to improve life at home. You support us through our independently chosen links, many of which earn us a commission.