Real Life Closet Makeover: Melanie & Steven's Skinny Storage Sorrows Solved
Closet size: 4.125 ft² plus a garment rack
How many people use this closet? 2
How long have you lived in your home? We moved into this apartment about 8 months ago. It's gone smoothly for the most part, but I'm definitely messier than Steven.
Your closet in 5 words or less: Cramped and cluttered
Melanie and Steven had their work cut out for them. Their teeny tiny closet was small for even New York standards, and the added garment rack overflowed with clothing and shoes. With some careful editing, and rejiggering of the space, things are looking a whole lot more organized.
Trouble Spot #1: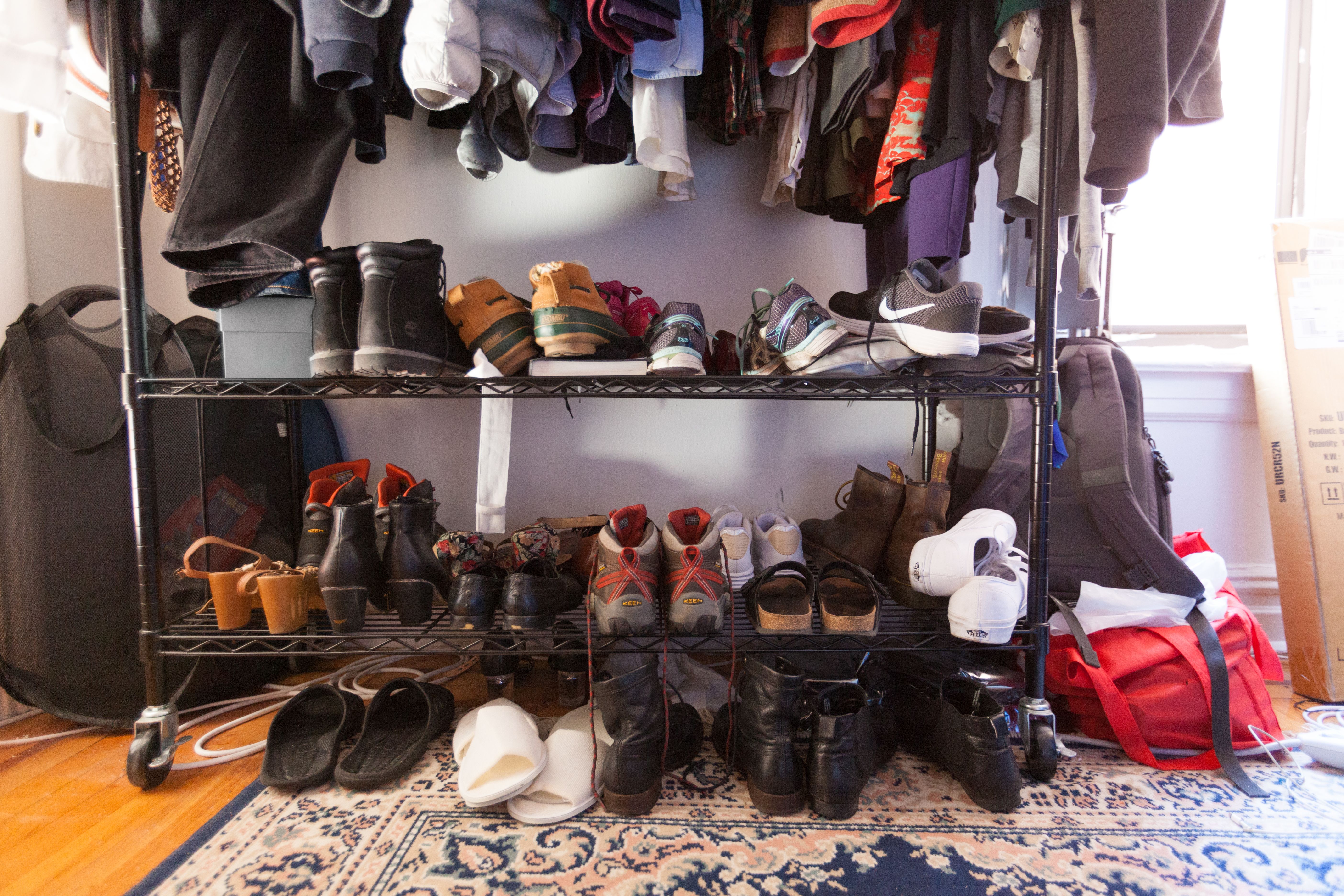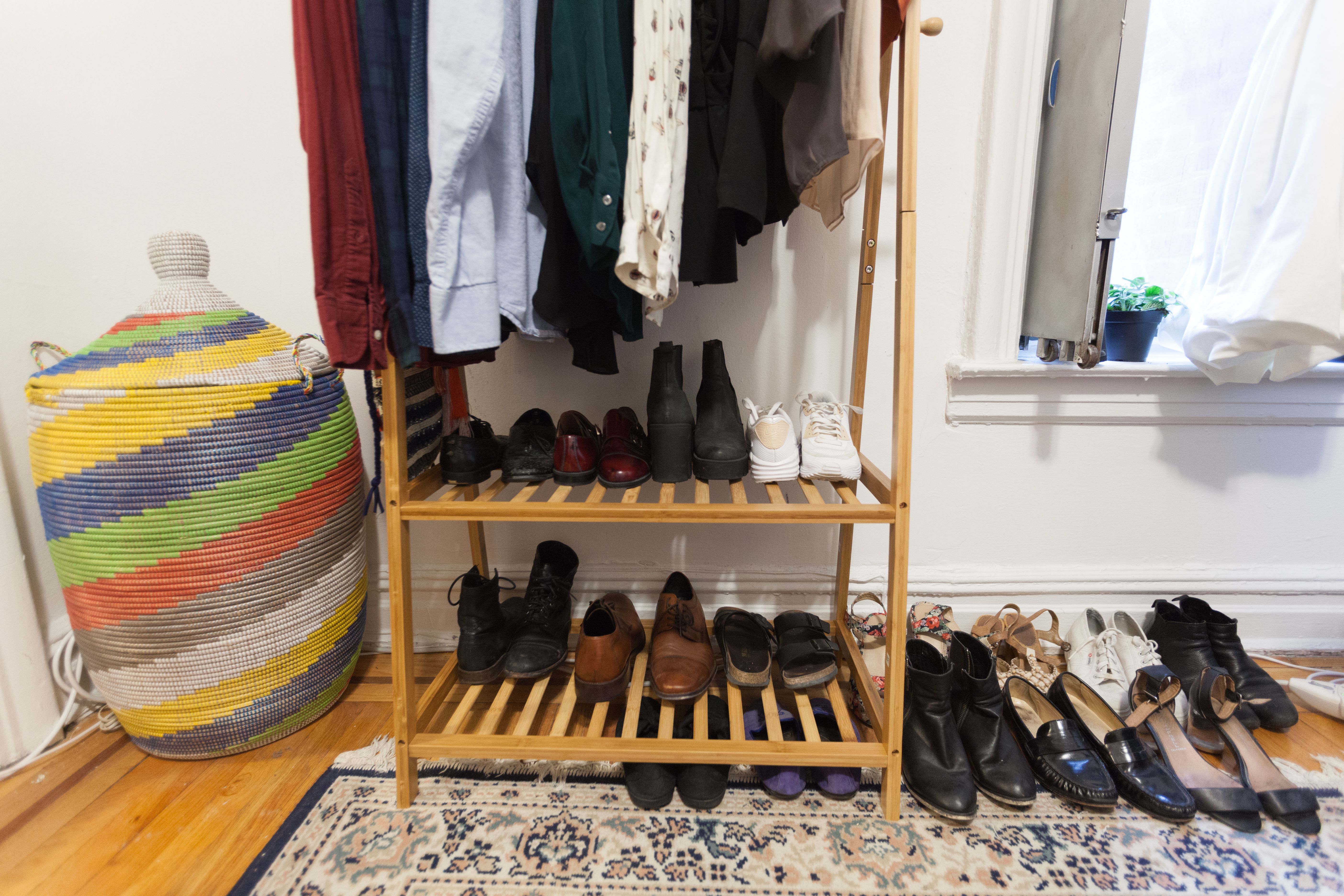 I owned entirely too many shoes given the size of our apartment. Once I got rid of what I no longer wore or wanted, we were actually able to downsize garment rack's and now have a slim wooden version that has a smaller footprint than before.
Trouble Spot #2: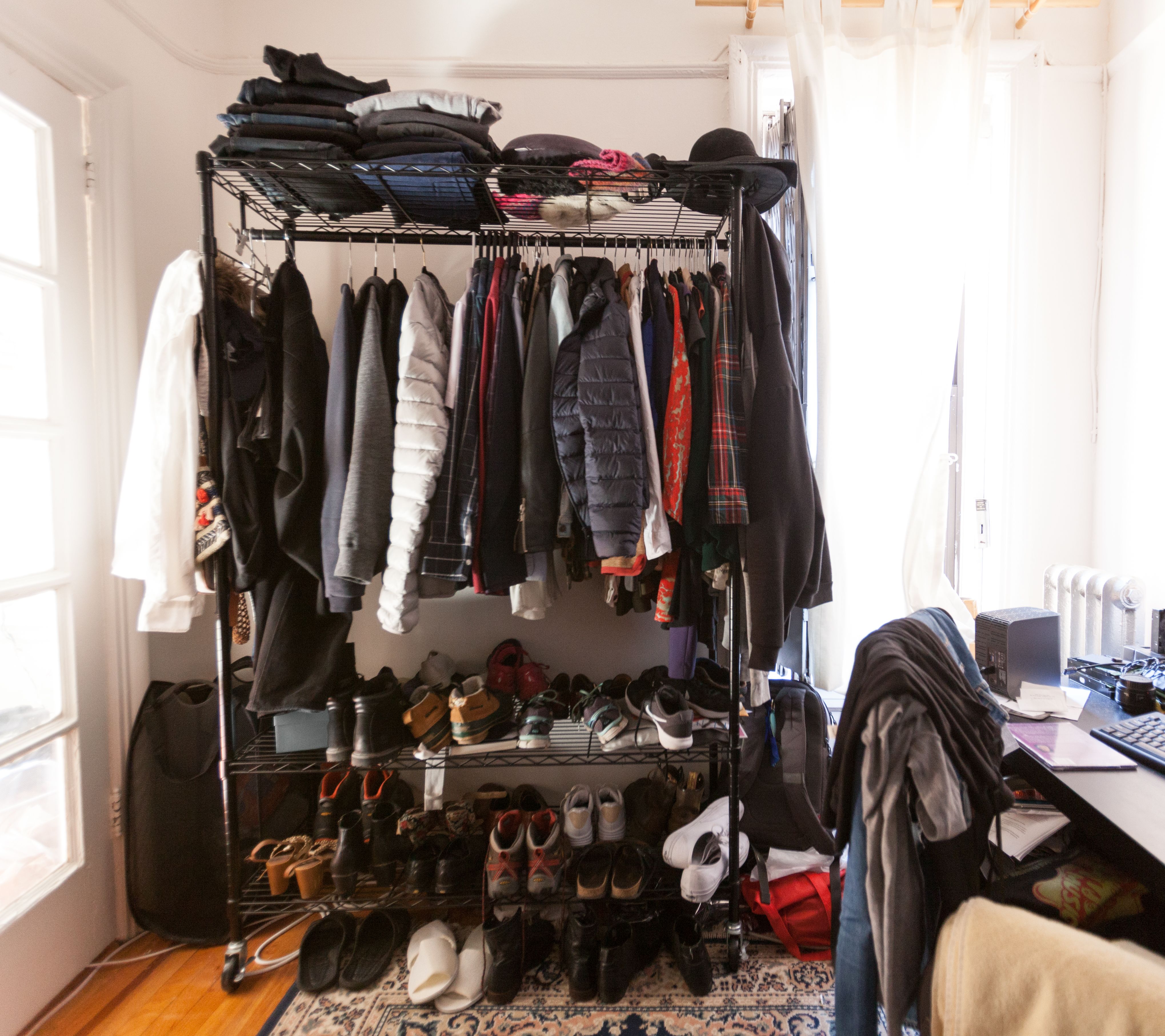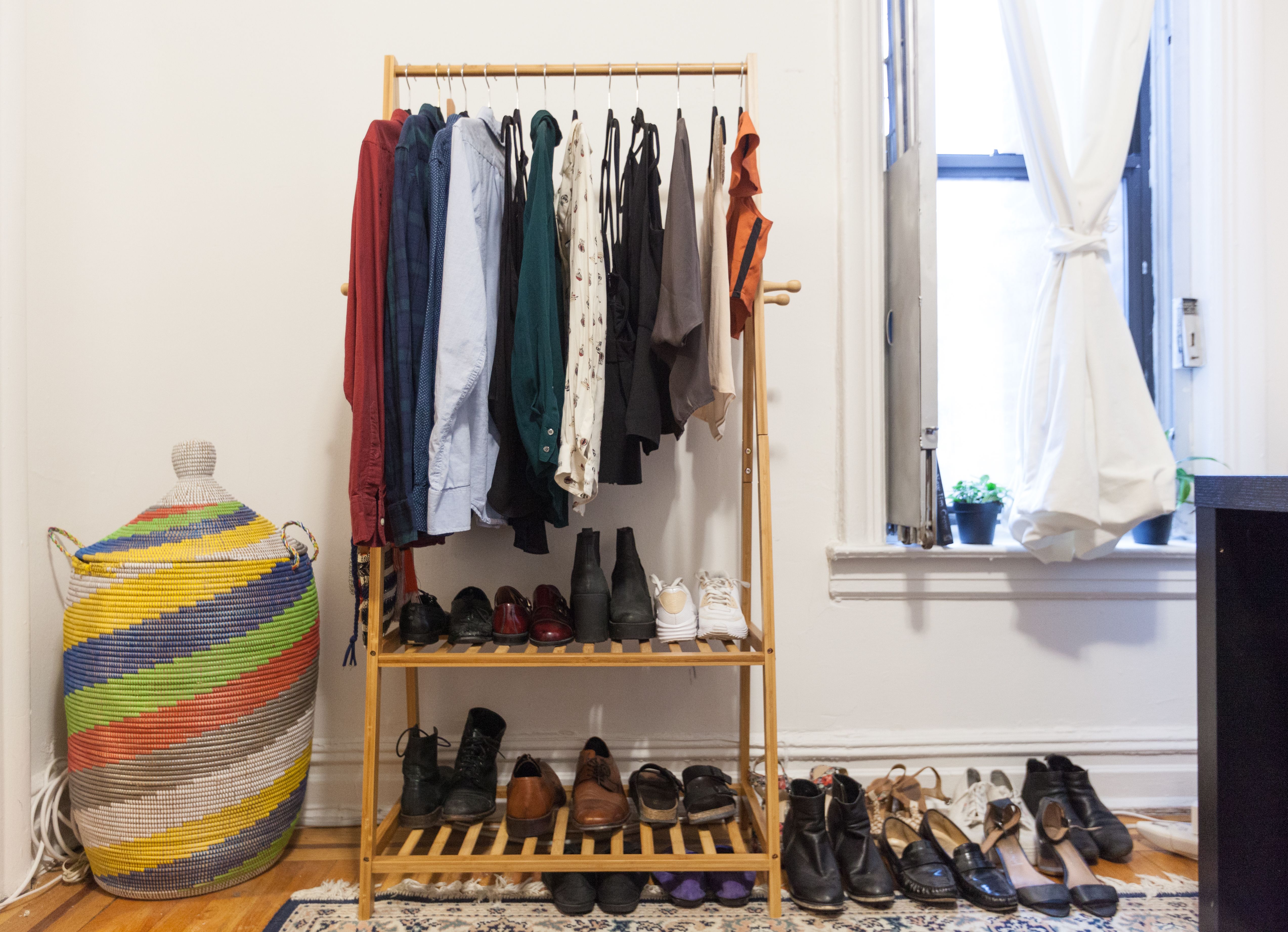 This isn't the worst the garment rack has looked, but there were still too many clothes that Melanie and Steven no longer need or wear. Instead of everything getting crammed together on the bar, making it hard to see each piece of clothing, the goal was for no hanger to touch each other. Success!
Trouble Spot #3: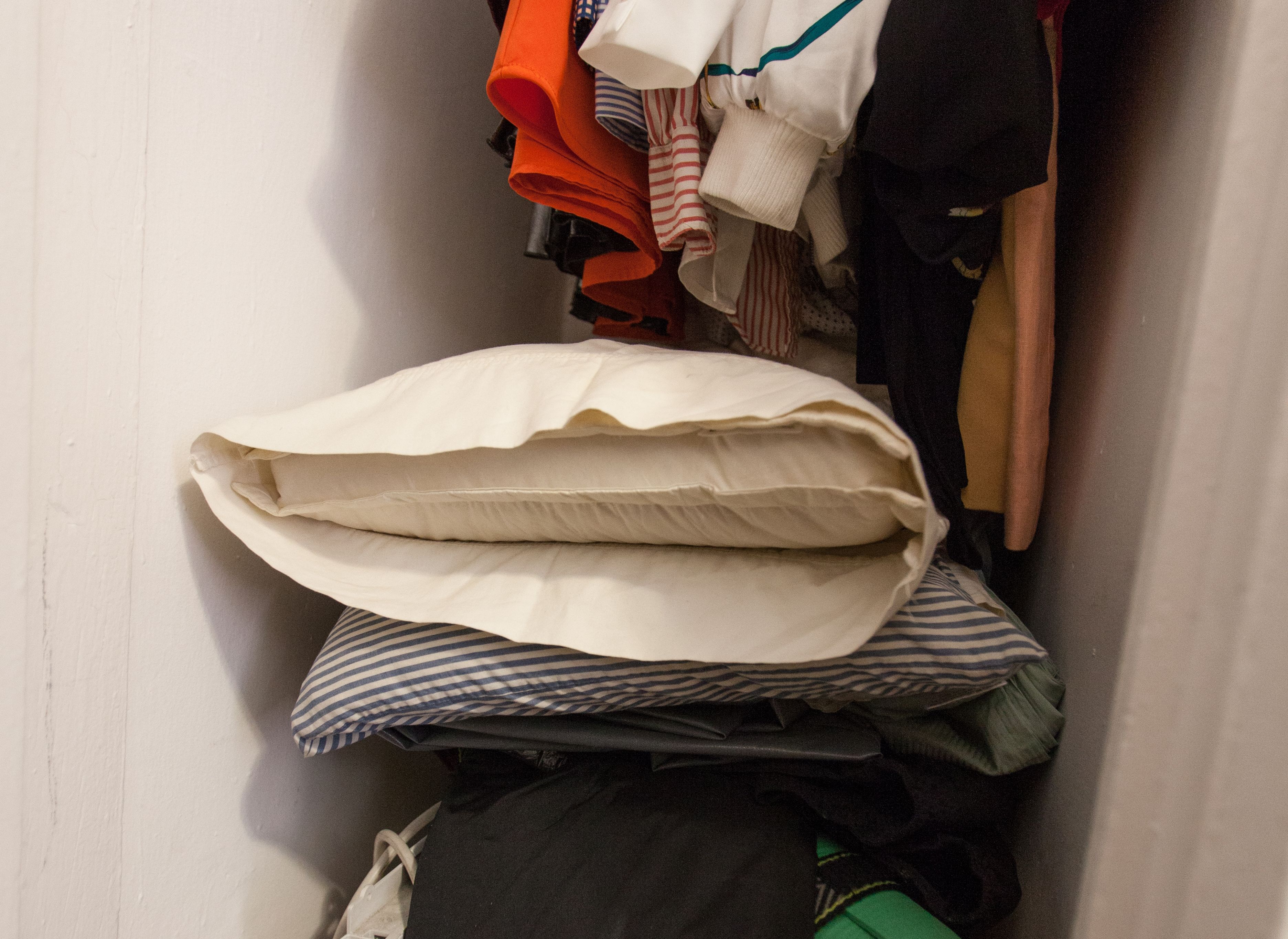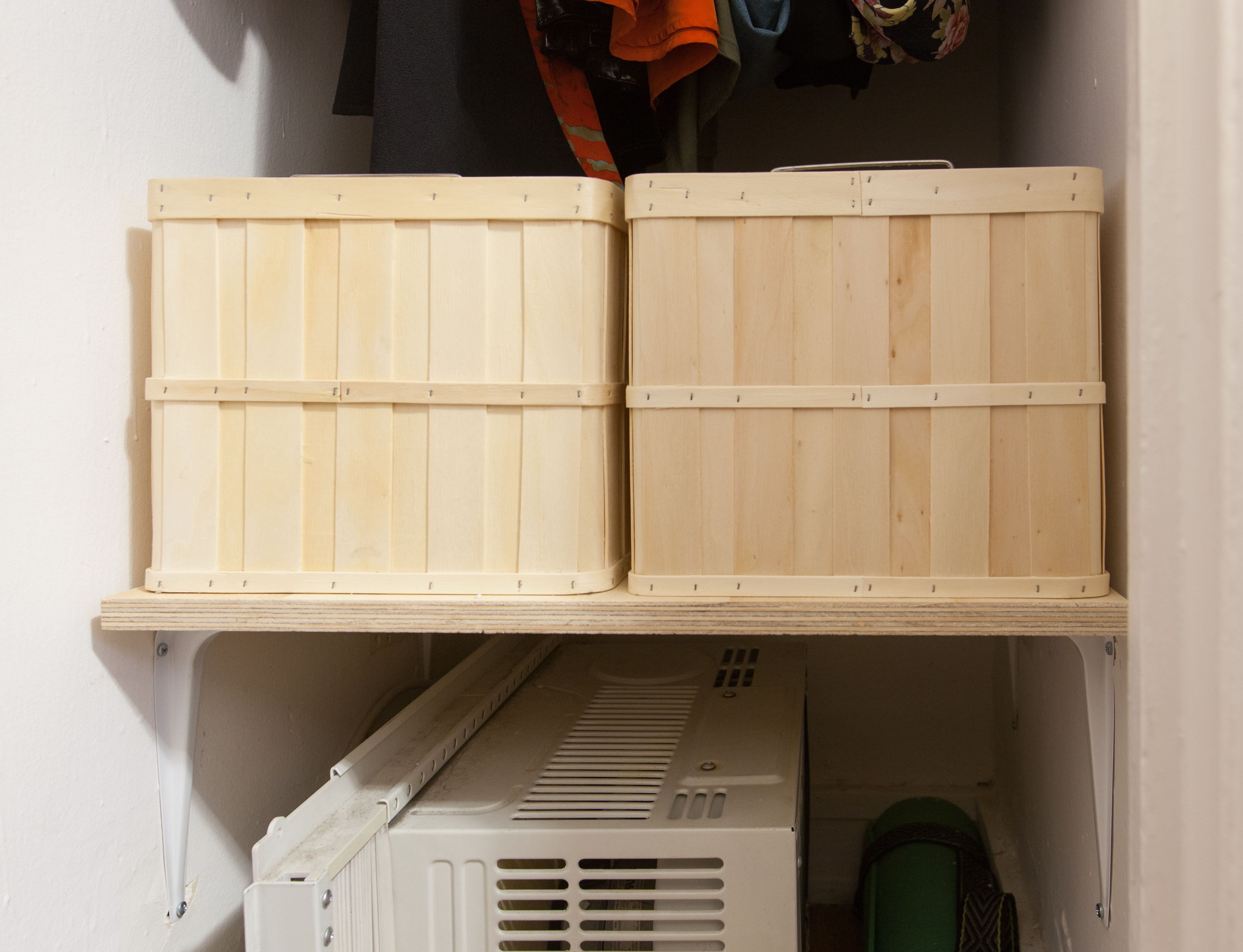 Pillows and bedding were crammed into the tiny closet. We built a new shelf and bought some new baskets to keep stuff hidden and organized. The baskets I found aren't ideal, but they'll do the trick until I find something better.
How much stuff did you get rid of? A full laundry hamper's worth of clothing! It's almost too heavy for me to carry. I also got rid of all my mismatched hangers - at least 25 or so.
What was the hardest thing about this whole process? I had a tough time letting go of clothing I had become attached to. In college I worked at American Apparel, so I still had a ton of clothes from that time. I definitely got unnecessarily nostalgic. I also have a good amount of very professional clothing I haven't worn since I had a business formal job in Boston. I still think I can get rid of more and I intend on reevaluating soon.
Did you "discover" anything in your closet? I forgot about this beautiful Manduka yoga mat I haven't used since I moved! I spent hours researching the perfect mat. I'm embarrassed I haven't used it in so long, but am happy I rediscovered it. I also found this ridiculous Juicy J shirt my brother and I both own. I don't think I'll ever be able to get rid of it.
What's your new favorite thing about the closet? The closet just looks so much sturdier now. I love how my hangers don't touch each other! I also followed the Mari Kondo advice about hanging clothing from longest to shortest (left to right) and it really does feel nicer.
If your new closet was a living breathing person (celebrity or otherwise), who would it be and why? I have no idea!
Take the Full Closet Tour Now!
Anything you'd like to share with readers about the whole process? Although I maintain that experiences are more important than things, having a well functioning closet really does contribute to a better mood. I think it's important to be realistic with space (or lack of space), especially if you're living in a place like Brooklyn. Even if everything technically fits in a space, if it's crammed in, the mess will be an ongoing issue.