Real Life Closet Makeover: Aimée and Jonny's Shared Catch-All Storage is Now Super Clean
Aimée and Jonny just gave their shared closet a major makeover from head to toe, breaking it down and building it back up to be better than before. Their main take away? Don't be afraid to purge! It makes all the difference. See what changed, and how they tamed their trouble spots.
Trouble Spot #1: Piles of Messy Linens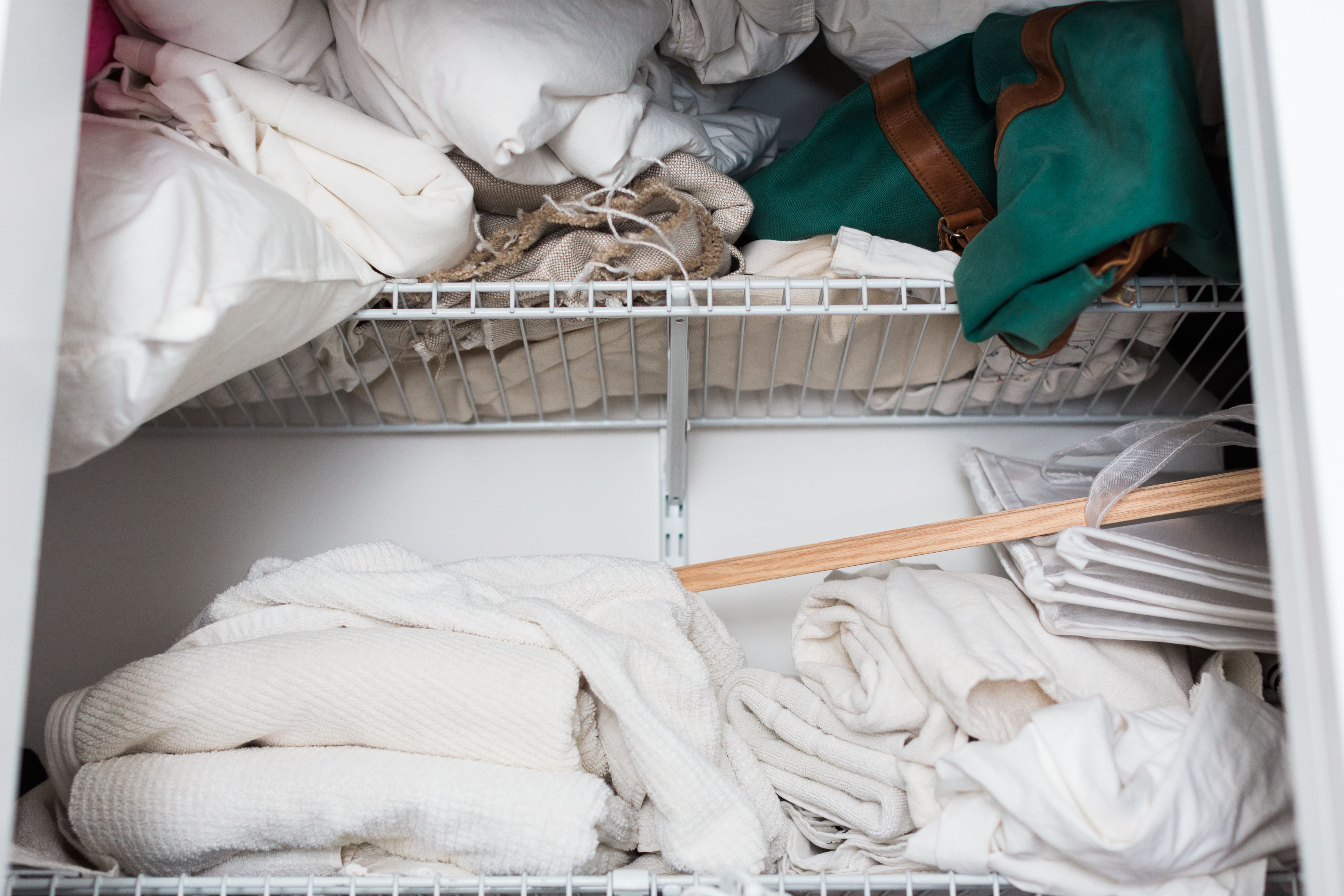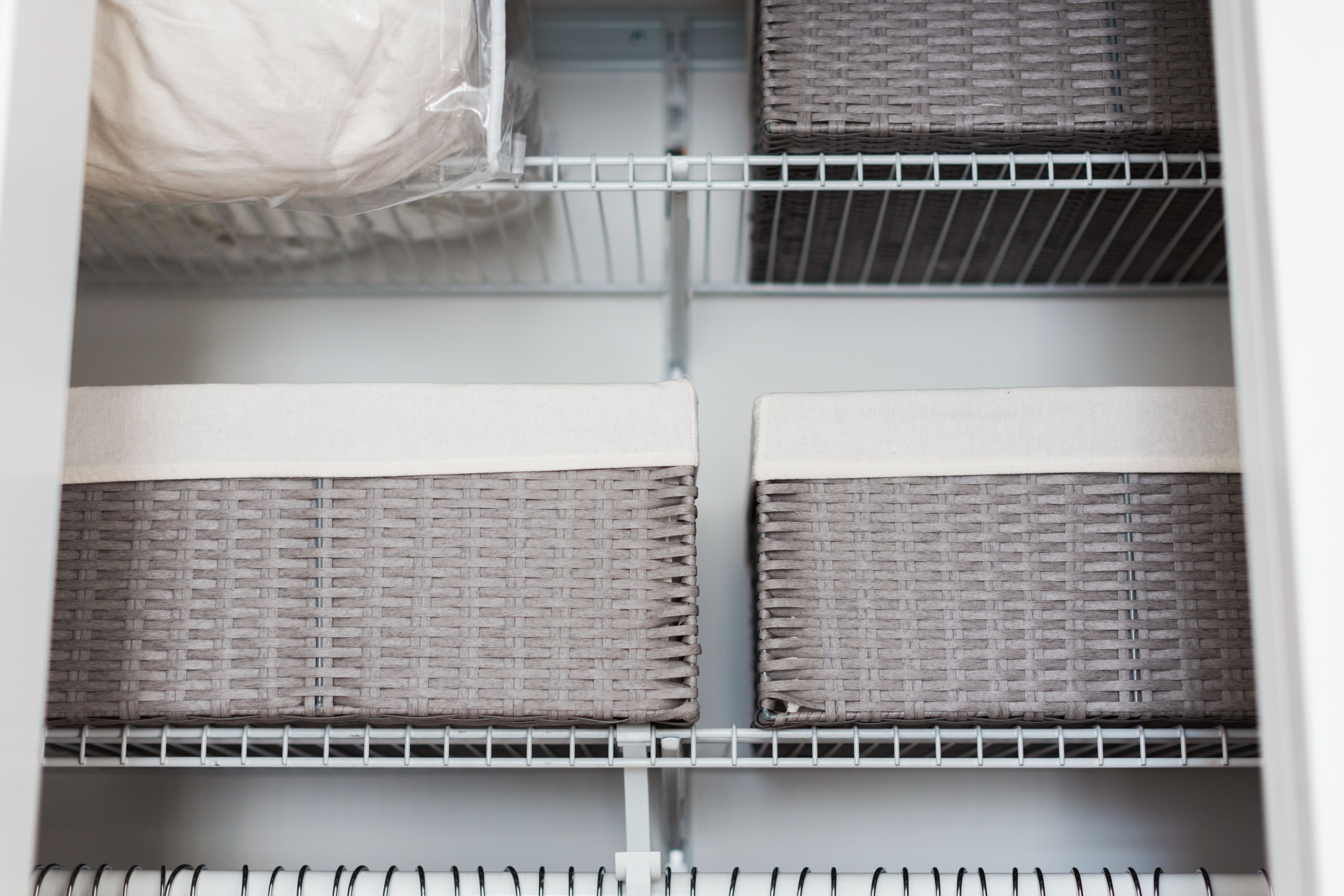 Aimée and Jonny's linens refused to stay stacked neatly on their shelving, preferring instead to fall over, flop around, and unfold themselves. They solved the issue with a series of baskets which not only keep sheets and blankets contained and tidy, but also totally conceal their contents.
Trouble Spot #2: A Bottomless Pit of Shoes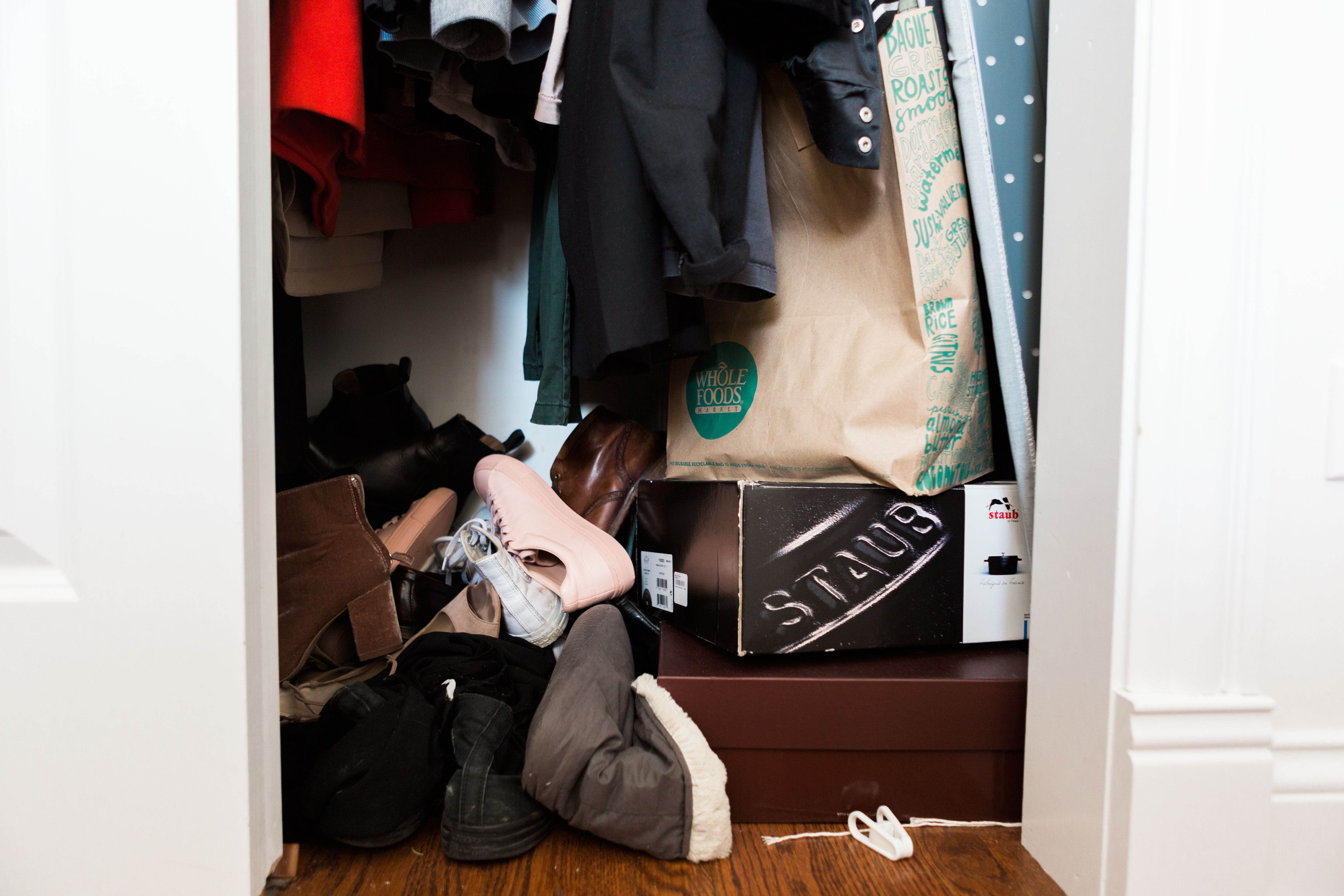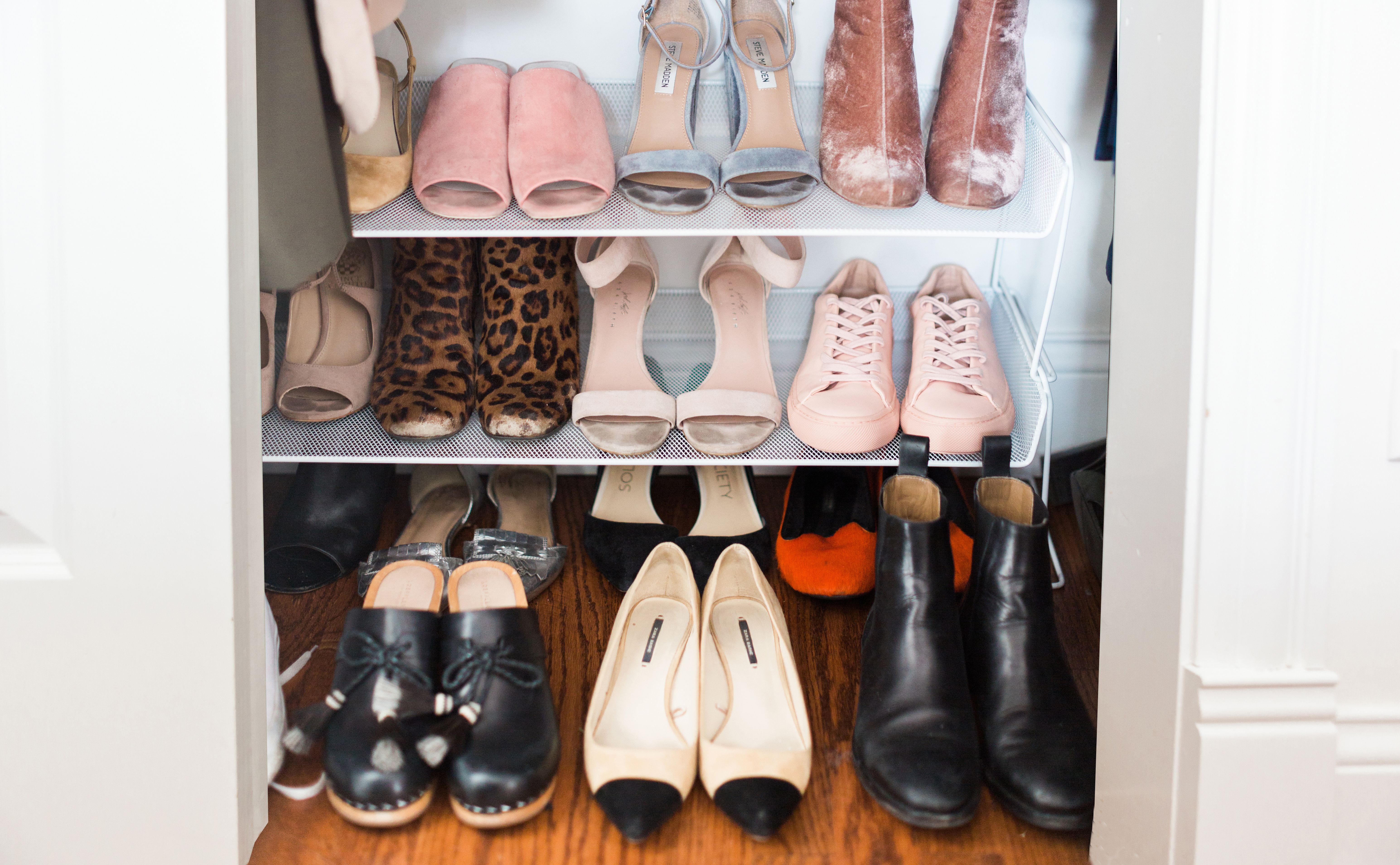 All shoes wound up at the bottom of the closet in a big heap, where it was impossible to see what was in there, let alone find matching pairs. The elevated storage makes good use of vertical space, and let's Aimée and Jonny actually see what they can put on their feet.
Trouble Spot #3: Clothes Jammed Together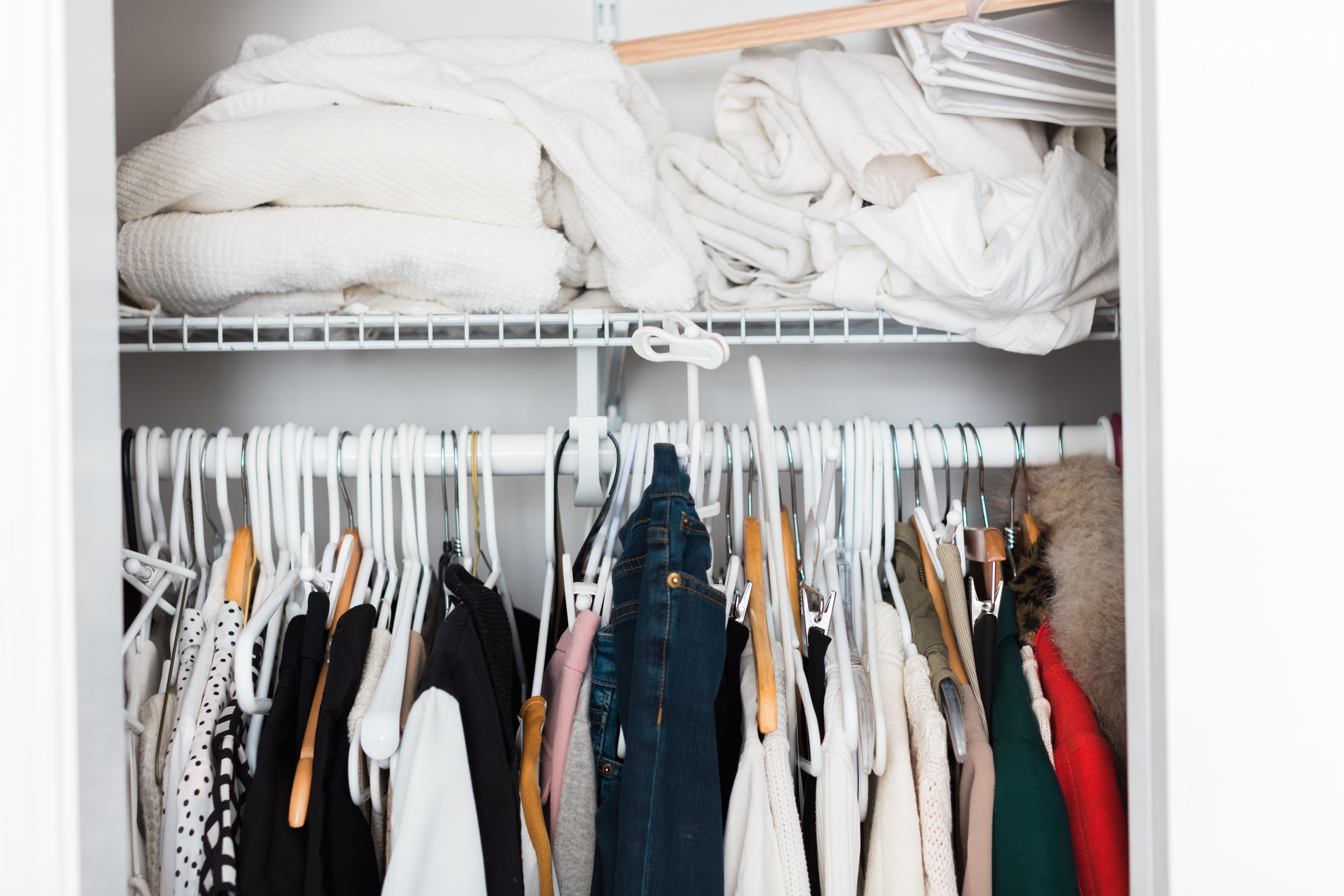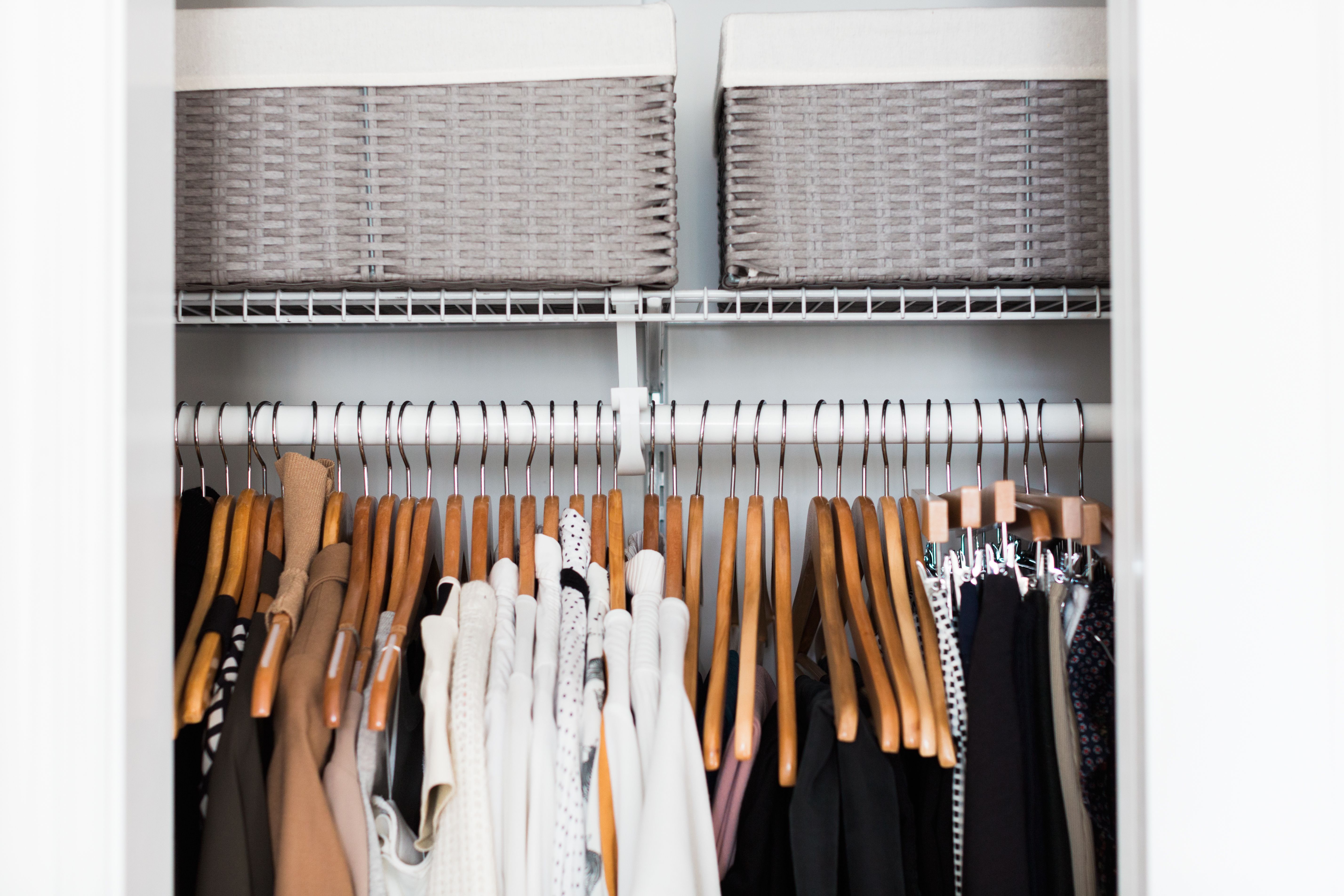 Before, both Aimée and Jonny both had too many clothes, making it hard to move hangers on the bar and see what was there. After purging and reorganizing a lot of stuff, it's much easier to decide what to wear each day. The matching hangers and storage are a nice touch, and make everything look organized and uniform.
How much stuff did you get rid of? 3 large laundry bags full of clothes, shoes and linens. For reference.
Did you "discover" anything in your closet? We discovered clothing we thought we had lost. It was exciting to see it and now get to wear it again. :)
What's your new favorite thing about the closet? Our favorite thing is the way it looks. We are no longer mortified if the door is opened and nothing falls out on you when you open the door. We could stare at it all day. We can also see and find all of our clothing and shoes. We purchased a belt hanger which has felt very clever and helpful when hanging scarves and belts.
If your new closet was a living breathing person (celebrity or otherwise), who would it be and why? Our closet would be Matt Lauer with a touch of Reese Witherspoon because they are clean, neat freaks, attractive and stylish.
Take the full closet tour now!
Resources
Apartment Therapy supports our readers with carefully chosen product recommendations to improve life at home. You support us through our independently chosen links, many of which earn us a commission.