After Three Years, Plenty of Work (and Wine) a Historic Home is Reborn
We
independently
select these products—if you buy from one of our links, we may earn a commission. All prices were accurate at the time of publishing.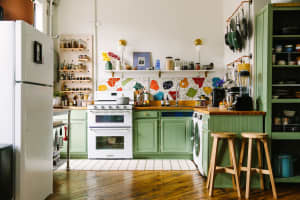 Can't-Miss House Tours Straight to Your Inbox
Keep up with our latest house tours each weekday with our House Tour of the Day newsletter
Name: Justine, her husband Ian and their bulldog, Miss Waffles
Location: Edmonton, Alberta — Canada
The basics: 3 years, owned — 1,950 square feet
Justine and her husband jumped at the opportunity to breath life back into this historic home, affectionately known as The Madame. It took three labor heavy years, but they wanted to do the renovation right, preserving as much of the charm and history of the home as they could.
Tell us a little (or a lot) about your home and the people who live there: It all started in San Francisco, and ended in New Orleans. Like most dreams, ours started with travel. Combined, my husband, Ian, and I spent nearly three weeks exploring two American cities that had sat neglected on our bucket lists for far too long. Ironically, at that time, we thought we were checking items off our lists, but in reality, we were creating a new item that would forever change our lives in ways we could have never imaged. This item was the three-year renovation journey of a heritage home built shortly after the turn of the 19th century.
Our house, which we have named The Madame, was built in 1914. The walls were first home to a dentist and his family. I know this to be true because I have found fragments of old envelopes under the stairs and a metal dental tray hidden behind the plaster walls. We purchased this house from the second owner, who did next to no renovations. From the musty old smell, to the layers upon layers of wallpaper, it was love at first sight. For me, it was the details and the messy unkempt yard surrounded by century old elm trees. For Ian, who works as a commercial Construction Superintendent and is a Carpenter by trade, it was the un-renovated state to make sure the work was done properly.
Far too often these old homes are demolished to make room for modern, tiny houses or the integrity is hindered by a shoddy renovation job. Our process is to do everything with love and care. We respect our old home for surviving 103 years and owe it to her to do things right. This has meant taking things slow and making many sacrifices, like sleeping in the living room and using a creepy basement washroom run by a gang of massive black spiders for nearly two years.
The overall aim is to add modern luxuries to The Madame while keeping the character intact. We have saved and restored as much as possible. Throughout our home you will see the original doors and hardware, stair railing, heat vents, and the occasional lighting. We tried to save every piece of wood that was removed during the electrical and insulation update, but sadly it was so old and dry that it more or less shattered, so we recreated the exact trim that was removed. I have also kept strips of the original wallpaper to frame in a gallery wall.
Our renovation journey is not yet complete; we have work to complete on the main floor. I am often asked how we have survived living in chaos for so long. The answer is simple, re-conceptualize the project as an adventure, engage in regular self-care, practice open communication and drink lots of wine.
What is your favorite room and why? Most people think that the washroom is my favourite room in our home, but actually it is our sunroom. The single pane windows are warped, which paints the world beyond their glass in a blurry haze. In the fall, elm trees shed their leaves and the sky appears to rain autumnal-hued leaves. In the winter, frost covers the windows and the room transforms into a winter wonderland. Often, I can be found sitting in the sunroom with a cup of tea in hand under the twinkling string lights that hang from the ceiling. I like to open all the windows to let in a cool breeze and watch the curtains dance in the wind.
If you could magically change something about your home, what would it be? I would move it "on little hill, way out in the country" – Disney's 1952 cartoon The Little House.
Ok, in all seriousness, I would change the windows. We replaced all of the original single pane windows (aside from the sunroom) because they couldn't withstand our climate. I had dreams of wood windows that stayed true to the character of the home, but our budget didn't allow for it.
What's the last thing you bought (or found!) for your home? We used Aqua Brass's Regency faucet (in brushed gold) in our upstairs washroom. We loved it so much that we are using it again in our main floor powder room addition.
Which fictional character would be most at home in your place? It is hard for me to imagine a fictional character living in our home, but I have frequently thought of our home as the fictional house in Disney's 1952 cartoon The Little House. As a child this was my favourite cartoon, which is rather serendipitous.
Justine's words of wisdom: My biggest advice for creating a home that you love is to incorporate antiques. Family heirlooms keep us close to our roots and tell stories of the past. They also make great conversation pieces and add a unique feature to your décor.