Alexandra's North End Creativity
We
independently
select these products—if you buy from one of our links, we may earn a commission. All prices were accurate at the time of publishing.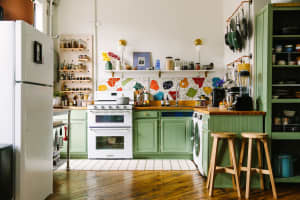 Can't-Miss House Tours Straight to Your Inbox
Keep up with our latest house tours each weekday with our House Tour of the Day newsletter
Name: Alexandra
Location: North End – Boston, Massachusetts
Our condo, located in the historic North End, is not only our first home, but our dream home as well. We wanted an open space with light and charm (and an elevator) in the heart of the city to raise our kids. When we finally found our home, it was love at first "light:" the sun shining in from the vast windows was almost overwhelming. Our love for the space allowed us to accept the apartment's flaws and take the good with the bad. With only one light (for BLAH sq feet!), bright orange walls, and too many closets for our needs, we had to redesign the layout and wire the entire space.
Our biggest aim when designing our home was to facilitate our family's lifestyle. We love to read, so replacing an oddly shaped closet with well-lit expansive shelving for our books was a must. Adjacent to the shelving, we worked with a contractor to built a custom wood-paneled entryway and install two large metal doors on sliders to hide the laundry area. We also wanted an open living space our whole family could flow through comfortably, so we paired down our furniture to the minimum. Without a coffee table or a kitchen island, we can easily move about without bumping into one another. The large dining room table is the center of our home, where the kids finger paint on one side and we run our business from our laptops on the other.
While we love collecting, we prefer to keep the space uncluttered in order to enhance the industrial features throughout. Of the few collectibles we have, the Copley-Boston Public Library Sign in the kitchen is a favorite. The MBTA renovated the Copley train station and replaced all of the signs a couple years ago. I must have walked by this sign a million times when I worked in that area, and now it's a part of my home! We were lucky enough to find the sign through a dealer while on a buying trip for Erie Drive.
One space I allowed myself the freedom to go crazy with color and collectables was the girl's room. We put them in the master bedroom to give them a large shared space to play and create, as well as sleep. The room contains many handmade items passed down from family members as well as a large collection of vintage children's books and an array of vintage pails for storage.
Another favorite space is the bathroom, specifically the bold stripes and the Arrow wall hangers. When I first told my husband that I wanted black and white stripes in the bathroom, he said, "Like a jail?" Luckily, The stripes compliment the long and narrow space and enhance the blue ceiling! The Arrow Wall Hangers (which we sell on www.eriedrive.com) are playful and fun, but also sturdy and functional, so I was excited to incorporate them into my home.