How Alison Brie From 'GLOW' Spends Her Perfect Night In
We independently select these products—if you buy from one of our links, we may earn a commission. All prices were accurate at the time of publishing.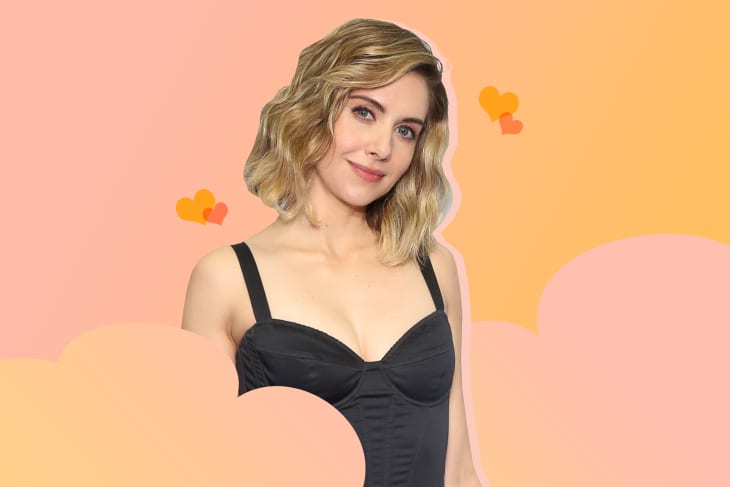 Perfect Night In is a series where we ask actors, artists, entrepreneurs, and beyond how they'd spend the ultimate luxury—a blissful evening at home.
Follow Topics for more like this
Follow for more stories like this
Actress Alison Brie doesn't limit herself to just one genre of film: She's been in the likes of "Scream 4,""Sleeping with Other People," and "The Post," to name a few. And if you're a big TV watcher, you know about Brie's roles on "Mad Men,""BoJack Horseman," and most recently "GLOW," which has season 3 coming to Netflix on August 9.
If you haven't watched the series, we can get you caught up. Taking place in the 1980s, Brie plays an unemployed actress who lands a once-in-a-lifetime gig that she never imagined getting herself into: playing a wrestler in the world of Gorgeous Ladies of Wrestling, also known as GLOW. (We'll let you binge watch to see the rest of the plot unfold.)
In between seasons, she's kept herself busy with other projects: Brie has partnered with Manitoba Harvest that sells hemp-based products, which she discussed candidly at POPSUGAR's Play/Ground back in June. "Hollywood has been comfortable with cannabis for a long time," said Brie. "[There are] more dispensaries than Starbucks in LA."
So before we settle into our couches to watch new episodes of "GLOW," we decided to sit down with Brie and ask how she likes to spend her nights in at home. Look out for plenty of CBD talk ahead!
Describe your perfect homebody scene in five words: Bath, husband [actor Dave Franco], cat, CBD, movie.
Are you alone or with someone else? With someone else, my husband. We'll often talk to one another about the fact that we love to do a real lazy Sunday, we're very much homebodies together. It's so funny how quickly that takes a turn when one of us is not there and then you just feel unproductive. It feels like more of an activity when we do it together.
What's your night-in uniform? It's sweatpants, puffy socks that are meant for sleeping that are usually an embarrassing pink and gray striped pair, tank top, and sweatshirt. I was recently talking about the phenomenon of people sleeping in the nude and I'm the opposite. I wear so much clothes to go to bed, and then I usually partially disrobe when I'm sleeping.
What two people, dead or alive, would you let crash your night? I feel like Dolly Parton and Truman Capote would be fun dinner guests, very gossipy and good stories. That's when I would bring out the cocktails.
TV or a movie? I think if I'm alone, TV, and if I'm with my husband, a movie.
What are you watching? He's always seeking out older films that we haven't watched or that he's never seen, and so I watch it with him for the first time. On Valentine's Day this year, we watched "The Princess Bride" that I've seen probably 100 times. As we sat down to watch it, he announced "I don't think I've seen this all the way through." And then a few scenes in he was like "let me revise, I don't think I've ever seen this." I was so delighted because it was so fun experiencing it for the first time with him.
Silence or music? I'm a big "the TV is always on for noise" person. I consume so much television, it makes me feel like I should read more books. When I'm watching shows I love or something I'm curious about, I'll start it and have the noise going, and I'll be cooking or I'll be cleaning or doing a little work on a script. I'll fly through a season of something and someone will be like, when did you watch all that?! Maybe it wasn't fully penetrating, and I'll go back and rewind it if something's interesting.
E-books or the real deal? The real deal, I like to hold something in my hand and turn the pages. I want to bring a book on vacation and it's hard for me to read e-books when you're outside in the bright sun or by a pool. There's something satisfying about finishing a book and seeing how much you have left to read, how much you've read, closing it, turning a page.
What are you reading? I'm in the middle of a book called "The Last Romantics" by Tara Conklin.
Order in or cook for yourself? Postmates most nights. When I have the time, my preference would be to always cook, but I'm very slow at it. Some of the meal delivery services will read "meals you can make in 20 minutes," and it takes me an hour. I really need to have the time to do it, but I find it very calming and a wonderful pastime. My husband is great at loving all the food I cook, it's very encouraging.
What are you eating? A pan-seared salmon with a soy ginger glaze is one of my signatures, so that over some quinoa with some roasted vegetables. Maybe I make a little sauce, maybe I put a little Manitoba harvest hemp hearts on top for some extra protein and nutrients, maybe some avocado.
What drink are you pouring? I don't drink alcohol a lot these days, but every so often it's nice to have wine with dinner. We do a lot of water and tea, and I do my Manitoba Harvest broad spectrum hemp extract with CBD in my tea.   
What's for dessert? When I'm trying to be mindful about what I'm eating, I try to have like fruit or nuts for dessert. Otherwise we're a big ice cream and cookie household.
Late-night snack? Nuts for sure. I feel like a raw cashew is my go-to.
Do you have a self-care ritual? I've been incorporating Manitoba Harvest CBD oil more and more into my nighttime regiment, so I do like to do a nighttime sleepy time tea as well and epsom salt baths. When we're working on "GLOW" and my body is super tired, the CBD oil and the salt baths are my two go-twos to really bring in recovery and restfulness for sure.
Candles: yay or nay? (if yay, what's your favorite?) Yay! I have a candle called Big Sur Sky that my friend bought me. Big Sur is one of my favorite places in the world, it's where I got engaged, and that's my go-to bath candle.
Face masks: yay or nay? Yay! I love this sheet mask, the Korean sheet masks are great, but I'm honestly very willy-nilly with brands that I'll use. I'm very open to trying different ones.
Bubble bath: yay or nay? Yay! I do it so medicinally, therapeutically, it's like a ritual where I put the epsom salts in and I just started using some mustard seed extract which is supposed to good for detoxing. I'll set a timer for 20 minutes and do a 20-minute soak, it's like a full-out activity.
Chores: yay or nay? I will say I do find something calming about washing the dishes. I usually can't go to bed with dishes in the sink, so that kind of ends up being my nighttime ritual.
Ideal bedtime? Oh my god, early. If it's 11 p.m. I'm like, holy sh*t I have to get to sleep. I would say 11 p.m. the latest.
Thanks for chatting with us, Alison!