My Mom Swears by This $5 Piece of Cookware For Making Thanksgiving Dinner
We independently select these products—if you buy from one of our links, we may earn a commission. All prices were accurate at the time of publishing.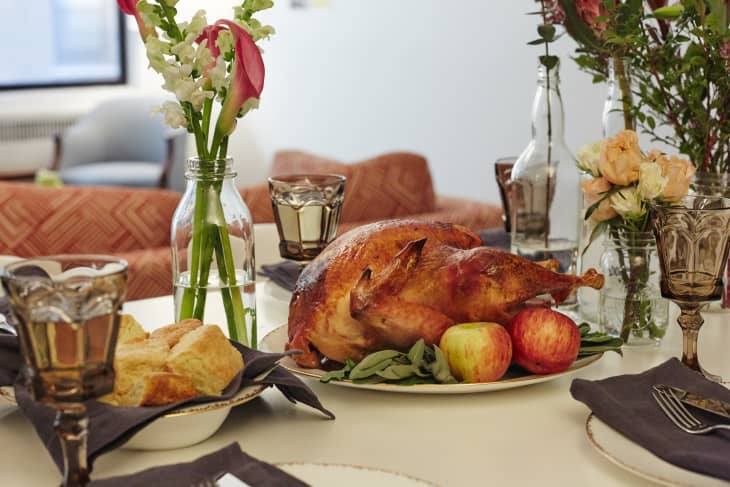 For almost 20 years, my mom has been cooking Thanksgiving dinner for between 15 and 25 people. She's practically got it down to a science, though her science relies on making lists on printer paper and leaving jars of gravy and cranberry sauce stacked on the counter.
Still, there's a method to her madness. When I recently asked for advice on how she pulls together this feast for our family every year, she had an unexpected tip to share. This nugget of wisdom doesn't have to do with how far in advance she makes her grocery list, and it doesn't relate to the precise time she puts dinner rolls in the oven. Rather, my mom's most important tip relates to something I hadn't considered very closely at all: her roasting pan.
You'd think that a person who cooks a gigantic turkey every November would have a favorite make, model, and brand of roasting pan, right? In a way, my mom does, but it's not at all what you'd expect. She swears by the $5 aluminum roasting pans you can pick up at the grocery store — and it's the kind she always uses on Thanksgiving.
There are a few important reasons for this. First, Diane cannot get on board with the idea of buying a piece of cookware that she'll only use once a year. Though she probably would have seen a return on her investment after a few years (a basic roasting pan goes for $30 these days), it's not really about the money. A metal roasting pan is hefty, which means it'd take up quite a bit of cabinet space in the 11 months of the year that it sits unused.
Another no-brainer when it comes to aluminum pans? Easy cleanup. "You can just put the turkey carcass back in it and toss it away," my mom says.
At our house, once we've all finished our meals, my aunt and cousins will help me and my mom clear away the plates and silverware. It takes a while to get all those dishes washed and the crumbs off the table, but it's worth it to my mom to have a clean kitchen before she puts out dessert. If deep-cleaning a roasting pan was part of this process, everybody would have to wait at least another 20 minutes to tuck into my famous apple pie. Shaving time off the dessert waiting period is quite a selfless thing for my mom to do, if you ask me.
There will come a day when it'll be my turn to cook a giant turkey for a crowd on a chilly Thursday in November. When that day comes, I'll be using an aluminum roasting pan, just like Diane.