This $20 Amazon Laptop Stand Is My Best WFH Purchase — And Now All My Coworkers Have It
We independently select these products—if you buy from one of our links, we may earn a commission. All prices were accurate at the time of publishing.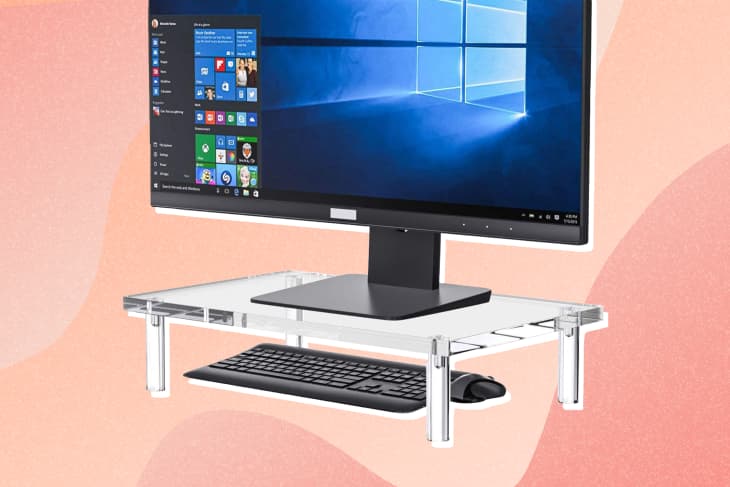 I'll admit: I'm one of these people who didn't get a desk until almost a year and a half into WFH life. Which — disclaimer — I'd been holding out for my great-grandmother's vintage desk that my mom inherited, and ever-so-graciously drove 750 miles from my hometown to transport during a July visit. So, since (finally) acquiring a permanent at-home workspace, I've been super particular about how I style it… it's a prominent part of my bedroom, after all. I ultimately added a few accessories and, feeling happy with how it looked one morning, shared a #deskselfie to my IG story. Surprisingly, I got a handful of messages from friends and coworkers alike, all asking the same thing — where did I get my laptop stand?
Follow Topics for more like this
Follow for more stories like this
The object in question, an acrylic 15 x 9.3 inch stand, actually came from Amazon. But what makes this one so special, you ask? Allow me to sing its (many) praises, and take notes if you're in need of one for your own desk.
For starters, it's only $23.99 — but currently on sale for $19.99. That's a small setback for a (very durable) elevated work station, and a definite upgrade from a stack of books or boxes. As for the design, most acrylic stands I've come across look like one long, curved shape. Nothing wrong there, but I really love that this one touts a rectangular surface with sharp, clean lines, supported by four cylindrical legs. In a word? Sleek. And since it's simple enough to look superb on my old-school desk, I'd argue it can do the same atop any furniture style.
I'd be remiss not to delve into its practicality perks: While giving your laptop or monitor a boost, the stand frees up space on your desk to store things underneath. I've taken advantage for my notebook and planner, but you can fit a keyboard in the same spot, too. It also comes in a 20 x 7.5 inch size, which seems better-suited for resting a monitor. Regardless, both clock in at 3.3 inches tall — a more eye-level, ergonomic height all around.
I'm also not alone in my adoration: A few AT staffers have followed my laptop stand lead after I shared it on social media, including commerce managing editor Ivy Ford. "I can attest to the fact that whatever Blair buys, I will likely want to buy too. Case in point: When I saw her new laptop stand, it was, of course, perfect!" she says. "I've been searching for one that was chic, didn't have too many techie-looking bells and whistles, and left a little room for storage space. It was a snap to set up and is a great style-meets-function item."
Full transparency: I can't take credit for this under-the-radar find — coincidentally I, too, discovered it via Instagram Stories, thanks to an editor friend from another publication who posted it from her own immaculately-styled desk. Moral of the (IG) story here? Desk selfies need to make a comeback so we can all stay in-the-know of stylish organizing essentials.