This Over-the-Sink Strainer Is Huge on TikTok — and It Has More Than 5,000 Glowing Amazon Reviews
We
independently
select these products—if you buy from one of our links, we may earn a commission. All prices were accurate at the time of publishing.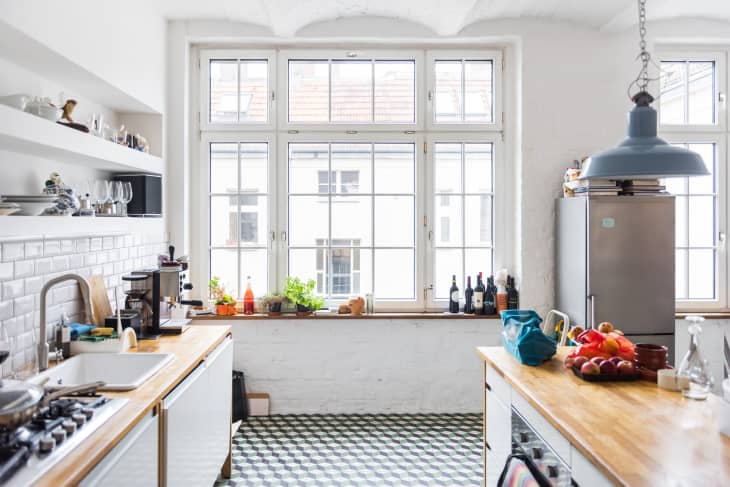 You've probably never put too much thought into your kitchen colander. Recently, however, there are a few viral TikTok videos that might make you think otherwise. You're likely already familiar with the "right" way to strain pasta or the clip-on colander that also has rave reviews on Amazon, but we'd like to draw your attention to this surprisingly chic and incredibly useful over-the-sink strainer. The Blue Ginkgo Over-the-Sink Colander will not only fit across any sink for easily draining pasta, but it's also the ultimate tool for rinsing produce with no fuss at all. In addition to the many TikToks reviewing this ingenious gadget, the expandable colander has more than 4,200 five-star ratings from happy Amazon customers, too.
While colanders are one of the most useful essential tools to have in your kitchen, they can be bulky to store or awkward to use. With this over-the-sink strainer, however, you won't have to worry about having a few dishes in your sink when it's time to strain pasta. It expands to 19.5-inches long, making it perfect for accommodating a pound of pasta, basket of berries, or silverware for air drying. And because it's slim and collapses into a compact basket, you could store it in just about any space. You can choose from six different hue to add a pop of color to your kitchen, including a soft pink, bright yellow, or pretty turquoise.
There's no doubt this colander would come in handy in just about any kitchen. Tons of Amazon reviewers mentioned that they like to keep it on their sink at all times for daily use. "This has become one of the most used helpers in my kitchen. I find myself using it for something new every day! It's versatile, durable, and easy to maintain. I honestly can't remember what I did without it. It doesn't take up a bunch of space, but holds a ton!" one person wrote.
One obvious benefit to swapping your colander for this version is that it will help those of us who lack a dishwasher and tend to have dishes in the sink when it comes time to strain pasta. "I love it. So often, I have dishes in my sink that I have to stop and clear out before I can drain the noodles or beans. This stretches across the sink, and I can drain anything right away," another customer wrote.
Reviewers also raved about how this strainer can do triple duty by not only straining pasta and washing produce, but also drying silverware, glasses, mugs, and more. "I rinse fruits, veggies, and even use it to dry my smaller dishes, like straws and cups. Definitely love it more than expected," said another person.
With so many ways to use this handy over-the-sink strainer, we're confident it'll quickly become one of the most-used items in your kitchen. It's such an easy way to save time (and headaches!) while you're busy cooking and food prepping.

Buy: Blue Ginkgo Over-the-Sink Colander, $16.99