This $14 Amazon Item Helped My Vanity Go From Hot Mess to Organized
We independently select these products—if you buy from one of our links, we may earn a commission. All prices were accurate at the time of publishing.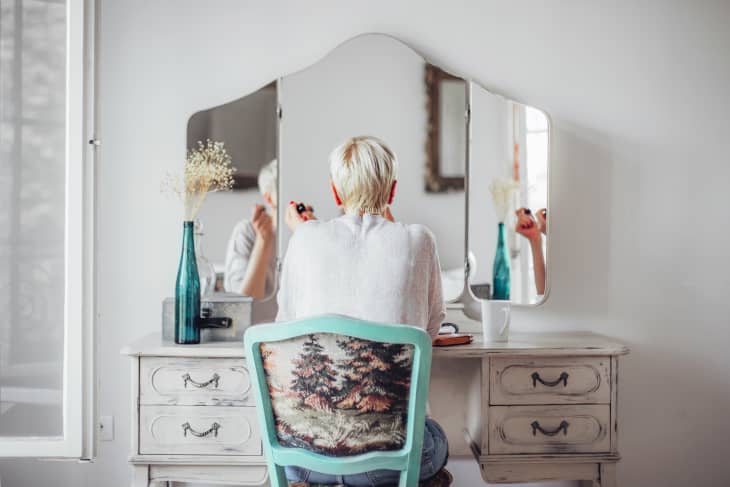 Living with roommates has its struggles, and fighting for bathroom time in my house is #1. My two roommates and I all work similar schedules and a cozy three-bedroom with one bathroom leaves a lot to be desired. So getting ready in my room was a simple solution, but I needed to find a better way to store my makeup because the piles were stacking up. Then I found this $14 acrylic drawer set on Amazon, and that really changed everything.
As I've gotten older, my makeup collection has grown as I've learned to experiment with products, colors, and makeup looks. And as much as I want to be the person who only buys makeup to replace finished products, that simply isn't me, I'm going to buy glitter every chance I get, you know?
Makeup bags are great for a lot of things, but in my opinion everyday makeup storage isn't one of them. My favorite products were constantly neglected at the bottom of my bag, and not a day went by that one of my pressed powder products didn't break. To top it all off, my desk looked worse than a Sephora sample counter during their yearly sales. 
And then, this two-piece set came into my life: it's equipped with four drawers, 12 lipstick cubbies, a spot for makeup brushes, and two open surfaces for whatever other various products are apart of your daily regime. The black mesh mats at the base of each drawer help keep everything in place so your precious highlighter babies aren't smashing into each other with every open and close. Another amazing addition to the drawer set is it's completely buildable, so as my makeup collection grows and my storage needs change, I don't have to buy a whole new set of drawers. I can just add on (and add to cart)!
Another perk of this drawer set is that it's helped me live out my Youtube Makeup Guru fantasy. There's a place for everything and it looks chic perched on my desk next to my laptop and knockoff Diptyque candle. Plus, that precious time I spent scouring my makeup bag for my favorite purple eyeliner has been saved, and I can get a few more hours of beauty sleep.