These Durable Reusable Totes Are a Grocery-Shopping Game Changer
We
independently
select these products—if you buy from one of our links, we may earn a commission. All prices were accurate at the time of publishing.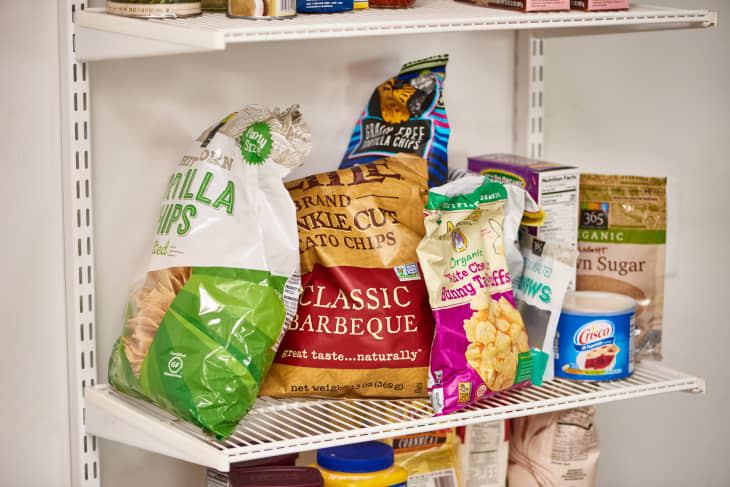 If you're like me, you have at least a dozen reusable tote bags in your closet. But also if you're like me, there is no rhyme or reason to this hodge-podge collection — free giveaways and cute impulse buys, bags that fold up into tiny pouches, canvas and cotton and nylon, watertight and flimsy… you get it. Bottom line: It's usually a pretty chaotic scene trying to fit everything into my bags at the checkout counter, and I wind up with perishables that nearly always get damaged somewhere between the store and my kitchen.
After a few too many smushed breads and bruised tomatoes, I decided that I'd had it with my old ways! I did a deep dive on Amazon for a better, smarter solution for transporting and protecting my food, and I emerged on the other side with this set of four Gramercy Kitchen Reusable Grocery Bags in my cart. Fast forward a couple of months, and they have totally changed my shopping experience for the better.
I chose the Gramercy totes for several reasons, starting with the glowing reviews that praised them as "the best grocery bag ever," "easy to fold and store," and "heftier, more comfortable to carry" than similar options. But the review that intrigued me the most? "I highly recommend these bags. Well made, durable, can be cleaned reasonably easy. And the Cashiers LOVE them. " Interesting! I had to know what was so different about these grocery bags that made even the experts take notice.
Part box and part bag, these totes combine the best of two technologies into one genius find. They're structured with flat sides and right angles, kind of like a hollow cube with the top piece missing. This shape makes it easy to pack grocery items in a thoughtful, deliberate way that ensures that everything is secure— no wonder they're such a hit with store staff! When I fill these beauties with goodies and carry them home from the market, all of my stuff remains in place without the shifting that happens with bag-shaped bags. (Lots of users also say that the products stay put in their car trunks, too.) Not only can I see everything I have with a quick glance, but they fit so much more than any tote I've ever used. Measuring 11″ deep, 12″ long, and 9.5″ wide, they can hold an unusually large volume, and their reinforced material stands up to rugged use.
The entire bag, including the bottom liner, is coated with a (recycled) water-repellant film that keeps it from getting ruined if your eggs break or your milk drips. "I use one bag to carry six 2-liter soda bottles. That's 4.4 pounds each for a total of 26.4 pounds," comments one user. And talk about versatile! I kid you not, I literally used one yesterday as a carry-on bag in a pinch when my usual tote couldn't handle everything I needed for my flight. I can even see myself using it as a beach bag — the thought of not having to dig my way to the bottom for sunblock is already making me giddy.
New York City apartments aren't exactly known for their expansive closet space, which is another reason that these grocery totes are perfect for me. They fold up flat when not in use, so they take up barely any of my valuable storage area. It's way more space efficient than that bag of mismatched totes that was hanging there before, believe me.
What I didn't expect was how stylish these bags are. Mine are a deep navy with a chic vegan-leather label and super-strong nylon handles. Walking through the airport with one on my arm yesterday felt like I was carrying something that was actually designed to be a travel carry-on! They also come in black and dark gray, and judging by the look of the blue ones, you won't go wrong no matter which you choose. And get this — they're machine washable. Some of the reviews griped about the bags not holding their shape after they came out the wash, but I use the gentle cycle and have had no issues at all. When they're clean, air dry them (don't put them in the dryer). You can also spot-clean with soap and water if you don't feel like waiting for the machine to do its thing.
The whole set of four costs $40, and while it might seem silly at first to spend $10 a bag when you have a pile of "perfectly fine" ones already, think of how much money and aggravation you'll save in ruined groceries. Plus, you never know when you might need an extra travel carry-on in a pinch…