This $10 Amazon Phone Stand Became the WFH Gadget I Can't Live Without
We
independently
select these products—if you buy from one of our links, we may earn a commission. All prices were accurate at the time of publishing.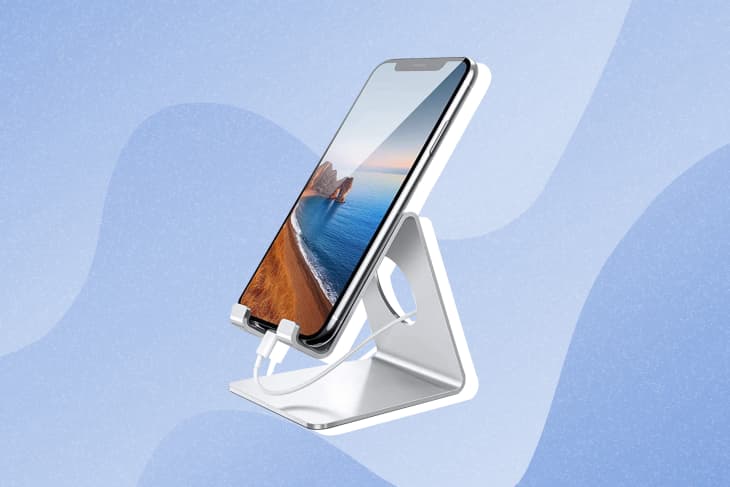 It's a universal truth that Amazon has a gadget for everything. But as someone who's moved around a bit in the past few years, I don't jump to buy the latest Amazon find I see on TikTok unless I know that I'll really use it and the price is right. As a busy grad student, freelancer, and someone whose main source of socializing over the past year has been daily video calls with friends and family, the Lamicall Cell Phone Stand from Amazon has quickly become something I can't live without.
A phone stand may seem like a simple product, but sometimes it's the simplest devices that make our lives easier. Whether I'm chatting with a friend, on a work call, or in the kitchen following the latest recipe I found on TikTok (I know, I have a problem), this phone stand is the perfect hands-free solution for all types of multitasking. I even find myself carrying it from room to room with me. It has a hole in the back of it to thread your charger through, as well as non-slip pads to keep your phone stable on whatever surface it's on. The stand comes in five different colors (I own the silver one), and is made of aluminum for a sleek, polished look.
I'll be on the road a bit this summer, and the phone stand didn't make the cut while I was packing — but I already have regrets about leaving it at home. So much so that I'm seriously considering buying another one just so I can have one phone stand at my desk and another one to travel with. Lamicall, the maker of this genius product, also has other tech accessories that I'm dying to try, like this ergonomic adjustable laptop stand and this magnetic phone holder for your car. (Full disclosure: I may have these items sitting in my Amazon shopping cart right now.)
TLDR: I spend a lot of time looking at screens and holding devices (and I'm sure I'm not alone). So, if you're looking for something to lessen your Zoom fatigue or make daily video chats hassle-free, this is $10 you won't regret spending.