I Finally Found a Solution to My Stinky Kitchen Sponge Problem
We independently select these products—if you buy from one of our links, we may earn a commission. All prices were accurate at the time of publishing.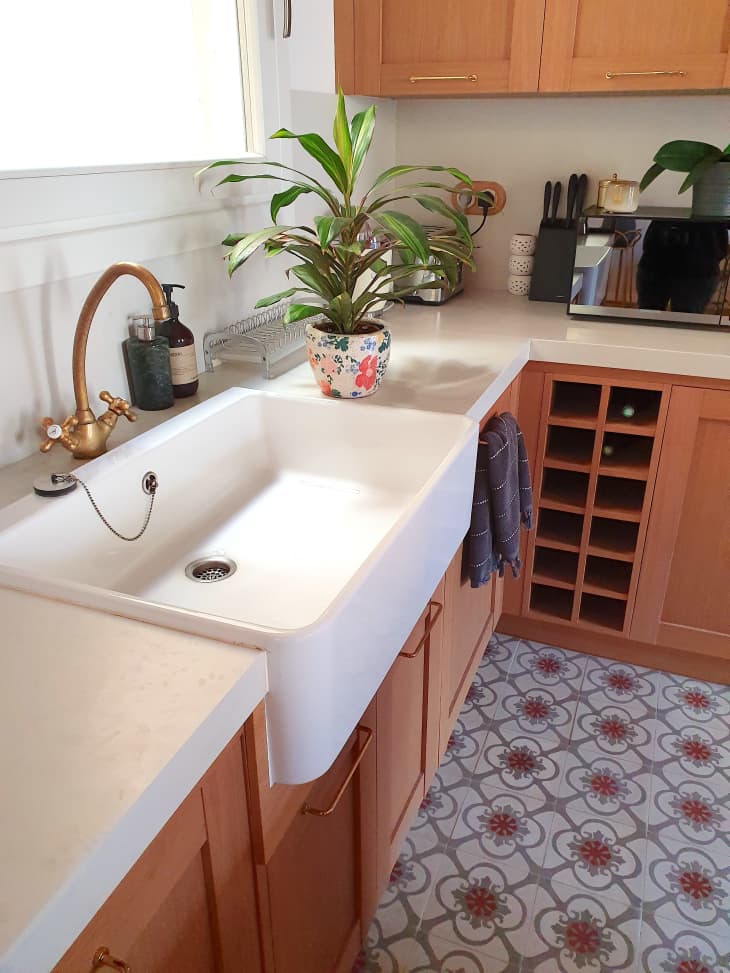 The right dish-washing setup can make a world of difference in this often-dreaded daily chore. For years, I've used a convenient dish brush with a soap dispenser to hand-wash most of my dishes, but I always keep a sponge in my sink caddy for tougher jobs (such as grimy pots and pans or baked-on bits stuck on cookie sheets).
My system is pretty effective for cleaning my dishes, but there's one thing I don't love about it: No matter how many times I replace it (even if it's every 10 days!), my sponge always seems to smell. Maybe I just have a sensitive nose, but no matter what I do, the sponge by my sink eventually has a tinge of mustiness.
Follow Topics for more like this
Follow for more stories like this
That's why I was pretty excited when I stumbled across Peachy Clean's Silicone Scrubber, which has a near-perfect rating on Amazon. The moment I saw it I knew I had to try it. It's a textured, antimicrobial, silicone sponge ideal for getting tough grime off of dishes. The real selling point, though, is that it's resistant to odors.
The silicone dries quickly, so it's less likely to get musty, and on top of that, it's actually scented. Get this: The sponge smells just like peach candy, in the best way possible — it's subtle enough that it won't give you a headache, but it's definitely noticeable (and a lot better than mildew for sure). So you can bet I was thrilled to add it to my cleaning caddy. 
To test it out, I used the Peachy Clean sponge for a full week as part of my normal dishwashing routine. I kept it next to my dish scrubber and used it on several occasions, including on dirty dinner dishes, wine glasses, pots with stuck-on spaghetti sauce, and baking sheets laden with greasy bacon residue.
I felt the texture was just abrasive enough to make scrubbing easy, especially when paired with my go-to dishwashing soap, Dawn Powerwash. And guess what? I actually prefer this dish sponge to my normal one in terms of effectiveness.
But the best part was the smell. I found myself looking forward to using this salmon-colored sponge because, well, it didn't stink. Even after seven days of use, the sponge never smelled musty — and at the end, even after scrubbing away all of that grime, the peach smell was still as strong as the very first day I opened the package.
And, no, I didn't do anything special or different to maintain the sponge, other than rinsing it out with warm water after using it like I always would. You can even clean it in the dishwasher. And if you aren't exactly wild about a sponge with a peach scent, it comes in a fragrance-free option.  
The Peachy Clean sponge is sold in a three-pack, so I'm excited to have others on hand when this one gives out. Reviewers on Amazon say theirs lasted up to two months, but we recommend tossing out your kitchen sponge more often than that because it can harbor growing bacteria (even if you can't smell it!).
I've been using this sponge for two weeks, and I can honestly say that this product lives up to the hype — smell and all. It's going to be a staple in my kitchen from now on.
Short of throwing out your sponge after two weeks, how do you get your kitchen scrubber to stop stinking? Tell us your clever tips in the comments below.