The Inexpensive Food Storage Containers I Started Using at Home After Working as a Line Cook
We
independently
select these products—if you buy from one of our links, we may earn a commission. All prices were accurate at the time of publishing.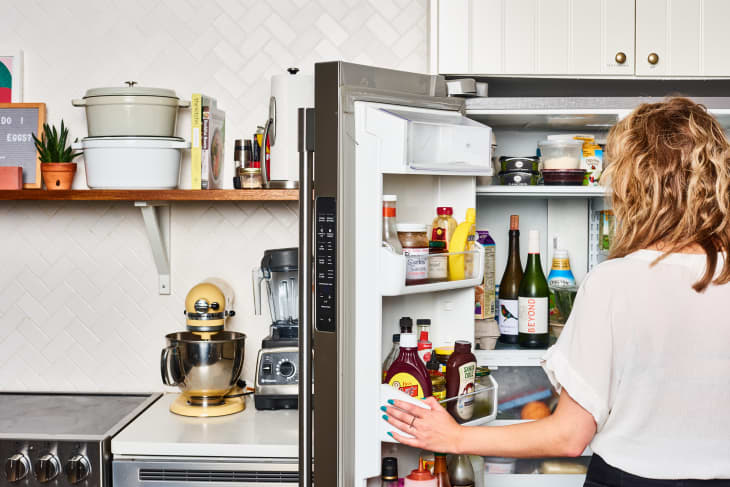 I gained a lot of valuable kitchen skills working as a line cook at an impossible-to-get-into restaurant in NYC, but one of my most tangible takeaways might just surprise you. Enter: my endless stockpile of beloved, versatile, stackable deli containers. 
On the line, there was really nothing more satisfying then chugging ice water out of a quart container. It stacked neatly alongside everything stowed on my station, and it very quickly became my water bottle of choice. At the end of my shift, the quart container would end up coming home with me. Even on a bike, it never spilled into my tote (thank you, airtight lids!).
Over time, I'd take home a meatball or two in a pint container, or some handmade pasta in a cup for a post-shift snack. Well, eventually, my kitchen cabinets became completely stacked with these deli containers. I'd use them to store everything. Honestly, collecting these little containers has completely revolutionized my food storage game.
Luckily for you, Amazon has a bundle of the airtight containers in all three sizes. This bundle is equipped with 12 quart-sized containers to store everything from soup for the week to pantry goods like rice, nuts, and coffee. The bundle also includes 12 cup-sized containers for leftover tomato paste to stash in the freezer or chickpeas that didn't make it into my salad. Finally, this bundle also includes 24 pint-sized containers for everything in between. That's 48 storage containers, all stackable and fitted with matching lids! Trust me, if that sounds like a lot, I promise you'll quickly start filling these up. These actually make reorganizing your pantry or fridge more fun.
These deli containers stand out from the pack for a few reasons. First, as a home cook who eyeballs a lot of ingredients, these containers double as measuring cups. Let's face it, we all have one (or maybe two) measuring cups on-hand. When that's in the dishwasher, you can use a pint container instead for a rough measure of how much wine to pour into your braise. Plus, when you store your next batch of homemade broth in a quart container, you'll know how many cups you've yielded to use for future recipes.
Next up is an experience I'm not proud of but we're all too familiar with: moldy Tupperware. Do you hold your breath and clean it or shamefully toss the entire container in the trash? I'm not saying deli containers will stop you from forgetting about two-week old leftovers in the back of the fridge, but I do promise that you won't feel so bad about throwing out a pint that you bought at a steal of a price, especially since you'll have an abundance of backups. For extra security, you can browse this article for a tip on how make plastic containers last.
That leads me to my next favorite thing about this bundle. I'm eager to give out leftovers to friends and family without feeling like I'm sacrificing an expensive container for the cause. After all, sharing is caring, and these deli containers' airtight lids offer extra insurance for transporting food. I'm also happy to report that deli containers are microwave-safe. If they weren't dishwasher-safe, I would never tell you about them, but don't worry! These containers are indeed reusable, and dishwasher-safe.
Now that I've guided you towards your best shopping decision of the day (getting yourself a stack of deli containers), I need to mention one last thing. This may be obvious, but let's highlight the transparent nature of a deli container: Its clear surfaces make it easy to see every single ingredient or leftover packed inside your pantry or fridge.
I may have left the line, but these multipurpose storage containers are certainly staying with me forever. Psst… they're on sale right now!