This $26 Find Is Making Me So Much More Productive in the Kitchen
We independently select these products—if you buy from one of our links, we may earn a commission. All prices were accurate at the time of publishing.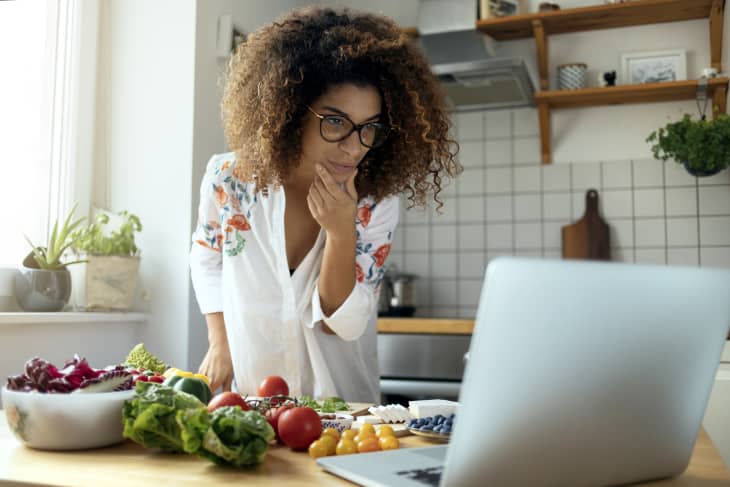 Since I have been home this past year, I am constantly looking for ways to keep myself busy. One of the projects I took on was finally organizing all of my carefully pinned recipes on my iPad. The only hitch? In the past, I have ruined a perfectly good laptop with flour smudges. So this time around I decided to equip myself with the Prepara iPrep, a $25.60 nifty gadget that's quickly become my constant kitchen companion to scroll, stream, and even hop on Zoom calls while keeping my shiny new iPad safe from hot tomato splashes or sugar spills.
With a solid 4.5-star rating, I totally get why the iPrep is such a popular pick on Amazon. For starters, it comes with a fully adjustable base that can move to four different angles with the push of a little button, so I can read the screen no matter the lighting or resolution. The stand also has an incredibly secure grip on my device even when I'm moving or flipping it around. Plus, it comes with a stylus that's neatly tucked into the base, ready to do the scrolling for me without making the screen dirty with my food-coated fingerprints. If I get messy with the meatball mix, who cares? I can just rinse the stylus off and pop it back into its slot and move on germ free.
Other than using it to follow recipes, the iPad stand has given me so much flexibility to multitask. For instance, I recently attended a Zoom seminar (my video wasn't on, promise) while I was in the kitchen cooking dinner! It's also been incredibly handy to stream cooking tutorials on new techniques (I make some mean tortellini from scratch now) and watch Julia Child on the PBS app for inspiration while I'm heating up leftovers. I even recorded a short video to show a friend how to fill cupcakes. And when it's not keeping my iPad charged for my next cooking adventure, the stand easily folds in half to barely over an inch thick and fits in my kitchen drawer like a notebook. And unlike other stands, the iPrep is designed to prop up devices other than my iPad, so I don't need a separate device each time I upgrade or change gadgets. It fits most standard tablet models on the market.
Even as I'm starting to venture out a little more, my life will be at least partially virtual for now … or so I'm telling myself as I wait for my second iPrep stand to arrive. While the O.G one will forever have a spot on my kitchen countertop, the second one is now part of my new self-care routine. Bridgerton and a long hot soak in the tub, here I come.