This Small-Space-Friendly Indoor Clothesline Is the Ultimate Solution for Those Without a Dryer
We independently select these products—if you buy from one of our links, we may earn a commission. All prices were accurate at the time of publishing.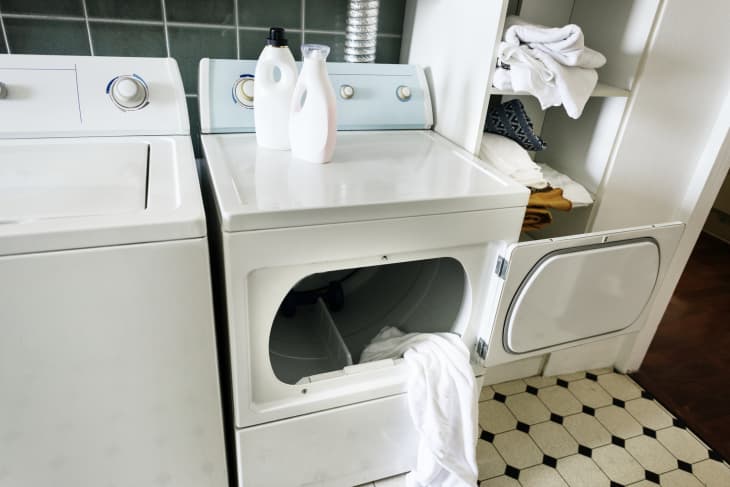 I won't dispute the convenience of having a washing and drying machine in your home, or even in your building. Even if you're not a total laundry pro and you have to Google which setting to wash whites on, it's still a luxury that beats hauling your hamper to the laundromat. But if you're not that fortunate, I have something to share that might make you feel better: Cycling your clothes through the dryer often damages them. The high heat can burn their individual fibers, causing your favorite garments to break down and lose quality over time.
Follow Topics for more like this
Follow for more stories like this
Personally, I only ever machine-dry my bedding; all my apparel goes on the rack in my family's guest room. Although this collapsible rack has saved me from having to hang wet garments on my shower rod, when it's in use, it becomes an annoying obstacle. If you were considering getting one, I wouldn't discourage you, per se. No — I'd just encourage you to get this wall-mounted retractable clothesline from Amazon instead.
As its name suggests, this clothesline has to be drilled into the wall. It includes the main unit, which contains the actual line, as well as a smaller unit that holds the line up. After installing the device, simply pull on the main unit's gray knob, extend your line, and hook it into the unit on the opposite wall. The sturdy line is made of stainless steel and is thus able to hold up to 40 lbs., plus it measures nearly 14 feet at full length. It's safe to say that you're not likely to run out of hanging space. Another upside reviewers cite is that this product doesn't take up a lot of space in tiny apartments. "I have a smaller laundry room but sometimes have a need to hang something, and with little space for a stand, this was an amazing find," one customer noted. "It's just so much better than a big ol' rack!" Once your items are dry, simply unhook the line and retract it back into its home.
In addition to saving space, you will also save quarters on the dryer at the laundromat. The eco-friendly alternative will help your clothes and linens last longer, too. Finally, if you have a balcony or backyard, I can personally attest that hanging your laundry to dry outside can leave them feeling extra crisp and fresh-smelling. Just drill the clothesline into your exterior walls, and you're set! You won't even miss having a fully equipped laundry room.