The $9 Gadget That'll Improve Dryer Performance and Keep Clothes Lint-Free
We
independently
select these products—if you buy from one of our links, we may earn a commission. All prices were accurate at the time of publishing.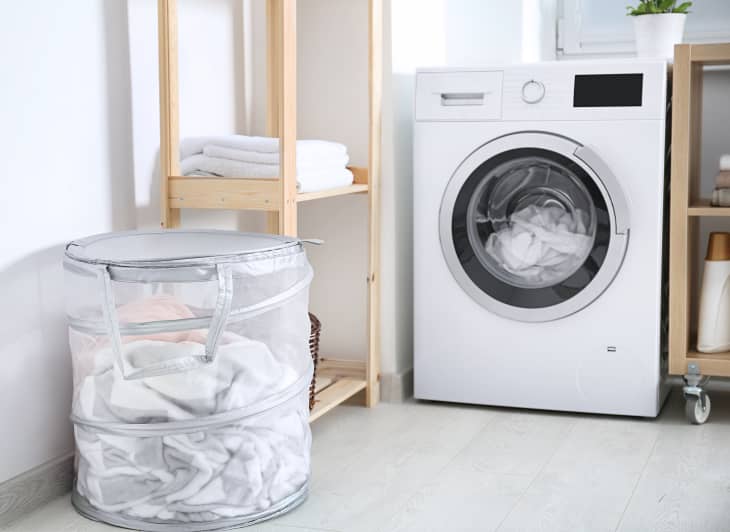 You've probably been there — your dryer completes a cycle, and as you begin pulling the warm garments out, you find that they're covered in irksome white fluff. To your horror, you realize you didn't clean out the dryer vent after running that faux fur blanket. Or, maybe you're just now discovering that your appliance even has a vent that requires cleaning. Don't be embarrassed; at AT, we revel in the opportunity to share our favorite laundry hacks. From the best stain removers to editor-approved sheet detanglers and portable washing machines, we're here to help turn one of the most tedious chores into a headache-free function.
With regards to lint buildup, yes, you should be cleaning your dryer vent gap semi-regularly and the outside tubing at least once a year to prevent clogging. Personally, I like to wipe my dryer's vent every two-to-three cycles, as I'm perpetually wary of damaging the machine or having to subsequently lint-roll my dark clothes for ages. I was never sure exactly how to go about doing so, opting for a wet paper towel and awkwardly brushing the buildup off of the vent filter and into the trash can. But with the Holikme dryer vent cleaning kit from Amazon, this task now has a more streamlined system.
This two-piece kit is really just comprised of two wire brushes that are conveniently bristled and flexible enough to reach that difficult crevice at the front of your dryer. With more than 13,500 five-star reviews from buyers, it's evident that the set guarantees a quick and straightforward solution. "This is perfect for the price… and you get 2 of them!" one reviewer shared. "The minute it arrived, I tried it and loved it! It got all the lint way down past the screen and scooped it out!" Each brush is 29 inches long and features a 4-inch wooden handle for easy maneuvering.
Not only will the kit help keep freshly washed and dried clothes as clean as possible, but it'll also improve dryer performance, as not cleaning the vent and exhaust pipe can cause longer cycles, which can in turn increase utility bills. One reviewer can attest to this. "… Recently the dryer hadn't been drying as well as it should have," she shared. "I got so much lint out of the dryer where the lint trap goes that I was APPALLED!" Removing lint buildup can also help prevent fires, making this tool potentially life-saving. (No hyperbole here!)
Adding to this product's many pluses, buyers lauded the kit for being surprisingly sturdy, the brushes' wooden handles thick enough to withstand even the most severe bending. So it appears that for less than $10, you can be the proud owner of a tool that simultaneously keeps your fits looking fresh and prevents home disasters. Fire safety has never sounded so appealing!