The Brilliant Amazon Find That Creates Utensil Storage Space Out of Thin Air
We
independently
select these products—if you buy from one of our links, we may earn a commission. All prices were accurate at the time of publishing.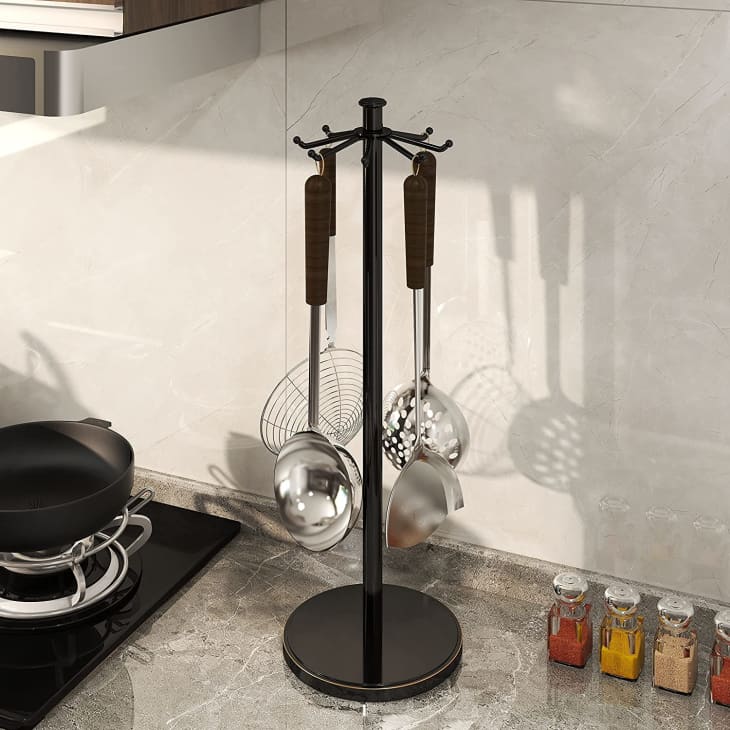 There is a hard truth you must face about your kitchen drawers: they weren't built to hold everything you want to put in them. But don't worry, you're not alone! Most everyone's kitchen drawers are not tall enough for a soup ladle or whisk to fit comfortably; they really only have room for flatware and maybe a few long spoons or knives. We're not going to stop you from trying to squeeze in some big utensil with a bulky head, but when you accept that it was never meant to be, we'll gladly help you find a better place for it.
Utensil crock pots are certainly stylish, but if you only have room for one countertop utensil holder, they're not ideal. They become overcrowded too easily, and whenever you try to grab just one tool, the rest try to jump out with it. Your counters will look tidier and you'll have an easier time using your tools if each one has its own space to hang out, like they do with this rotating under-counter gadget. Now, thankfully, you can get the same great functionality (and better portability) without having to attach anything under your cabinets. This standing rack has enough hooks for all your large utensils — and it will free up your drawers in no time.
This gadget has eight hooks that rotate around to give you easy access to all your spatulas, strainers, ladles, and salad serving tongs. Its base is weighted to prevent any heavy utensil from tipping it over, and the bottom side is covered in a slip-resistant mat to keep the whole thing in place as you twirl your kitchen tools about. There is plenty of room between the hooks to let you use every one, so you really can clear your drawers of your bulkiest utensils with a single rack (or grab a second if you have a lot of tools).
In my apartment's narrow galley kitchen, I would love to keep this by my stove so I can grab the right tools exactly when I need them. And I wouldn't be worried about food splatter from cooking. Its stainless-steel construction is easy to wipe down, so whether you get it in silver or black, the finishing color will shine brilliantly after years of use.
Amazon shoppers have only good things to say about this spinning utensil rack, which isn't surprising. Like many of our favorite kitchen devices, this product's simple design and quality construction make it live up to its promise — and that's just what we want. One reviewer wrote that "it is very sturdy and spins effortlessly. It is a very practical yet beautiful addition to the kitchen." Another reviewer showed off how they doubled up utensils on each hook, which means you can actually use this to hold 16 tools. Even the biggest crock pots can't hold that much.
Give your kitchen drawers a break — they deserve it — and get your utensils organized in one convenient place. Once you see how much of a game-changer this spinning rack is, you'll never go back.