Amy & Greg's Fresh Traditional
We
independently
select these products—if you buy from one of our links, we may earn a commission. All prices were accurate at the time of publishing.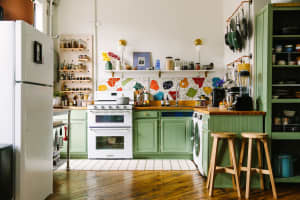 Can't-Miss House Tours Straight to Your Inbox
Keep up with our latest house tours each weekday with our House Tour of the Day newsletter
Name: Amy & Greg Strunk, their brand new baby, Graham, and their two kittens, Pips and Fawkes
Location: Penderbrook (Fairfax, VA)
Size: 3 bedrooms, 2 full baths, 2 ½ baths on 4 floors
Years lived in: owned 4 years
I didn't even have to look at the house number to find Amy and Greg's home on photo shoot day— as soon as I saw the flowers and foliage cascading down the front steps I knew I had arrived. Knowing that Amy is a landscape designer, that part was a giveaway. The surprise was the extent to which she and Greg (a DIY genius) have transformed their suburban townhouse into a luxe and unique oasis, and incorporated family cast-offs in a sophisticated manner that's rare for such a young couple.
literally many levels. Their home is a four floor townhouse, situated in a DC suburb. When they moved in, they loved the layout, but the white-box, builder-grade features left something to be desired. Armed with a sense of purpose and a fair share of DIY know-how, they set about adding interest and personality to the house in a way that reflects their love of nature and water—both love sailing and the coast. Along the way they inherited quite a few family hand-me-downs, and rather than fight against them (no hot pink spray painted antiques for them!), they allowed the heirlooms to influence many of their design decisions. The result is a clean and cohesive take on traditional style, infused with personal meaning and a subtle sense of family history. Almost every piece has a unique story!
I've included a few pictures of Amy & Greg's remarkable postage stamp size garden oasis, but despite its size I think it deserves its own tour, so keep a look out for their garden tour next week.
In the meantime, check out the full gallery tour and captions for a better sense of the house's layout and the stories behind the home's details.
Apartment Therapy Survey:
Style: I'd say a combination of Traditional (Greg) and Contemporary (Amy). We have worked hard to incorporate both styles and have tried to balance the house so it doesn't look random! I think marriage is very much about compromise, so we make design decisions together and talk things out. It's helped keep us on the straight and narrow and we have avoided having pieces in our home that aren't "us". We inherited a lot of furniture from Greg's family and made it work with our own style.
Inspiration: Nature & Travel, I find so much inspiration from being outside and visiting new places, the colors, textures and feelings that are evoked are something both Greg and I wanted to try and incorporate in our own home.
Favorite Element: The overall layout, we entertain a lot and have never been cramped for space with company. There's enough room to gather a crowd, but it's cozy enough when it's just us that we still feel very comfortable in our home.
Biggest Challenge: It being on four levels!
What Friends Say: Everyone says they feel comfortable here as soon as they arrive which was so important to us.
Biggest Embarrassment: The basement, but it's in progress! There has to be one thing that isn't perfect right??
Proudest DIY: Wow, that's hard to choose! We had so many cosmetic things to change about the house to make it ours, the whole thing has really been a labor of love. I know we'd both say the bookcases Greg built in our office loft. When we moved in we had bookcases along the wall where our desk was, but felt they took up too much floor space. So we consulted with a friend who is an Architect to make sure we could do what we thought we could, which was removing a wall and recessing bookcases, luckily it wasn't a structural wall so we went forward with the project. Greg did everything on his own from measuring the space to buying the lumber building them all and installing the trim and we love it, we wished we had done it sooner!
Biggest Indulgence: Fresh flowers, they brighten up any room. I love going out to our garden with Greg and snipping blooms, spending time decompressing outside is one of the best parts of our week. But I do spend money on fresh-cut flowers from work, the grocery store or the farmer's market. If money were no object I'd have flowers in every room of my house all the time.
Best Advice: Choose things you love and they'll always find a way to work together. A lot of people have commented on my zebra chair in the living room being "off" or not going with a lot of our other furnishings, but we love it! I think you can't take yourself too seriously when designing, we're young, we wanted a fun space that our family and friends felt comfortable in. We are just as comfortable in this room with the two of us as we are when we entertain for 20, and that was our goal. Nothing is too valuable that's its worth hurting someone's feelings if it's damaged, a couch is replaceable, feelings and words aren't so easily slip covered!
Dream Sources: There are so many, I can't narrow just one down. But probably an endless budget in a design center to furnish the basement.
Other Inspiration: Many of the design magazines and blogs out there! I think when you're a creative person you can't turn off inspiration, so it really is all around you.
PAINT & COLORS: All Benjamin Moore Matte Finish (low or no VOC)

• Living & Dining Room: Silver Sage
• Kitchen: Rich Cream
• Powder Room: Monroe Bisque
• Hallways & Stairwells: Monroe Bisque
• Nursery: Hancock Green
• Guest Bedroom: Lower: Monroe Bisque Upper: Wood Ash
• Guest Bathroom: Sandy Shores
• Master Bedroom & Loft: Custom color Greg's mother invented
• Master Bathroom: Wood Ash
• Mirror made by Greg's grandfather
• Cork wreath on door to kitchen: Made by Amy
LIVING ROOM & DINING ROOM

• Cream herringbone couch: Arhaus
• Zebra chair: Home Goods
•Wing chair, Pie crust table, both side tables, Magnolia prints, Asian silk screen, Bachelor's chest, Wall lantern: all family pieces
• Coffee table: Crate & Barrel
• Corner cupboard: Craigslist
• Horse sketch above fireplace: drawn by Greg's grandfather
• Lucite lamps, Sconces: Home Goods
• Brass chandelier: Original to house (haven't found a good replacement-yet!)

• Table & chairs: French Country Living
• Hutch: bought from a family friend's estate sale
• Bar Stools: Bed, Bath & Beyond
• Art from Venice, Italy
• Plant stands: Home Goods
• Linen pendant: Crate & Barrel
• Pendant lights above island: Home Goods sale lamps we repurposed into pendants
• Rice Bed via Craigslist
• Side tables: Family pieces
• Dresser & Chest of drawers: Stanis
• Chairs: Family pieces
• Beach oil painting above bed: Family piece
• Marsh oil painting above chair: Naples, FL
• Greg's Grandmother's antique lamps purchased with her wedding present money

IN LOFT:
• Couch & Metal Top Table: Home Goods
• Desk: Pottery Barn via Craigslist
• Butler's tray table: Family piece
• Owl Lamp: Merrifield Garden Center
• Bird mirror & wheelbarrow: Merrifield Garden Center
• Framed prints: Insects book we disassembled & framed
• Decals: Peter Rabbit Pottery Barn Kids
• Nest on closet: Made by Amy
• Crib: Pottery Barn Kids
• Swivel, Rocker, Gilder, Recliner: Best Chair, Baby-2-Teen Furniture
• Bookcase: Repainted family piece
• Repainted family pieces
• Storage stool: Home Goods
• Egg prints: Home Goods
• Gilded mirror: Family piece
• Linen shades in dining room, kitchen, guest room and master bedroom: Pure Style Home by Lauren Liess Interiors
• Nursery, curtains, crib skirt and valance: Made by Amy & a great friend Deborah

• Main levels: BR-111, Brazilian Cherry, Sustainably harvested
• Stairwells & Bedrooms: Wheat colored Berber

•Living & Dining Room: Berber handmade in Africa for Amy as a baby gift, Chinese silk rug in Persian pattern from an estate sale

•Hallway runner: Greenfront Furniture, Farmville, VA
• Kitchen: Granite Golden Beach-Anatolia Marble & Granite
• Bathroom counters: Kashmir Gold-Anatolia Marble & Granite
• Master Bathroom floor (radiant heat), shower & accent tile: Travertine, honed & tumbled slate: Mosaic tile
• HOUSE TOUR ARCHIVE Check out past house tours here
• Interested in sharing your home with Apartment Therapy? Contact the editors through our House Tour Submission Form.
• Are you a designer/architect/decorator interested in sharing a residential project with Apartment Therapy readers? Contact the editors through our Professional Submission Form.