A Cool South Austin Bachelor Bungalow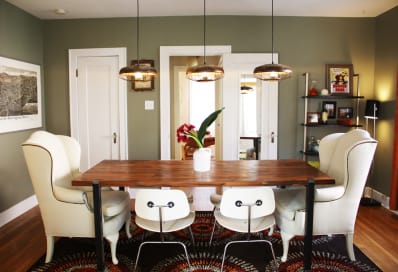 Name: A project by Sally Breer Interior Design
Location: Austin, Texas
Size: 1700 square feet
Designer Sally Breer was tasked with taking an older South Austin bungalow and turning it into a hip, inviting and cool home for a young bachelor. The house, like a lot of older homes, had great bones (namely beautiful wood floors and a neat layout) but lacked a lot (okay any) style. Full of vintage details and lots of bright light, we love the cool, accessible look of this home she's created.
Interior designer Sally created a space with a lot of youthful fun but that still has a sophisticated, grown-up feel to it. And though there's an eclectic mood to the house, it feels pulled together and cohesive. We love the chevron-painted wall in the living room that greets your eyes and really sets the tone for the house. We love the melding of vintage, classic furniture pieces with rustic, more natural ones to create a fun mix. Sally did an amazing job incorporating the homeowner's personality through photos, art and off-beat accessories sprinkled around the house. One of our favorite elements to the home is the art collage in the back TV room: a series of framed still shots from the movie "Annie Hall." What a fun and affordable art idea!
Apartment Therapy Survey:
The style: I wanted to create a space that really reflected the guy I was designing for but was also livable and still had character. Using neutral but masculine greys and olive greens for the paint colors, I was able to play with vintage and modern pieces to give the space a calming yet warm, eclectic, lived in feel.
Inspiration: The person living here is a bachelor and bought it because he loves Austin so much and feels at peace there, unfortunately work keeps him in a different city so it's really a get-away home. I wanted him to have a place to come to where he truly felt at home. That's why I incorporated a lot of personal details into the space, to name a few...I created an art piece with 200 vintage stamps from his favorite country and framed an old magazine cover of a childhood cartoon he loves. He's also from a family of teachers in the north east so I drew a lot from americana to make a sentimental feel.
Favorite Element: I think I have too many favorite elements to choose one? One of my favorite pieces would be the cupboard that the TV sits on. I bought it from an old man who used it in his shop to store tools. Its structure is asymmetrical and it's really just beautiful. I had a local sheet metal guy make a top for it to give it a bit more polish.
Biggest Challenge: Probably the use of space. Being an old craftsman, it has a funky layout. It was really essential to me that every room felt like it made sense and there was a good flow to the house. Without having the option to knock out walls, I utilized a somewhat uniform color palette throughout the house and took off almost every door that didn't either lead to a bathroom or a bedroom.
What Friends Say: That the transformation from where the house started is pretty shocking. I didn't have to do much to make an improvement from its original condition! The house was painted an Easter Basket palette!
Biggest Embarrassment: The kitchen. I didn't really get a chance to do much with it.
Proudest DIY: "The lady of the house." There was an old painting left behind by the previous owner that my client was about to throw away (she was a little creepy) but I salvaged her before she went into the trash. With a little acrylic paint, I turned her into a boyscout (in tribute to the new home owner who is a former boyscout). I love that she's still around in the new place, but with a little facelift.
Biggest Indulgence: I would say the single biggest indulgence was the pair of bent wood Norway lounge chairs. Maybe not much of an indulgence in money but definitely with time factored in, I ended up driving a total of 6 hours for those puppies.
Best advice: Personal. Your home should live and breathe you. The best homes, in my opinion, are the ones that feel uniquely intimate to their dweller.
Dream source: MOROCCO, for their deep pile flokatis! Flea Markets and Uncommon Objects (Austin, TX) - the most magical place on earth.
Resources:
Furniture: Roundtop flea market, St. Vincent de Paul, Craigslist, Room Service Vintage, cb2
Accessories: Uncommon Objects
Rugs and Carpets: craigslist, Jeff Garbs@ Bacon Farm
Window Treatments: Uncommon Objects, World Market, Ikea
Beds: Mr. Long Upholstery
Artwork: Art from the streets, DIY, ebay
Thanks, Sally!
Images: Adrienne Breaux
• HOUSE TOUR ARCHIVE Check out past house tours here
• Interested in sharing your home with Apartment Therapy? Contact the editors through our House Tour Submission Form.
• Are you a designer/architect/decorator interested in sharing a residential project with Apartment Therapy readers? Contact the editors through our Professional Submission Form.
Re-edited from a tour originally published on 2.11.11 - AB