An Empty Balcony Turned "Calm and Peaceful Corner"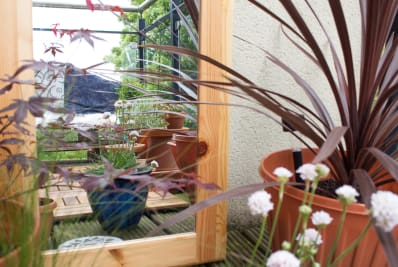 (Image credit: Submitted by Sidra)
Name: Sidra
Location: Drogheda — County Louth, Ireland
My balcony was the absolute emptiest space of my apartment. Since it is uncovered it was used for basically nothing. When I decided to turn it into a garden, I wanted to create a calm and peaceful corner for myself where I could enjoy a book in the afternoon or a cup of tea in the evening.
(Image credit: Submitted by Sidra)
I wanted my garden to have an organic, relaxed vibe. So I naturally gravitated towards the Zen style of garden. I planned on having lots of green leafy plants, minimal flowers, grass, wood, pebbles and stones, etc. I unchecked the option of artificial grass very early, because I wanted variation of material, height and layers in the flooring instead of a flat piece of fake grass. I couldn't cover the entire area with pebbles, since the balconies here cannot take heavy material like that. So, I decided on a mix of wooden tiles and beach stones.
(Image credit: Submitted by Sidra)
For the statement piece, me and the hubby made a DIY terracotta fountain which we found on Pinterest. It didn't cost us much and the sound of falling water gave life to the entire theme. Also, once the summer is over I can bring the fountain inside and enjoy it in my entrance. The wall behind the plants was very pale and I wanted to add something like a trellis to it. However, I stumbled upon the idea of adding an Outdoor mirror and totally loved it. I used an old mirror that I own for a while now, for this project, however, one day I might order a real outdoor mirror from amazon or someplace like that.
(Image credit: Submitted by Sidra)
I didn't want to spend a fortune on balcony furniture, since the weather in Ireland doesn't allow us to enjoy the outdoors for more than a few months a year. I found builders nearby who were throwing away their unused wooden pallets. I got a wooden pallet for free and had it divided in half and stacked the two halves on top of each other. I threw on an old sheet, a throw, some cushions and bam! sitting area done.
(Image credit: Submitted by Sidra)
I love to add lighting to spruce up my otherwise dark balcony at night so I added some lanterns that I bought from IKEA a while back. But since I'm a lazy person and can't be bothered to light up the lanterns every night, I bought solar-powered lamps that charge during daytime and light up automatically at night. Perfect!
It took me two months and a little under €100 to complete my balcony makeover, but I totally love how it turned out. Stepping out on to it is like going on a little vacation everyday!
Thanks, Sidra!
• Interested in sharing your outdoor style with Apartment Therapy? Contact the editors through our Outdoor Space or Project Submission Form.