Love at First Sight: An First Time Homeowner's "Urban Cozy" Condo in Boston
We independently select these products—if you buy from one of our links, we may earn a commission. All prices were accurate at the time of publishing.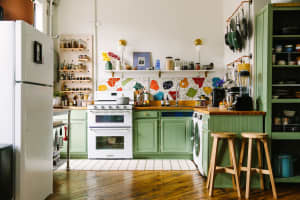 Can't-Miss House Tours Straight to Your Inbox
Keep up with our latest house tours each weekday with our House Tour of the Day newsletter
Name: Jenny
Location: South Boston, Massachusetts
The basics: 2 years, owned | 780 square feet
Jenny's condo is a balance of bright and poppy colors with sleek and sophisticated shapes and textures. After saying yes to the space when it was but a shadow of its current self, she set off to slowly and deliberately make this house her home.
Tell us a little (or a lot) about your home and the people who live there: My condo is in Andrew Square, part of the South Boston neighborhood in Massachusetts. This condo is my first home purchase and, despite all the advice you'll get telling you not to do this, it was the first and only condo I saw. And it wasn't even a condo at all! I bought pre-construction, so it really was a foundation and some studs the first time I walked in, but I could see the potential immediately and knew it was my home!
I decided when I was moving in to start completely fresh with all new furnishings. It took me over a year to fully furnish and decorate – part of that is because it's just hard to furnish a place all at once and part is because I had a vision and it took time to find all the pieces I was looking for!
By day, I am the Global Lead of Social Media and Digital Engagement at a biotech focused in the treatment of rare diseases. Work days can be long and hard, so it's important to be able to relax and unwind outside of work. Like most people, I also love to travel. In the past couple of years I've hit over 10 countries and collected items that show up all over my condo.
What is your favorite room and why? It has to be my living/dining room. It's the room I spend the most time in and houses some of my favorite items that have great stories behind them.
The very first piece I bought for my condo is the centerpiece of my living room: the Blu Dot Watermelon Strut coffee table. I've had a serious crush on that table for over a decade (an ex of mine and his brother ran a modern design shop and I credit them for my education and love of mid-century modern and contemporary design). Until this place, I never had the right space (or the right roommate!) for it. I built and balanced my entire living room around it.
My mantel was a reclaimed piece of barn wood that I found on Etsy and had shipped from the midwest.
The most talked about items in my living room are the two larger-than-life commissioned paintings. One sunny Sunday last summer, I biked a neighborhood over to an outdoor market and met a local artist. I instantly became enamored with her work, but couldn't find a piece in her portfolio that worked in my place. After a few weeks, I reached out to her with some photos and what must have sounded like the craziest description. She responded "So you want something 'Urban Cozy'?" Turns out – she was exactly right!
If you could magically change something about your home, what would it be? The light! I don't get enough in the mornings. As much as I love the lamps and dimmers I've installed – it's no match for natural light. The afternoons, when the sun has shifted, are lovely though.
What's the last thing you bought (or found!) for your home? The horns above my fireplace! I was in Austin, Texas for a conference and stumbled on them by chance. I didn't even know that's what my room needed until I saw them and now I couldn't imagine that wall without them. (And no, I didn't take them home on the plane – I had them shipped back to me!)
Jenny's words of wisdom: Don't rush it! Take the time to find the right pieces. If possible, you need to get items in the space to see if they work. At times, my place felt like a confused showroom as I went through three different area rugs, two dining room tables, multiple table lamps and an endless rotation of throw pillows until I landed on the exact right combination. It took well over a year but now, I love walking in the door at the end of the day.