And You Thought Your Neighbors Were Bad: Man Sells Million Dollar Property Because of Aliens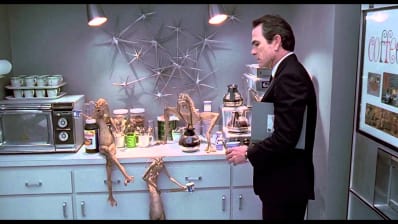 (Image credit: Columbia Pictures)
A nine acre working ranch in Arizona is currently on the market for 5 million dollars. The property is perfect for enjoying the expansive Arizona landscape, sunning by the pool, and physically fighting off alien creatures. According to the current owners, John and Joyce Edmonds, the ranch is a hot bed of paranormal and alien activity.
The couple bought the property over twenty years ago to start their horse rescue organization, Hopeful Hooves, that provides animal therapy services for children with disabilities. Though life on the ranch proved to be a little more spirited than the couple expected. According to the pair, they first knew the place had some creepy goings on when they found all of their furniture in the pool on their first day in the home. The couple claims the ranch receives countless alien visitors who have been known to levitate Joyce out of bed at night. John Edmonds claims to have personally disposed of 19 aliens.
The five bedroom, four bathroom ranch style home on the property was built in 1977 and is just under 3,500 square feet. There are also complete RV hookups and an electric fence to keep unwanted (human) intruders away from the property.
The property and its alien guests have gained a fair amount of fame in certain circles, even appearing on the Travel Channel's Ghost Adventures. Edmonds acknowledged that the home is "untraditional" but could be a good fit for the right people. Who knows how much activity will occur on the property after it changes hands, things could quiet down or the new owners could end up experiencing something like this.
h/t Daily Mail