Ani DiFranco's House is the Beautiful Bohemia I Need Today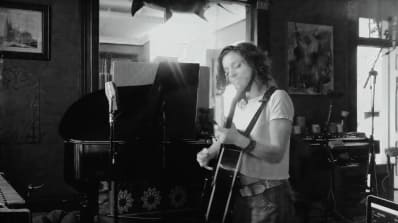 (Image credit: Ani DiFranco/YouTube)
Given the events of the past couple of months, and today in particular, I was really happy to hear new music from Ani DiFranco this week. The DIY folk hero and acoustic activist released a video for "Deferred Gratification," a song off her upcoming album "Binary," due out in March.
When you consider the tenor of political discourse lately, and DiFranco's legendary feisty streak, it's a surprisingly gentle song. In an Instagram post, she said it was "dedicated to all those who spend their lives in service to others (service that is endless and often thankless, too)." She also gave a glowing nod to president Barack Obama in his last days in office, writing, "You lifted us up and you gave us our pride back."
The video—filmed in a familial and intimate way—begins with DiFranco strumming peacefully at home and doing household chores. I know I should have been focused on the plaintive lyrics, with their mix of resigned hopefulness and aching melancholy — and I did get there eventually. But if I'm being totally honest, my first thought was, "Wow, that's a really nice laundry area."
I watched the video again— it's a really catchy song—and started to notice more of the home's details in the background: the ornate marble fireplace mantle, the intricate molding on the door frames. And that whimsical bohemian ideal that is an old house casually dotted with area rugs and musical instruments.
DiFranco lives with her husband and two children in the Bywater neighborhood of New Orleans, a historic district known for its eclectic 19th-century architecture. And somewhere among those shotgun homes and Creole cottages, a revolution is probably brewing in an enchanting musical sanctuary. The one with the totally sweet laundry setup.
Watch the video below: