Anne-Claire's Internationally Inspired Mix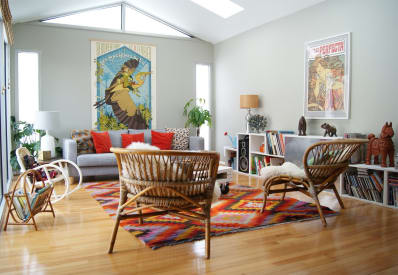 (Image credit: Anne-Claire)
Name: Anne-Claire
Location: Rockville, Maryland
We are an international family : my husband is South African, I am French and our 3 year old daughter was born in Dallas, Texas, where we lived before moving to the suburbs of DC. We would have loved to find a Victorian house, or a cool mid-century modern, but we ended up buying a split-level from the 60s. It is not our dream home — it lacks a bit of character, but we love the layout and the location is ideal for us.
(Image credit: Anne-Claire)
The house was in perfect condition when we bought it. The renovations made by the previous owners in the bathrooms and kitchen are close enough to our taste so it would not be worth redoing them (even though I would love to design my own kitchen... but that will be for the next house !). The only "big" work we did was to replace the tiles in the kitchen and entryway by some hardwood floors, and to add a skylight in the dining area. The rest was just paint and small DIY here and there.
(Image credit: Anne-Claire)
I am the one in charge of decorating since it is something I've always loved to do. Over the years, I have accumulated furniture and objects and they followed us in every move, from Paris to Dallas and then here. They pretty much all come from garage sales, Craigslist and thrift stores, in France and in the US.
(Image credit: Anne-Claire)
I love everything that is handcrafted, vintage, ethnic or made of natural materials like bamboo or rattan. I think they bring personality and warmth to a room. I also tend to go for bold colors, like tangerine, that you can see a little bit everywhere in the house, or the blue I used to paint the kitchen.
(Image credit: Anne-Claire)
This whole mix makes our house happy and welcoming, and most of all, it makes it a place that feels like home to us, even with our families living on the other side of the planet.
Thanks, Anne-Claire!
• Interested in sharing your home with Apartment Therapy? Contact the editors through our House Tour & House Call Submission Form.