I Never Used My Microwave but Now I Make Dinner in It Every Night, Thanks to This Cool Cookware
We independently select these products—if you buy from one of our links, we may earn a commission. All prices were accurate at the time of publishing.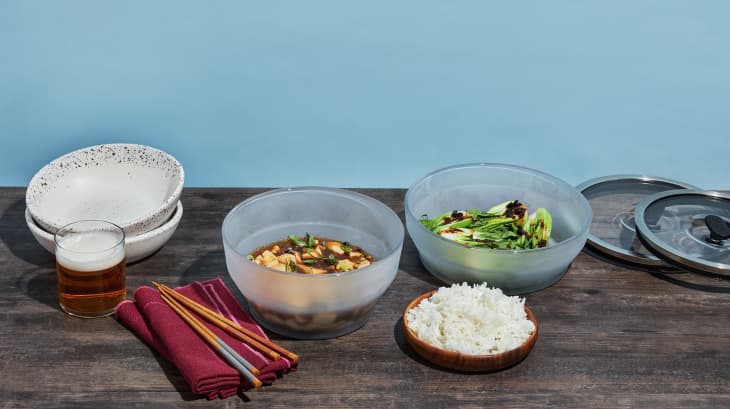 In my home, I do most of the cooking, and I believe in making everything from scratch. Bottled salad dressing? No thanks. Microwaveable rice? I'll pass! Priding myself on my home-cooking abilities, I'll admit to occasionally poking fun at the microwave dependent. I've just always felt an aversion to microwaved meals. But if I'm being honest, sometimes I just don't have the time to stand over the stove while my onions caramelize.
So, I decided to try out a new line of stylish microwaveable cookware from Anyday. To my surprise, I've come to rely upon my Anyday dishes. In fact, I'm a total microwave convert.
Follow Topics for more like this
Follow for more stories like this
Instead of simply heating up leftovers or frozen food, these airtight and leakproof lidded dishes allow you to actually cook in the microwave. Yes, you heard that right! With these dishes, you can fully cook marinated raw vegetables, white rice covered in herbs and water, or even meat and seafood with the simple press of a button. The website includes a helpful guide for different microwave wattages, so you know just how long to let your dish safely cook.
Beautifully crafted from frosted glass and microwave-safe stainless steel, these dishes look great on the table and can easily be used for dinner service. Plus, unlike most stovetop or oven cookware, they're dishwasher friendly. Talk about an easy clean up! The Starter Set comes with two pieces — one shallow and one wide — available in three pretty colorways.
As an admitted microwave skeptic, trust me when I say that I am now a believer in these Anyday dishes. They make preparing food so effortless that you're bound to find yourself with loads of extra time on your hands. Oh, and psst… this set is on sale right now.

Buy: Anyday Starter Set, $55 (normally $60)