7 Ways to Get Your Apartment Application to the Top of the Pile
We
independently
select these products—if you buy from one of our links, we may earn a commission. All prices were accurate at the time of publishing.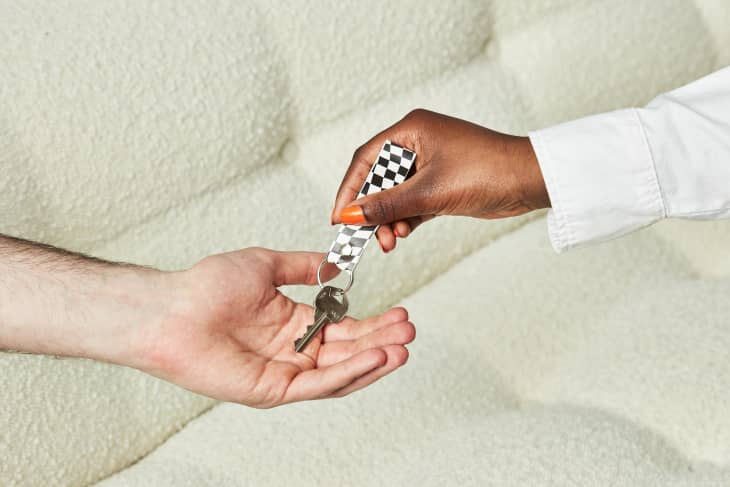 If you live in a competitive rental market, getting the apartment you want might feel a bit like winning the lottery. Well, to be fair, your chances of having an apartment application approved are far better than hitting it big with a Powerball jackpot. But it might not feel that way when you're basically being ignored by your future landlord(s) because you're just one name in a sea of would-be tenants.

I spoke to some real estate pros in the hopes of demystifying the apartment application process. Here's what they had to say.
Pay the application fee before you see it in person.
Moving is expensive enough, but paying an apartment application fee sight unseen could pay off, if you can swing it. Madeline Bilis, Apartment Therapy's deputy lifestyle director, says she paid her fee before touring her current apartment. "I knew the landlord would look at my application before the folks who hadn't paid the $30 fee yet," she says. "It felt like a small dollar amount to risk on a place that looked perfect for me." And in her case, it worked.
Got a high credit score? Print out a recent copy of your report to include with your application "to instill confidence in the landlord," says Shmuel Shayowitz, co-founder and CEO of LeaseUp.us, a full-service leasing and property marketing agency. 

If you have a lower credit score, honesty is the best policy. "If your credit isn't perfect, be upfront about it and provide context or a plan to remedy the situation," he adds. 
Work with a real estate agent.
Don't be in a rush to cut out the middle man with rental properties; real estate agents are there to help you connect with a landlord. "If you are renting a private property, it is important to have a qualified agent who can represent you as a tenant in the best possible way," says Rachel Williams, real estate advisor for the Platt Group at Compass in South Florida. 
While there is some controversy about "love letters" from buyers to sellers, adding a brief letter of introduction that mentions praise of the unit/building to your rental application could work. "I have received feedback from multiple listing agents and landlords who have chosen my clients because they took the time to thoroughly explain their situation and provided all the necessary details in a clear, organized, and concise manner," says Williams.

You might even attempt to arrange a brief, in-person meeting. "A good impression can make a difference," says Shayowitz.
Include personal references.
Some applications might ask for references already, but even if they don't, consider including one or two letters from previous landlords or property managers to show your track record of being a good tenant, says Shayowitz. Don't forget to inform your references that they might be contacted by your future landlord!
Complete the application.
Sounds obvious, right? Apparently not to some renters. "The best thing a tenant can do to get to the top of the list is to submit all of the requested documents together," says Nicole Beauchamp, a senior global real estate advisor and licensed associate real estate Broker at Engel & Völkers in New York City. Beauchamp has seen listings with dozens of applications, and the ones that went straight to the top of the pile were the ones that had actually been completed. "No one has time to chase after missing documents when there are multiple bids," she says.
Respond quickly to correspondence regarding the property.
If you receive a call or email from your real estate agent or potential landlord, respond as quickly as possible. "Responding quickly to calls or emails from the landlord or leasing agent can showcase your eagerness and reliability," says Shayowitz. 

Take that last bit of advice as your friendly reminder to empty your voicemail inbox.