I'm a Pilates Instructor and I Use These 5 Compact (and Cheap!) Tools to Convert My Living Room into a Barre Studio
We independently select these products—if you buy from one of our links, we may earn a commission. All prices were accurate at the time of publishing.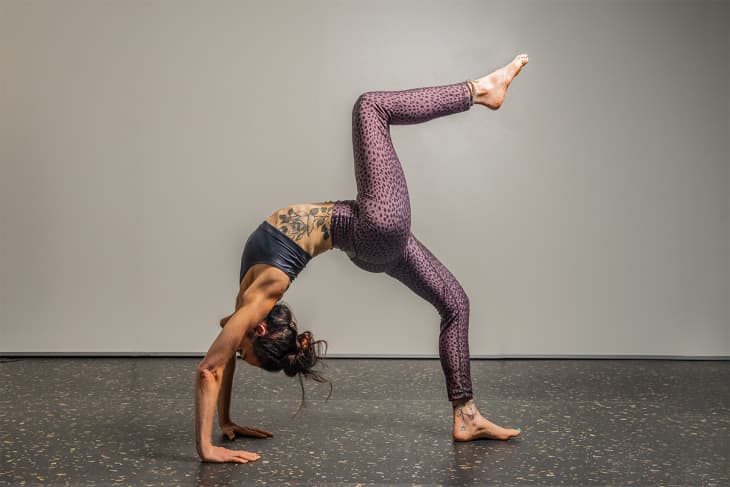 If you didn't consider yourself an apartment innovator before the pandemic, it's likely you've since proven yourself by finding new ways to reorganize and repurpose spaces in your home. Case in point: Your apartment, however small, can become your own barre and Pilates studio with just a few tools that are both affordable and easy to store. 
Follow Topics for more like this
Follow for more stories like this
I know from experience. I've been a Pilates instructor for over a decade, and I'm accustomed to keeping up my solo routine when I'm traveling. That means I can't cart hefty machines and barres with me. 
In my one-bedroom, bayside apartment in Melbourne, Australia, I share my space (yes, bed included) with two small rulers. One, a fawn-colored cavoodle named Luca, is accustomed to my training regime and happily watches from the blue velvet couch. The other, Jet, a little black moodle, thinks Pilates is a game she should get involved in. While I will occasionally pick her up mid-routine and let her be part of my workout, I'd recommend settling your pets in the bedroom or an outdoor space (if you have one) for the length of your workout, so you can focus on your breathing, movement, and body without distraction. 
Here are the five tools I use and how I use them to convert my one-bedroom into a workout studio (plus a sneaky one that you've already got at home).
I practice standing one foot on my yoga block and balancing while doing side-lifts with my other leg. The key is to stay upright, maintaining the ribs above the pelvis, while you lift and lower the leg in isolation. Do as many as you can before you tire, then switch sides. 
If you've got carpet or a rug, you may not need grip socks. However, I have linoleum floors and if you have concrete, wood, or stone flooring, grip socks are ideal both to prevent slipping and to protect your feet from the cold.
Travel yoga mats have the quality and grip-level of a standard mat, but are light and portable so you can roll it out and just as easily return it to a space under the couch or bed, in your wardrobe, or under your desk. This tool is a bit pricier than the rest of the bunch, but I've been using a Jade travel mat for over 10 years and can vouch for it as an investment — it's endure through daily use indoors and out.
There's no need to turn your home into a gymnasium. These light weights are deceptively gentle in appearance, but when used in very targeted exercises, they'll leave your biceps burning. I do tricep extensions with pulses, shoulder rotations, and shoulder presses with these weights, often combining these moves with lunges, plies, or single leg balances.
Keep your space clean and your tools in good shape. When your tools are clean, they look good and they smell good, and it's an extra incentive to get into a daily habit of working out. You'll look forward to it so much more. It only takes a minute to wipe your mat, block, and weights down after use.
That's right, a chair, bench, or a table is a great tool for home barre workouts. You want something that will remain stable as you rest your hand on it for support during plies and arabesques, especially as you raise your heels. Ideally, you want a surface to hold that is hip-level when you're standing. I sometimes use my desk, the kitchen bench, or the back of my chair. Simple!