A Brief History of the Art Deco Design Movement
We
independently
select these products—if you buy from one of our links, we may earn a commission. All prices were accurate at the time of publishing.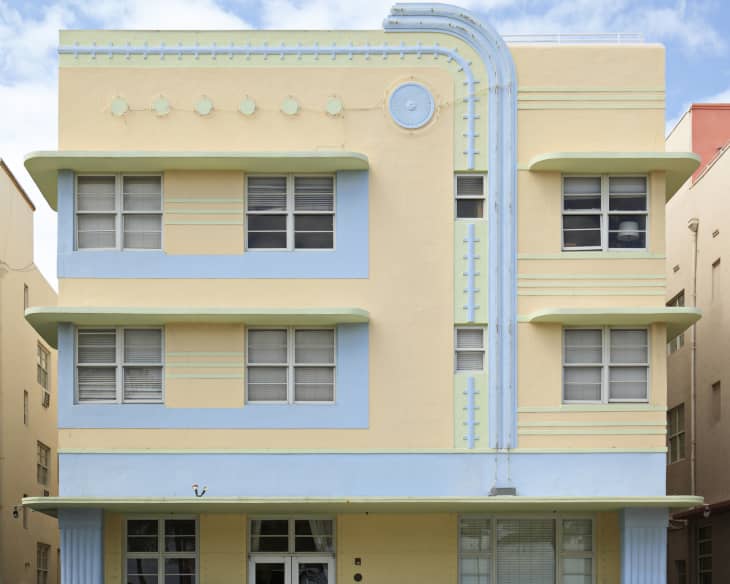 It's officially the '20s again, and we're throwing it back to the Roaring 1920s all week. Whether you love Jazz Age decor, historic homes, or just learning how people lived 100 years ago, we've got you covered. Cheers, old chap!
You've likely heard the phrase "Art Deco" used here and there—and maybe you think of the Chrysler Building in New York City or the colorful facades on Miami's Ocean Drive, both major hallmarks of Art Deco architecture. But how exactly did the style—and the name—originate? According to Helaine Fendelman, a fine arts and antiques appraiser, the term "Art Deco" really came into wide use in the middle part of the 20th century, years after the popular decorative style was already in vogue.
But the first time the phrase was ever coined, as far as anyone knows, was at the 1925 Parisian Exposition Internationale des Arts Decoratifs et Industriels Modernes—it's actually an abbreviation of this legendary art expositions's name, where pieces in what we've come to know as the "Art Deco" style were first introduced. How's that for some little-known trivia? Since we love learning more about the storied history of some of our favorite design movements, we thought we'd take a deep dive into the origins of Art Deco, the ways in which it lives on today, and how you can make the look work in your home.
When Art Deco design started making waves about a century ago, it came into play as a reaction against the highly stylized Art Nouveau movement. "We were transitioning from an era where so many things were ornate, curvy, and chock full of details," says Mercedes Austin of Mercury Mosaics. It's only natural, then, that Art Deco style would streamline things a bit. But Deco certainly wasn't the same thing as the Bauhaus school, which emerged roughly around the same time and championed the marriage of beauty and utility—and the reconciliation of mass production and artistry.
In contrast to that purism, Art Deco's unique style was a bit of a contradiction at times—sleek but often hand-crafted forms, rich but not ornate finishes, showy but not overly ornamental shapes. New design materials began to emerge—from chrome and plate glass to luxurious finishes like exotic woods, lacquered surfaces, and shagreen. On the whole, "Furniture and decor started becoming sculptural, mimicking the period's architectural and interior mainstays of smooth and streamlined surfaces and vertical lines," says Alessandra Wood, a trend expert at Modsy. "Many new geometric motifs and patterns also became more common, including zigzags, chevrons, starbursts, fans, and circular designs."
Buildings, interiors, and even products designed in the Art Deco style had a certain exuberance and energy. As the style gained popularity, the look became associated with technology, optimism, and prosperity, says Wood. And that's no coincidence. "When Art Deco first came into popularity during the early 1920s, the world was in a period of enormous global wealth," explains interior and furniture designer John Linden. "Both the United States and Europe both had healthy economies, which is reflected in the style." If you were to look at an Art Deco home or bank lobby, for example, you'd see a lot of metallic materials and busy patterns. "It's all about excess," says Linden. "This is why, when we think about Art Deco, we usually associate it with figures like 'The Great Gatsby'."
Despite its European origins and presence in American cities, Art Deco still reflected a global influence, since many of the movement's leading designers and architects had traveled to Japan and elsewhere while serving in World War I. "They brought their inspiration back with them and incorporated elements of those cultures into their work," says Linden. "Earlier Art Deco work very much resembles Asian and South American design but with a shiny European twist. Later on, it gets more minimal, and we start to see the seeds of mid-century modernism."
On the whole, the style's popularity has certainly stood the test of time, maybe because it looked so fundamentally different than what came before it. That said, when the economy took a major downswing due to the Great Depression, the style got subdued a bit. But a little innovation kept the spirit of Art Deco alive for a few more years. "In the 1930s, designers swapped out the handcrafted decor for mass-produced materials," says Linden. "Things still looked the same, but items were made from far cheaper materials." That's why antiques dealers are always on the hunt for Art Deco pieces made during the '20s—they're worth more, says Linden, simply because they're made of more precious materials.
While World War II signaled the official end of the Art Deco movement, the style did, as many styles do, come back around later in the 20th century. "We've seen Art Deco revivals in the past, most recently in the 1980s," Wood says. "Looking at past trends chronologically, the 1980s Deco revival followed the mid-century style of the 1960s and 1970s." So if you believe in trends being cyclical, Wood says it makes sense that we're seeing another Deco revival bubbling up in our current culture now, after more than a decade of mid-century modern obsession.
So how can you recreate the Roaring '20s look in 2020? It's actually quite simple, especially if the above interior is any indication. This style certainly plays well with the white walls, wooden floors, and gold accents combination that has become so popular as of late. "Today we see a resurgence of Art Deco's geometric patterns and a rise in material investments such as marble and burl wood," Wood explains. "Look for pieces that have a bit of glam to them in this way."
You don't need to head to an antique shop to snag authentic period items either. CB2, for one, is full of stunning Art Deco-inspired accessories like this burl wood tray and curved bar cart. That said, it's probably best to focus these kinds of decorative accessories and pieces of occasional furniture as opposed to more permanent things like finishes and fixtures, though those things can be done in a Deco way, too.
Regardless, there's no need to trade in all of your belongings and start from scratch. As Greg Freeman of Comfort and Flair notes, "Art Deco elements can be introduced into virtually any interior through the purchase of such items as boudoir lamps, statuettes, bookends, reverse glass painted picture frames, screens/dividers, and bas relief sculptures." Well, there's your shopping list, should you want to add a modern Art Deco touch to your space.