Ashley Tisdale Has a Moon Print Hanging In Her Office, and It's Out of This World
We
independently
select these products—if you buy from one of our links, we may earn a commission. All prices were accurate at the time of publishing.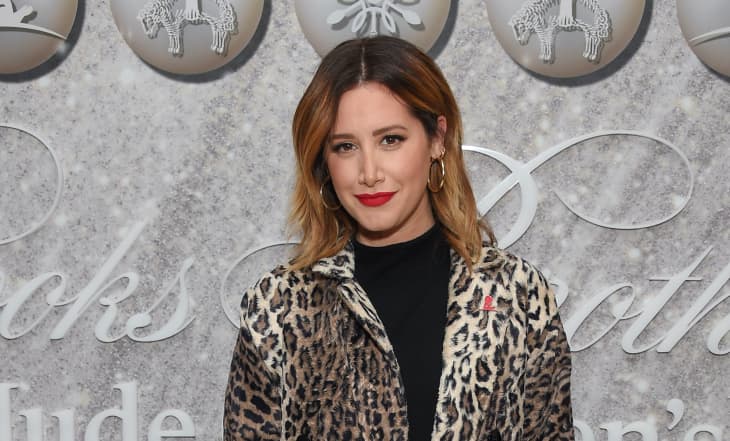 Whether it's her baby's name—Jupiter Iris—or her home decor, it seems as though Ashley Tisdale is sticking with an out-of-this-world theme.
Often giving fans a glimpse inside her home, it's no secret that the actress loves interior design. She even has her own company, Frenshe Interiors. This week, Tisdale took to Instagram to share a photo of her stunning home office, and there's one element that's certainly stirring up some excitement on social media.
"Back to the office 💻" she wrote in the photo's caption, which shows an office space that's illuminated by a stunning moon print hanging above the desk.
The most eye-catching feature in the room, the light-up moon print adds depth and drama to the otherwise neutral room. Hanging on an all-white background, a moon photograph has been placed in a circle-shaped bronze frame that, from certain angles, gives a 3D effect.
Unsurprisingly, fans were loving the piece, taking to the comments to share their love for the gorgeous print.
"The moon !!!! Love it" one person commented, while another said: "That moon picture is EVERYTHING!! Beautiful".
Many people were also asking where they can purchase the print, and luckily for every person on the internet, Tisdale delivered, tagging the company in her Instagram post.
The item in question was purchased from GARDE, a gift and home furnishing brand founded in 2012 by Scotti Sitz, and partner John Davidson. The brand is much-loved by plenty of celebrity designers, including Jeremiah Brent and Amber Lewis, and features a wide range of products from the simple to the whimsical.
Designed by Ben & Aja Blanc, a Rhode Island-based design duo who create handcrafted sculptural lighting, the moon photo is lit from within and enclosed in the glass, creating a piece that resonates cohesively as light, sculpture, and image. Available in either a bronze, black, or color pigmented steel frame, the Moon Light will set you back anywhere between $4,900 and $5,600, so may not be for everyone—but it is a statement piece that's worth investing in if you're a lover of all things lunar.