AT Europe: London House Tour – Veronika & Sebastian's Rooftop Victorian
We independently select these products—if you buy from one of our links, we may earn a commission. All prices were accurate at the time of publishing.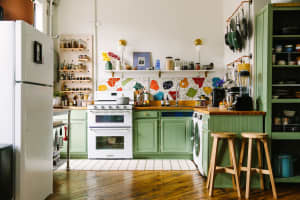 Can't-Miss House Tours Straight to Your Inbox
Keep up with our latest house tours each weekday with our House Tour of the Day newsletter
Name: Veronika & Sebastian
Location: London, UK
Size: 70m2
Lived in: 6 months
Follow Topics for more like this
Follow for more stories like this
Austrian expats who've lived in London for several years, Veronika and Sebastian have always been shocked by the state of London rental apartments, with their drafty rooms and faulty plumbing. So they were thrilled when they found a top-floor flat in a 1898 building that had just been remodeled from head to toe, modernizing it without ruining its Victorian charms.
"It immediately felt like home to us," says Veronika. "The large windows, the high ceilings, the view — something ever so rare in London!" She was particularly drawn to the roof conversion. "Although there are no windows facing south, it is such a wonderfully bright flat! Something we particularly value now, having been in a fairly dark basement flat the year before."
Owner Leonie had remodeled her longtime North London flat when her soon-to-be-husband Rhodri moved in. "I sold my house to the guy at the pub," says Rhodri, and they used the proceeds to hire an architect to bust through to the attic, creating a cozy, modern bedroom and effectively doubling the space of their now 70m2 top floor apartment. The arrival of their first baby forced them to move into a bigger place a few streets over. "We'd been planning on remodeling the kitchen," Leonie says, although they weren't able to line up the workers until after they'd moved out. They added higher countertops to mask the mess in the kitchen from guests and took advantage of the high ceilings to go vertical with storage.
Veronika and Sebastian brought in a gray Ligne Roset sofa ("our sole 'designer' piece of furniture," she says) and IKEA basics, adding a storage closet in the downstairs study for clothes. "It now is impossible to use the study as a formal dining room, which we would have liked to do," says Veronika. "Now dining is a bit more informal and always a bit crowded, but at the same time one can create a lovely friendly atmosphere which is also due to the open-plan kitchen." The living room has contemporary art by an up-and-coming Viennese artist named Richard Zeiss and a painting of a rock-climber by Norbert Lambing that was made from a photograph of his friend Sebastian.
When Leonie and Rhodri added the upstairs, the architect proposed a handsome and clever book-lined staircase to house their formidable combined libraries in one streamlined space. "It's just brilliant because the way it's conceived, you can walk by it and not even notice it," Leonie says. "So it's like this fabulous surprise." The rather treacherous staircase hangs from steel beams, so as not to put any pressure on the Victorian floor, and the staircase has the air of a steep mountain climb from the bottom. "At first I was terrified! Every time!" says Veronika. "Soon, though, it becomes a mechanism and even in the dark one manages to make it downstairs."
– Kristin Hohenadel blogging from rue Vieille du Temple, Paris, France. If you have an idea for a European house tour, please write kristinh @ apartmenttherapy . com