Ava & Piper's Easy-Going & Colorful Rooms
We
independently
select these products—if you buy from one of our links, we may earn a commission. All prices were accurate at the time of publishing.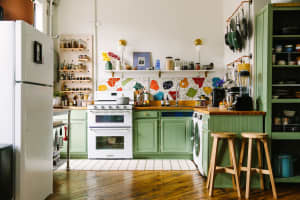 Can't-Miss House Tours Straight to Your Inbox
Keep up with our latest house tours each weekday with our House Tour of the Day newsletter
Name: Ava (4) & Piper (3)
Location: Brisbane, Australia
Room size: 2.4m x 4.5m
For this Room Tour post, we have not one but two rooms to share with you from sisters Ava and Piper! Their rooms compliment each other so well that we couldn't just feature one. With fresh white walls, furniture with clean lines and pops of pattern and color, you can't help but feel cheery! Their mom Hannah shares with us her inspiration for her daughters' bright spaces.
Hannah has managed to create two spaces that are whimsical, fun and colorful without feeling overdone or busy. She said that the rooms being small made decorating challenging, but we think she did an excellent job of accommodating all of the things that the girls love (toys!) yet still maintaining lots of breathable white space and organization. And in this design-loving world of overly styled rooms, Ava and Piper's rooms are a breath of fresh air. They look like rooms that kids actually inhabit! Easy-going, comfortable with lots of room for imaginative play.
How would you describe the look and feel of these rooms?
I wanted the girls' rooms to be fun and magical. I didn't want them to look exactly the same. I knew I wanted them to be white, colourful and somewhere for them to escape into with their imaginations. I hope I have achieved this.
The clean lines, white walls and bright pops of color are very reminiscent of Scandinavian design. Was that an inspiration of your's?
I do love Scandinavian design, but it wasn't a conscious influence of the rooms. Oddly enough, I actually just filled it with things that I loved. I didn't want it to feel too complicated, just colourful.
Did you face any challenges while decorating these rooms?
Yes. Storage and space were a huge issue. Just trying to make everything fit and still look good was really difficult. I don't feel like I have quite finished their rooms yet. I'm constantly rearranging and de-cluttering, especially after a birthday when lots of new toys arrive.
Are there any DIY projects that you created for the rooms? Please share!
There are quite a few actually. In Ava's room, I made her colourful quilt and her dot garland which is made from felt and paper on linen string. She also has quite a few handmade toys. While in Piper's room, again, I made her quilt, the floor cushion in her cubby house and her actual cubby house is made from Marimekko fabric. I also made her little handbag on her pram and her little pink dot cloud on her bed behind Miffy.
What is your favorite piece or element from each room?
I really love the colour. I never get tired of walking into their rooms. It always feels really special to me. It's also quite beautiful at night with their fairy lights on. I also really love that they have a lot of toys that I played with when I was little, like the Barbie Dreamhouse. It's not that they have to love what I loved, but it's really nice to see my favourite toys being played with and loved the same way I loved them.
I love the dollhouse in Ava's room. Did you make it or customize it yourself? Also, did you make the clouds? So cute.
The dollhouse was mine when I was little. It used to be brown, so I painted it white and put up some wallpaper by using some wrapping paper that was designed by Beci Orpin. I also photocopied some of Andy Warhol's cow wallpaper to put up along the stairs. There is some green flower origami paper used as floor tiles in the entrance and some yellow dot paper on a kitchen wall panel. I then sourced some little glass tiles from ebay to use on the entrance back wall. The clouds are also made by me. I just used some felt, stitched them together with a blanket stitch and then filled them with some cushion stuffing. They are just hung from the ceiling with string.
What are the girls' favorite parts of their rooms?
Ava loves her swing and spends a lot of time in there, reading books and watching DVD's. While Piper, is often found hiding in her cubby house.

If money were no object, what would you buy for these rooms?
Oh, if money were no object, I would love to buy them a hanging Bubble Chair by Eero Aarnio, a Sirch Villa Dollhouse and a cute little Eames Hang-It-All.
Source List – Ava's Room:
Source List – Piper's Room
Thanks, Hannah! Be sure to follow her blog One Yellow Jumpsuit where she shares her colorful life with her gorgeous family. You can read a sweet little interview with Hannah here at My Poppet.
(Images: Hannah Trost)

Have you seen our Nursery & Kids Room Submission Form? In addition to working with some readers to feature full tours, we will also share the best as "My Room" posts on Ohdeedoh — short, quick tours of great rooms. Submit yours right here.